File this under a story within a story. At the surface, this report details VPI's newest product line offerings and releases. Throw in on top of that a side order of an interesting factory tour where attendees were treated to a tour of VPI turntables' assembly line, quality control testing as well as meeting the people behind the scenes responsible for the turntables. The real take home story is, however, how one of the high-end audio industry grandfathers has successfully transitioned to the next generation. Admitted this transition was bound to happen sooner or later as those grandfathers of the high-end audio industry such as VPI (2018 marks VPI's 40th anniversary and President Mat Weisfeld promised some surprises to commemorate that achievement), Wilson Audio, Magnepan, Audio Research, Clearaudio, conrad-johnson, Grado, etc. have or are in the process of making the transition to the next generation of entrepreneurs. Some companies such as Audio Research were bought out. Others like Wilson Audio, Magnepan, and the subject here VPI, have kept the business in the family and successfully transitioned the company to the next generation.
Make no mistake though. The transition wasn't always smooth sailing for Mat with more than a few roadblocks standing in his way. Sometimes it was as Mat shared, "a downright painful learning experience." Sometimes Mat wondered out loud, "what in the heck am I doing?" In all fairness to Mat, not only was he was he with the passing of his mother thrust into the position of manufacturing but also running the business side of VPI.
"Driven by the sense of responsibility and urgency," Mat was determined, "to keep the company going after his mom's passing." That included soon after Sheila Weisfeld's passing, a trip to the Winter CES to wave the flag and let people know that VPI was alive and well (of course, rumors swirled around the industry about VPI at that point.) Mat persevered and in his now almost five years at VPI's helm successfully revamped, modernized and streamlined VPI's production and manufacturing process, rebranded the turntable product line, oversaw the launch of VPI's Prime and Reference line of turntables and popular Cyclone record cleaning machine and revised the popular Scout table. Some of these changes were introduced to simplify the product line and avoid customer confusion. Others changes allowed VPI to buy in larger quantity and hold costs down. Yet others to improve product quality and consistency and taking advantage of export certifications for overseas sales. It didn't stop there either as VPI had decades worth of turntables to support too!
Under Mat's steady hand, VPI doubled the size of their staff, tripled their factory floor space and added the "VPI" house (see Part II of this report). Out of all the changes, however, it was arguably bringing engineer Mike Bettinger on board that's had the biggest impact on the company. Mike has among other things significantly contributed to VPI's research process, improving turntable Q/C and consistency, redesigning the rapidly aging SDS turntable power supply as well as designing the soon to be released $2000 VPI budget and $6000 Aurora phonostages.
VPI's New Turntables, Electronics and Accessory Rollouts
Early on Mat made the decision to revamp and simplify the company's product line in order to avoid unnecessary consumer confusion. During the factory tour, Mat discussed how the new VPI product line is organized and currently consists of:
The Player ($1500) An all in one, simply built like the proverbial brick s-house turntable that includes arm, cartridge and built-in phono section. This table is built to withstand anything a college student might throw at it and a bit more.
The Prime Scout 2017 ($2200 with Ortofon 2M included) It's hard to believe that VPI's Scout turntable has been in continuous production now for 15 years. The latest iteration now renamed the Scout Prime features an Aluminum platter since it turns out the market wasn't interested in a MDF platter. The biggest change, however, lies in the Scout Prime's new face. The Scout Prime features the curves of the Prime along with a thicker chassis, new Delrin feet, and the same motor found in the Prime.
The Prime ($4000) and Prime Signature ($6000) The Prime Signature turntable now comes standard with the latest 10.5-inch 3D arm, Nordost internal wiring, stainless steel corner posts, and a new American made angled arm lift.
Reference Table Line The top of the VPI food chain consist of three Avenger class turntables (if you don't count the monstrous special order Titan and direct drive Vanquish tables) including the basic Avenger ($10,000), Avenger Plus with rim drive ($15,000) and full blown Avenger Reference with magnetic drive ($20,000). Here one can as with older VPI turntables, start with the basic table and upgrade over time to the full blown, magnetic and rim drive Reference model. Each of these tables supports up to three tonearms which, given that many vinyl lovers now using both mono and stereo cartridges, is a great boom.
VPI Phonostage The new VPI phonostage is essentially a phono section plus passive attenuator. Built to directly feed an amplifier, the unit's has overall gain of around 68dB. The new phonostage will be available in two versions: a budget model retailing for $2000 and the full blown Aurora targeted to retail for $6000.
3D Arm Dual Pivot Adaptor Kit After a bit of trial and error—and a few false starts—the VPI dual pivot conversion kit is ready for prime time.  In addition to providing the stability of a traditional arms, the dual pivot construction allows for separate adjustment of the 3D tonearm's VTF and azimuth as opposed to the current system of moving the counterweight back and forth for VTF and twisting the counterweight clockwise or counterclockwise for azimuth. Hallelujah and praise the Lord! Personally—and I don't know about you—I've hated ever since the Wilson-Benesch review two decades ago any and all tonearms requiring setting both VTF and azimuth with the counterweight. Yes, even in the case of cleverly designed Soundsmith Counter Intuitive. Installation is very simply and the only tool needed to convert the arm from unipivot to dual pivot operation is a small screwdriver. First a thin aluminum plate is placed and secured on the back of the arm mounting area where the unipivot resides. Next, the dual pivot adaptor is placed over the tonearm ring under the pivot and tightened down. Then using a small screwdriver the user lower the second pivot until it touches the VPI supplied plate. At this point, the owner adjusts azimuth by either raising or lowering the screw. Is it worth the price? Time will tell. Price: $150.
VPI's Joint Ventures With Other Companies
Shinola Runwell This turntable is based on VPI's now discontinued Classic turntable. Take home message: Shinola table reaches a totally different market than does VPI.
Mark Levinson This table premiered this January at CES and was designed and manufactured by VPI for Mark Levinson. The $10,000 Mark Levinson table comes with a new Harry Weisfeld designed, 3D printed, gymballed arm and outboard motor unit replete with built-in Mike Bettinger designed power supply.
Sneak Peaks at Ongoing VPI Projects Mat also mentioned toward the end of the tour that he's looking at incorporating some cosmetic—if not some minor functional changes—to VPI's long standing record cleaning machines. VPI's record cleaning machines have been the industry's benchmark since their introduction in the early '80s. Most of these changes are envisioned in relationship to the streamlining of the manufacturing process.
Factory Tour Pictures
Mat welcomes a bunch of sleepy press to VPI's renovated and reorganized digs! Luckily VPI provided plenty of coffee, bagels and DD doughnuts.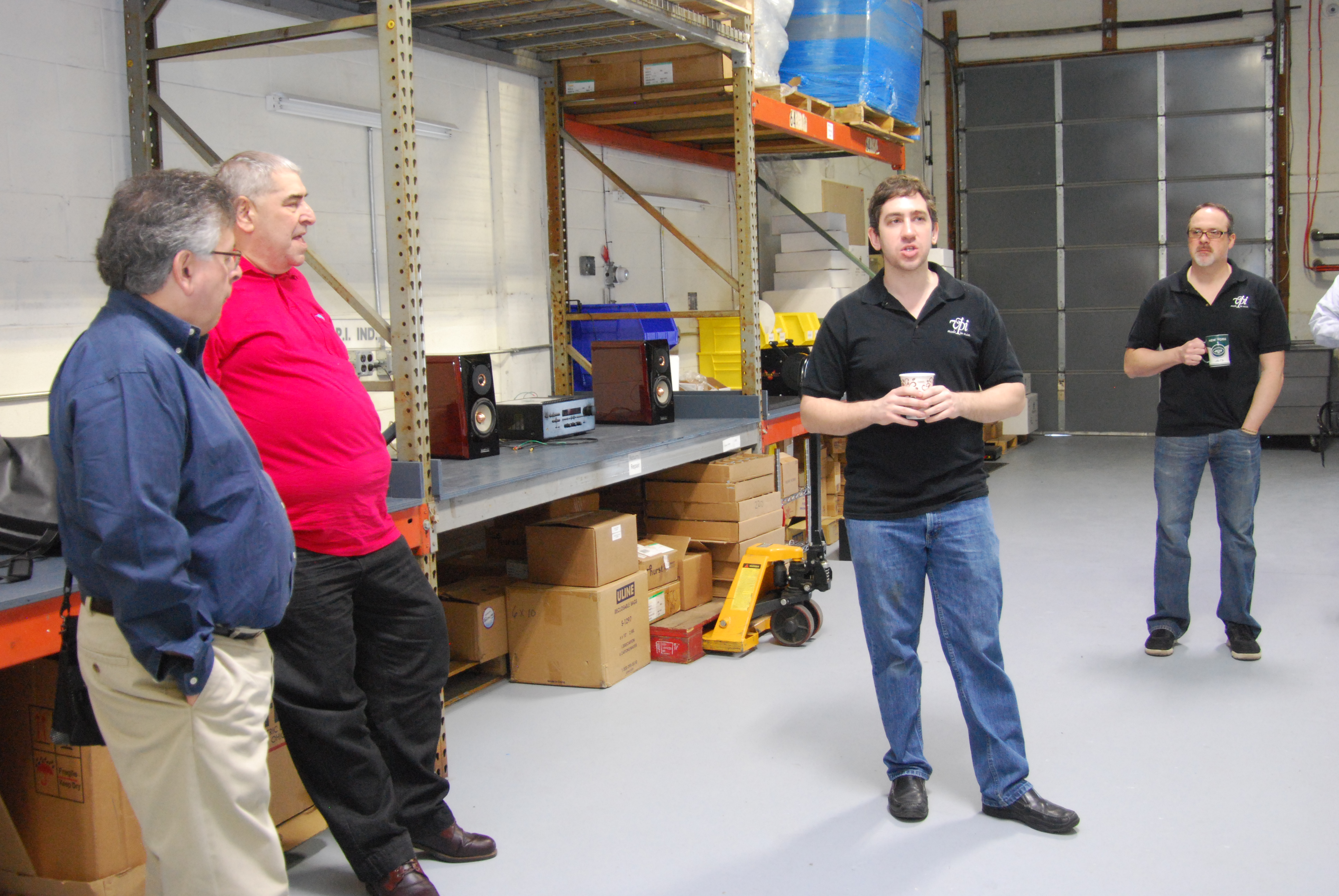 Mat explaining and showing off the new turntable line.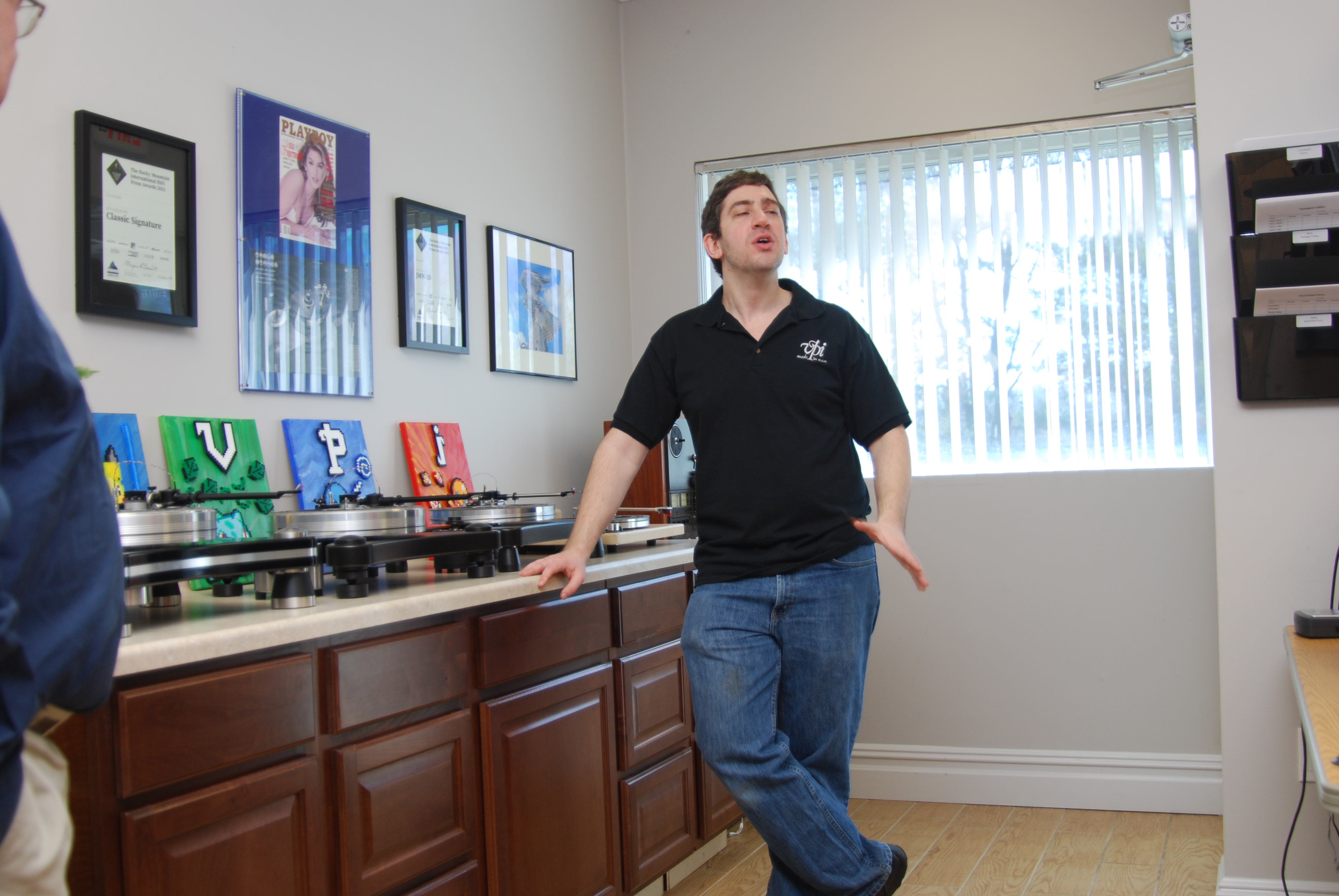 And a non-VPI-though directly traceable to Harry Weisfeld associated product-espied at the factory!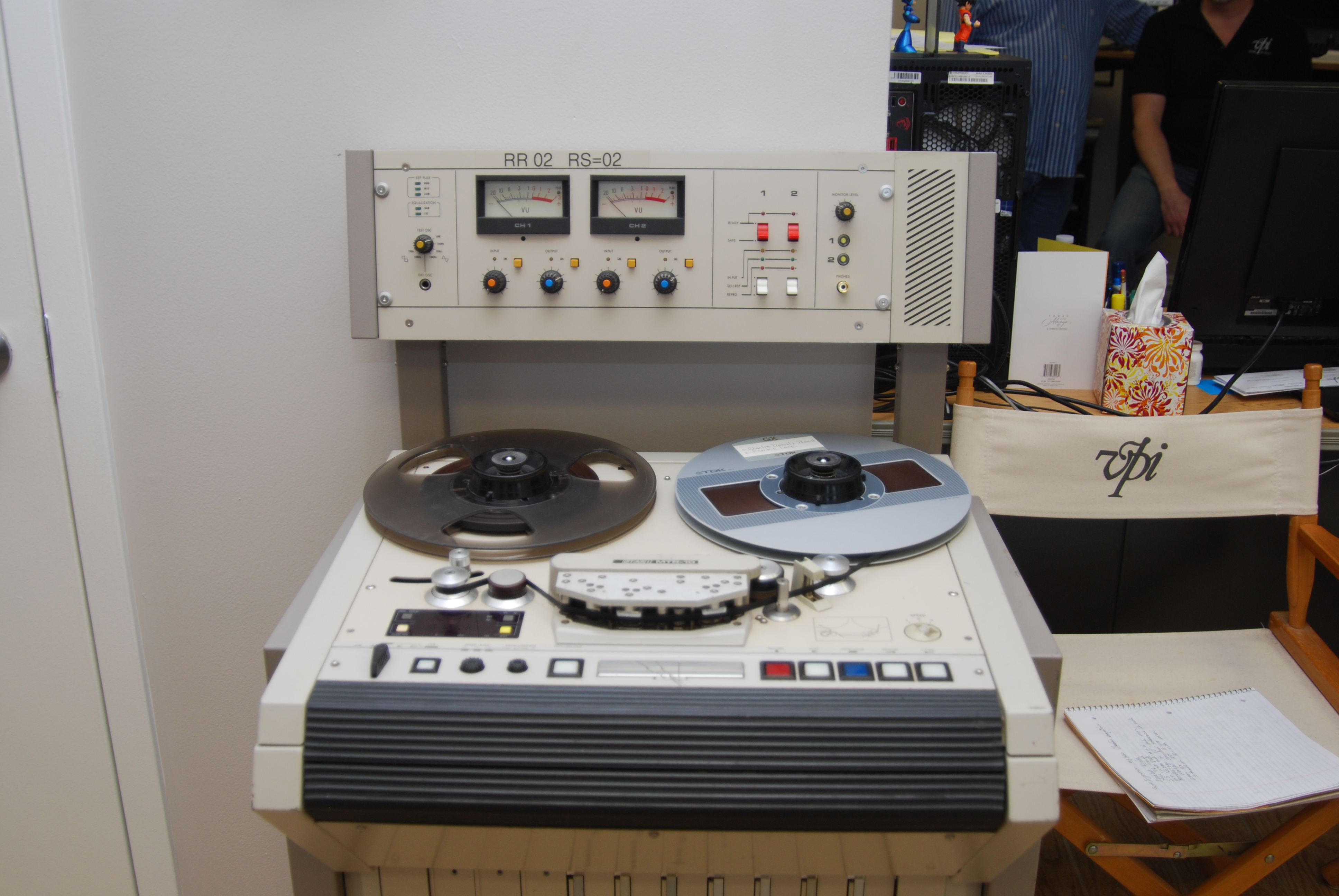 Some new VPI products: Scout Prime 2017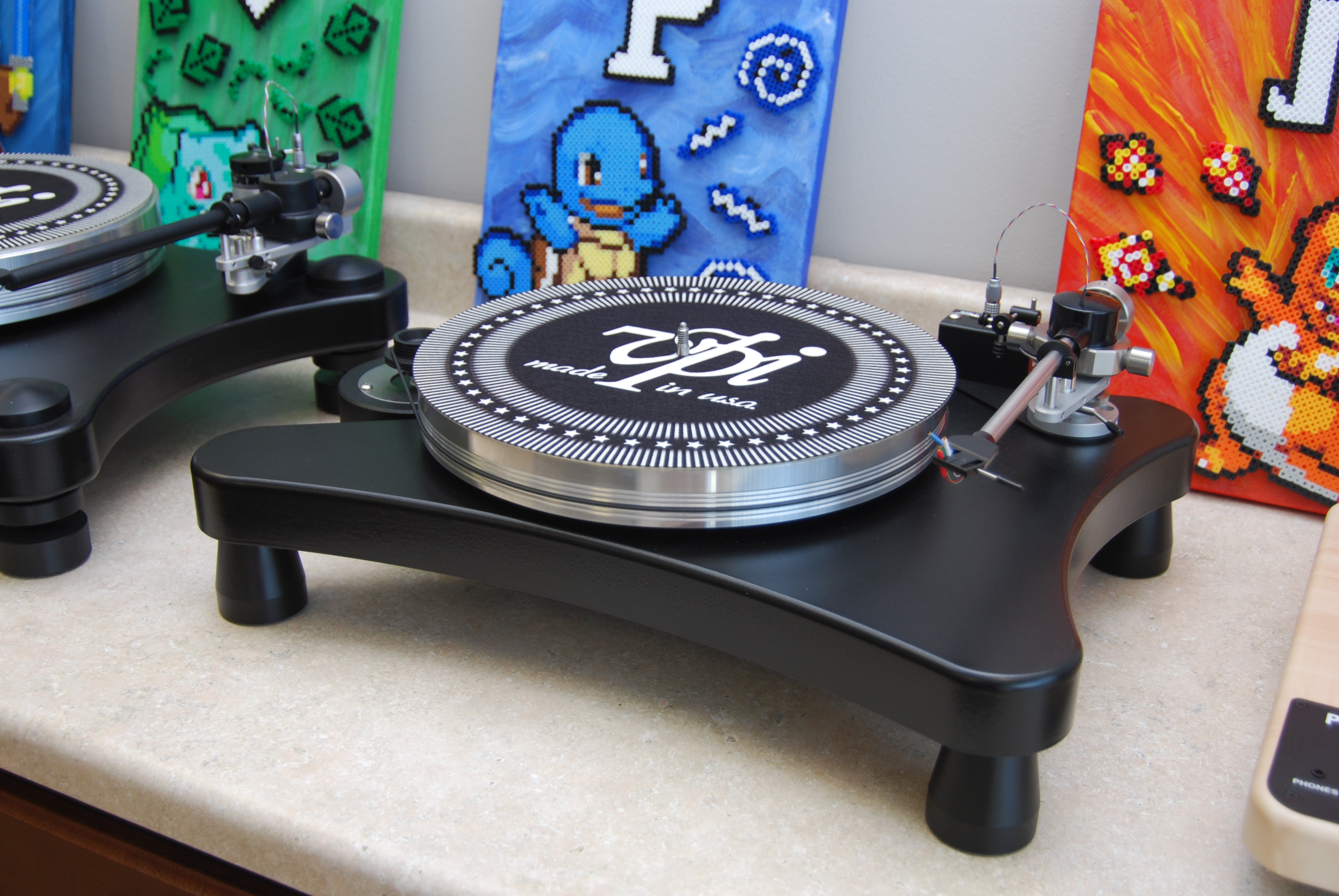 The extremely sleek and sexy looking Prime Signature turntable.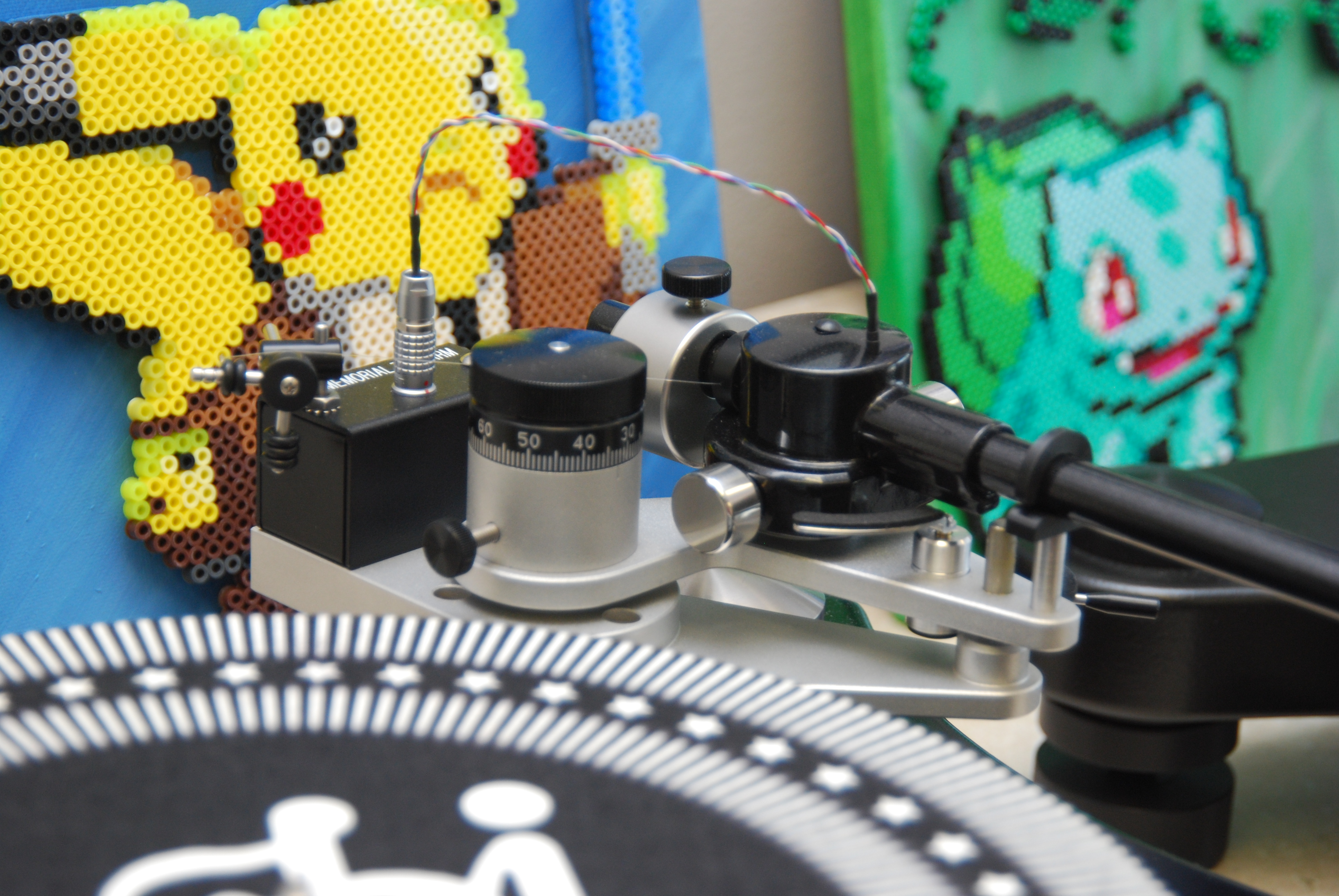 Mark Levinson turntable.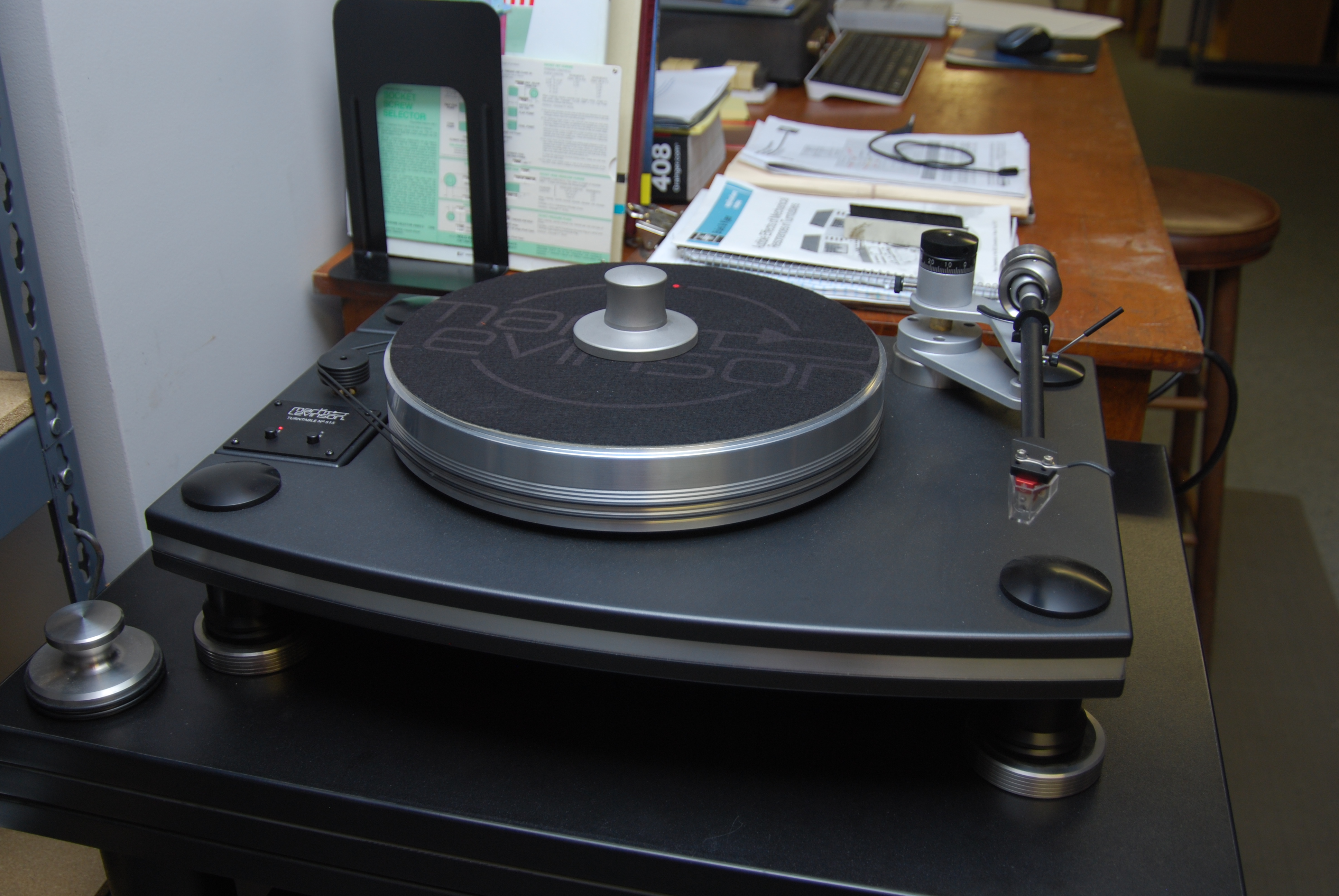 The new Mark Levinson turntable comes with a separate motor with built in power supply that nestles into the turntable plinth.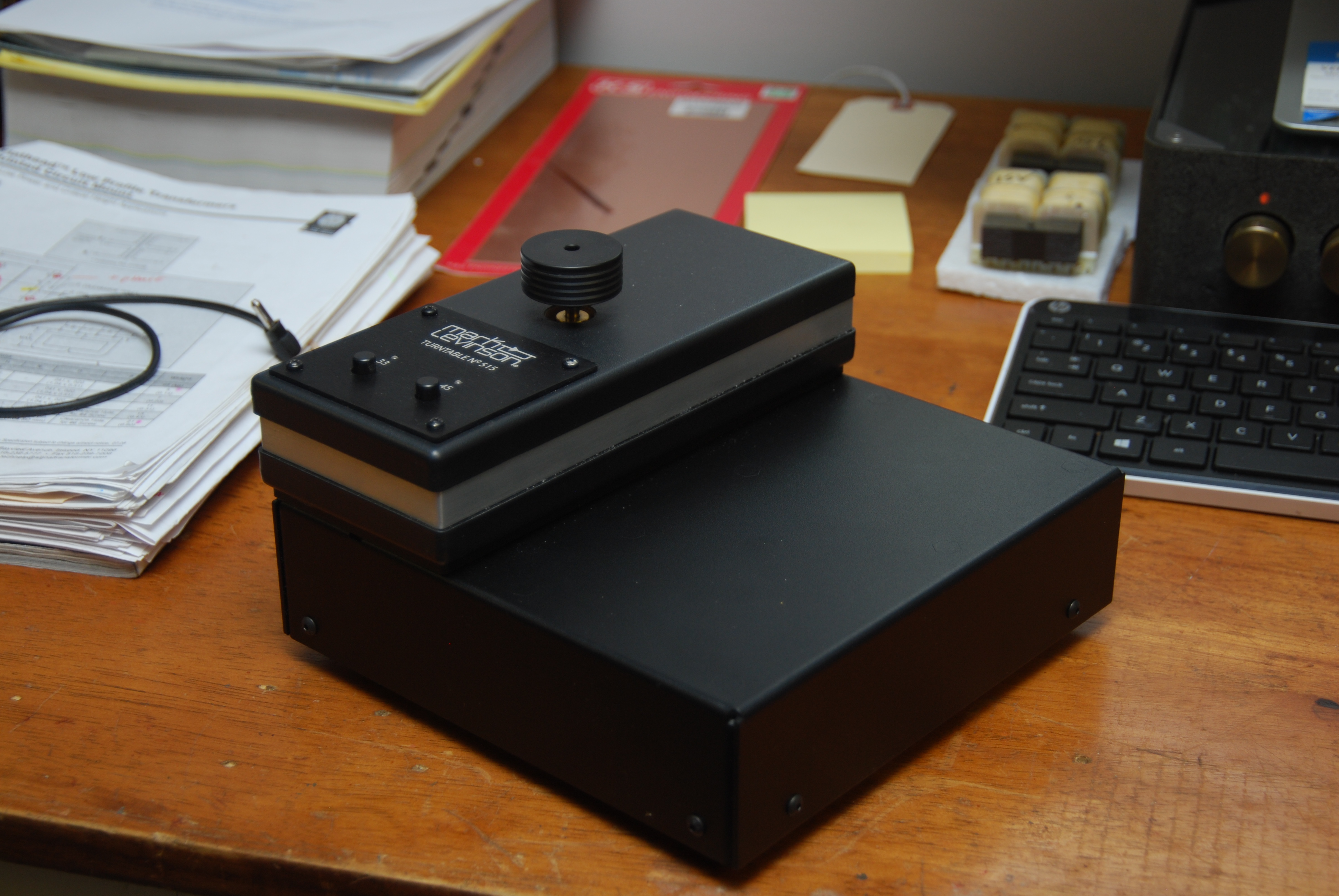 New feet for Avenger line.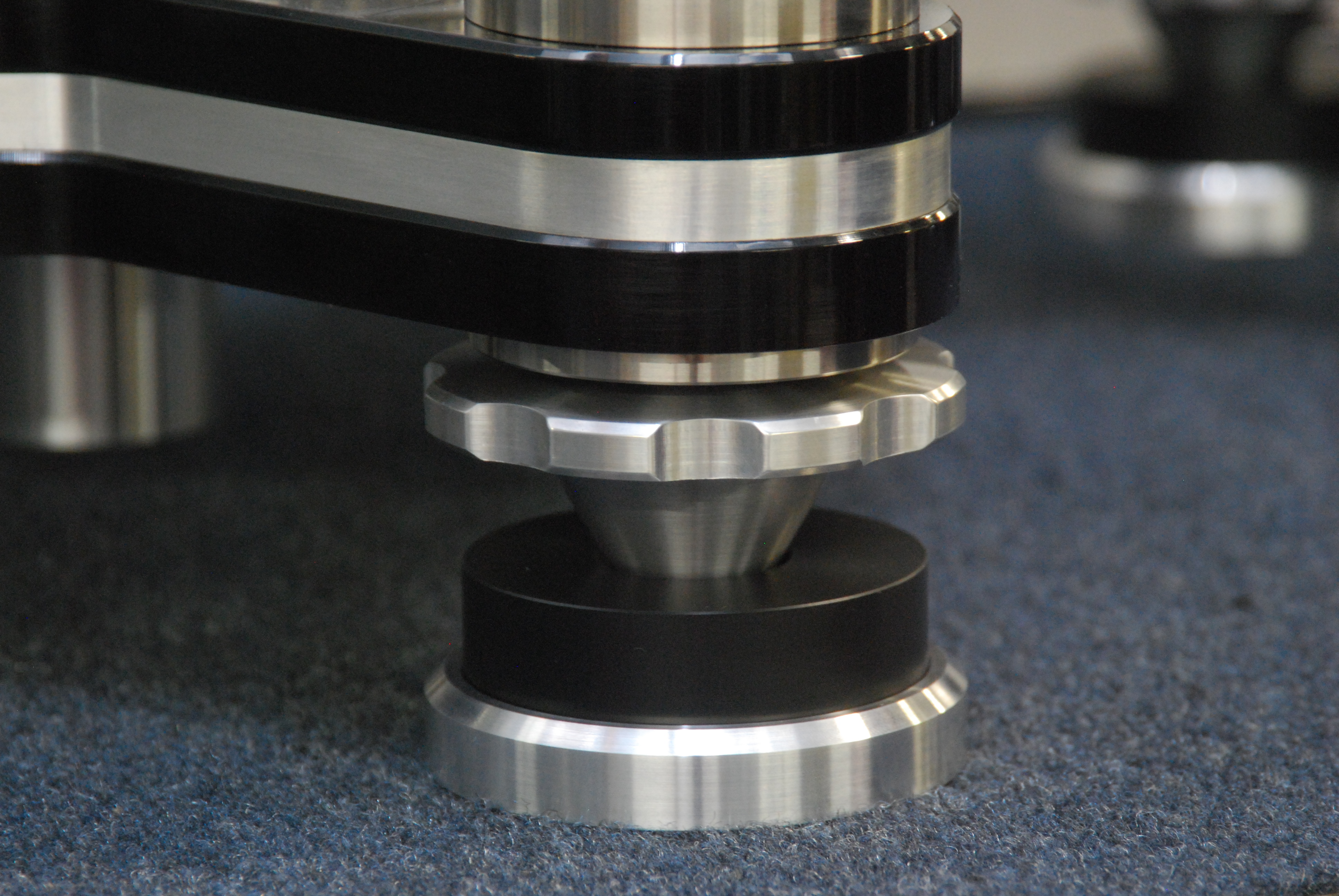 Production and Assembly Facilities
Platters and bearings for new turntables. On the bottom shelf are some magnetic platter/bearing assemblies for Avenger Reference turntables.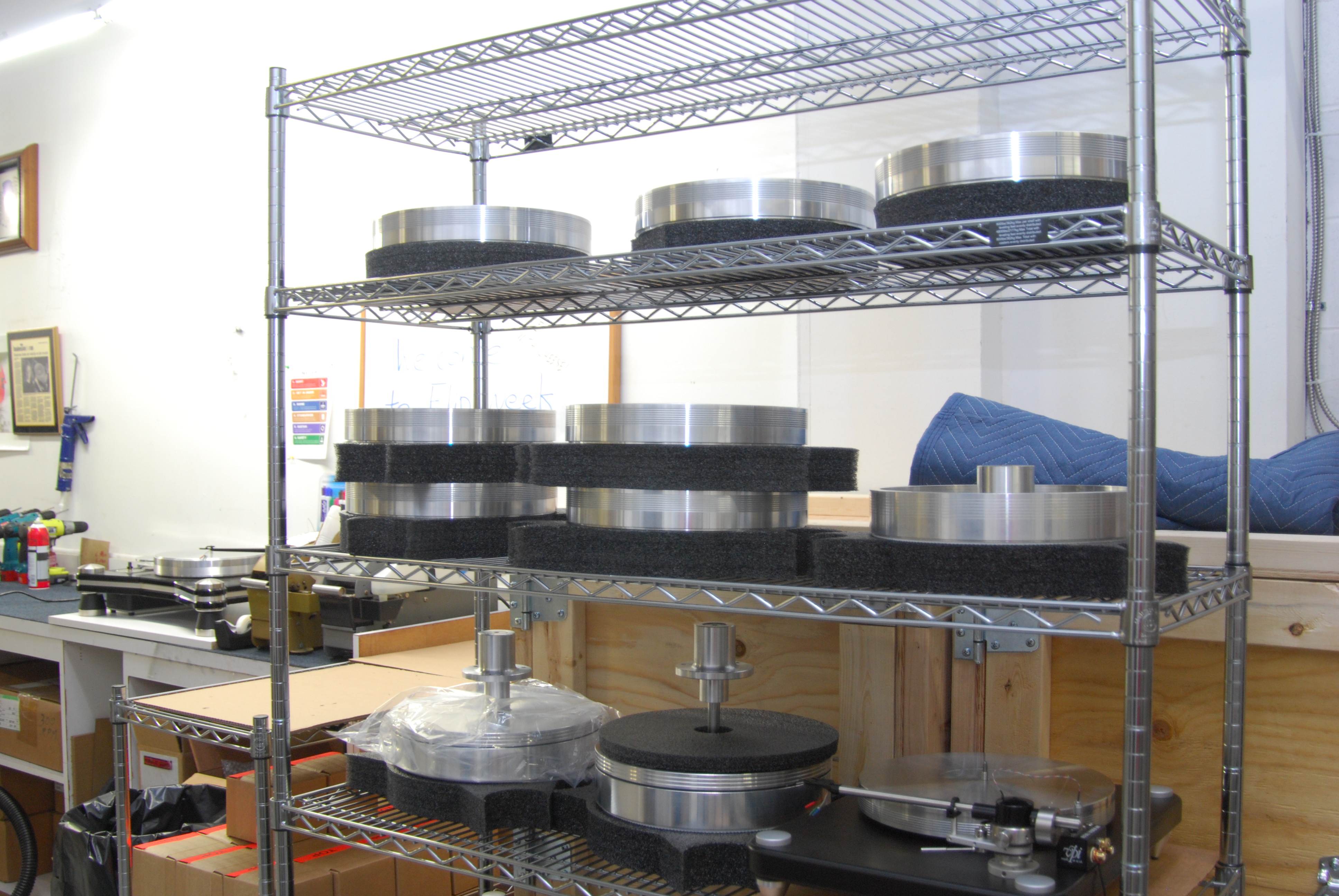 Several Avenger tables  in various stages of assembly. To the left is an older TNT turntable sent back by the owner for refurbishment. A VPI Vanquish plinth sits underneath awaiting insertion of direct drive motor assembly.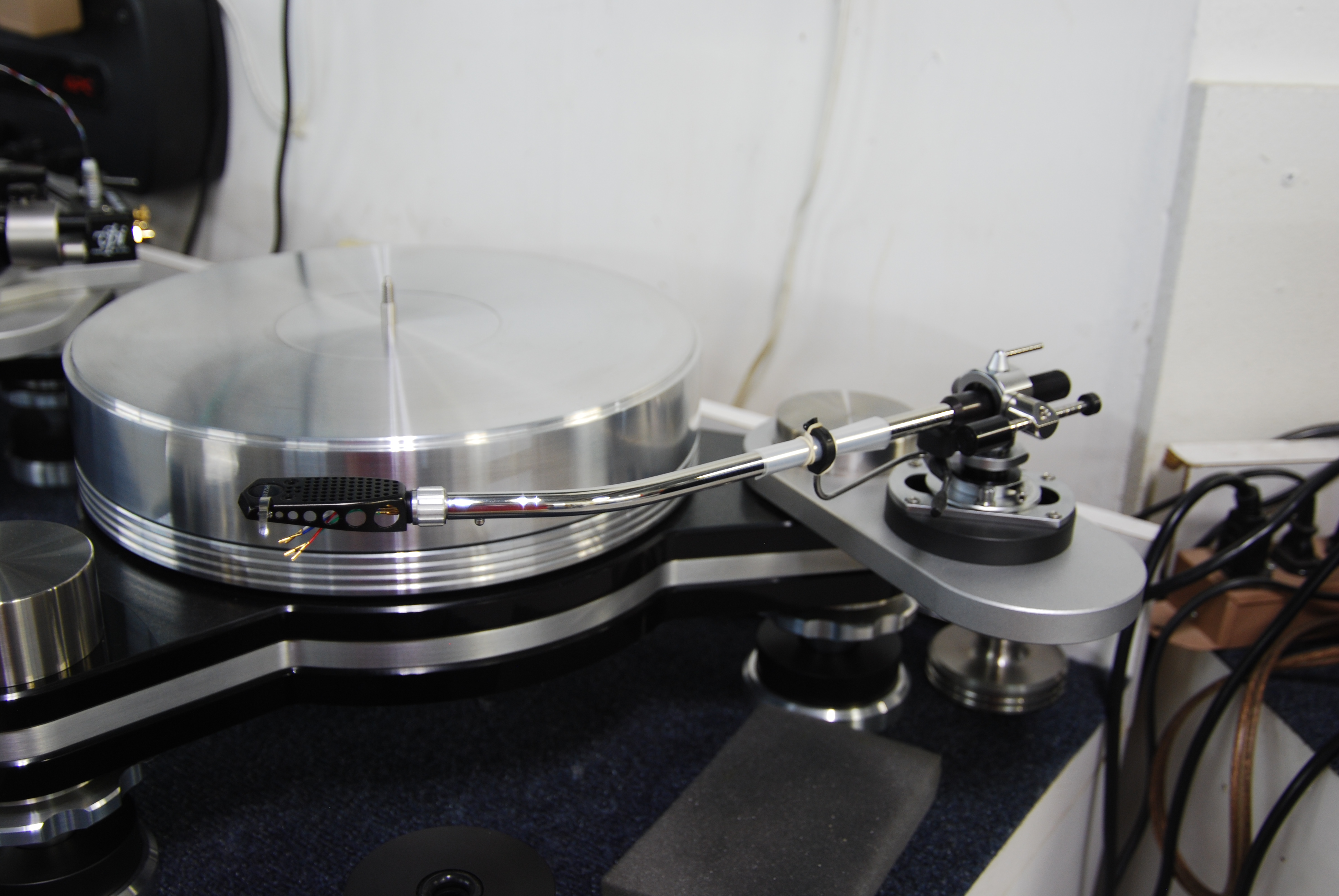 Some VPI Player plinths awaiting installation of bearings, platters and arms.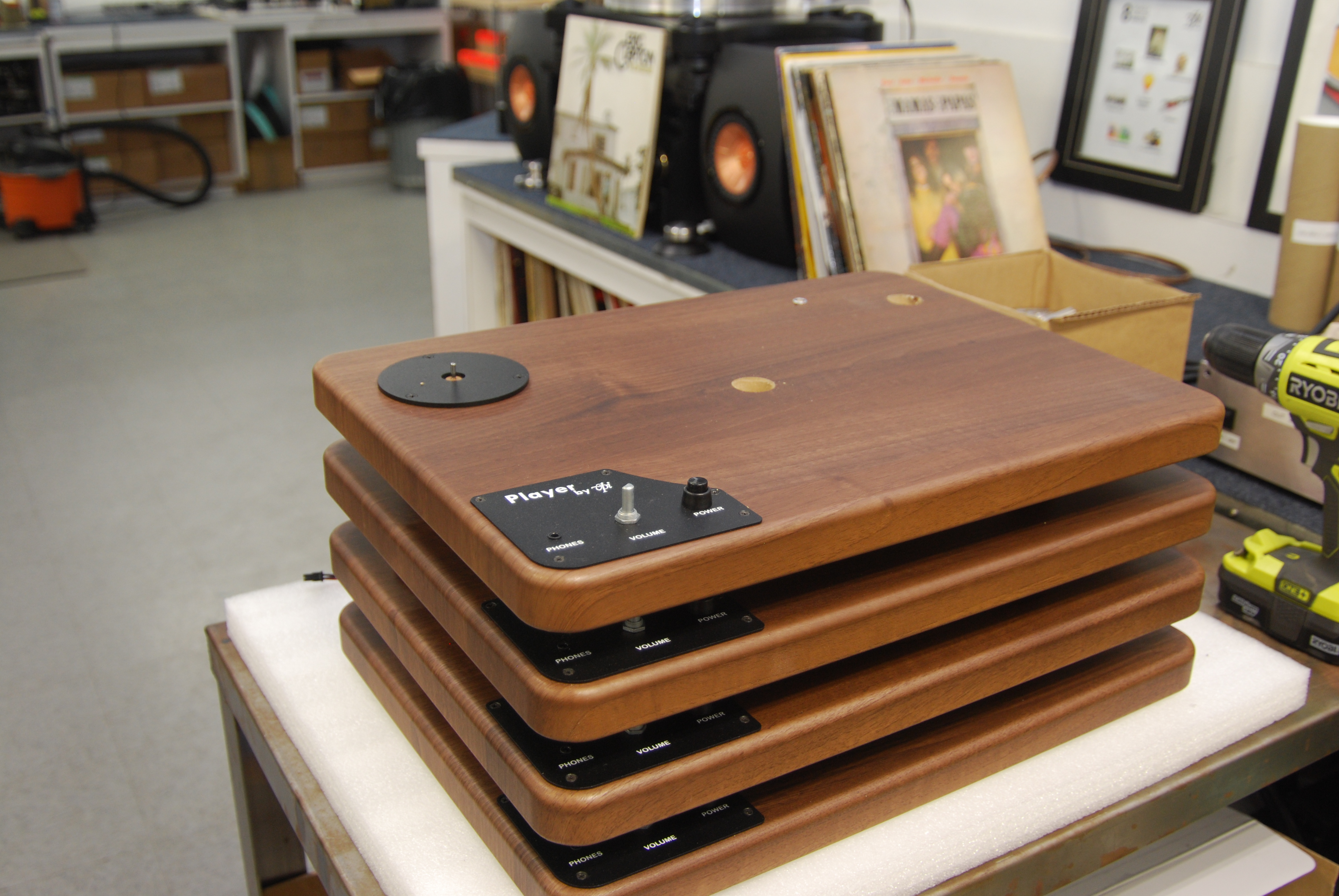 Finished Prime Signature tables awaiting run-in and testing (wow/flutter, speed drift, rumble).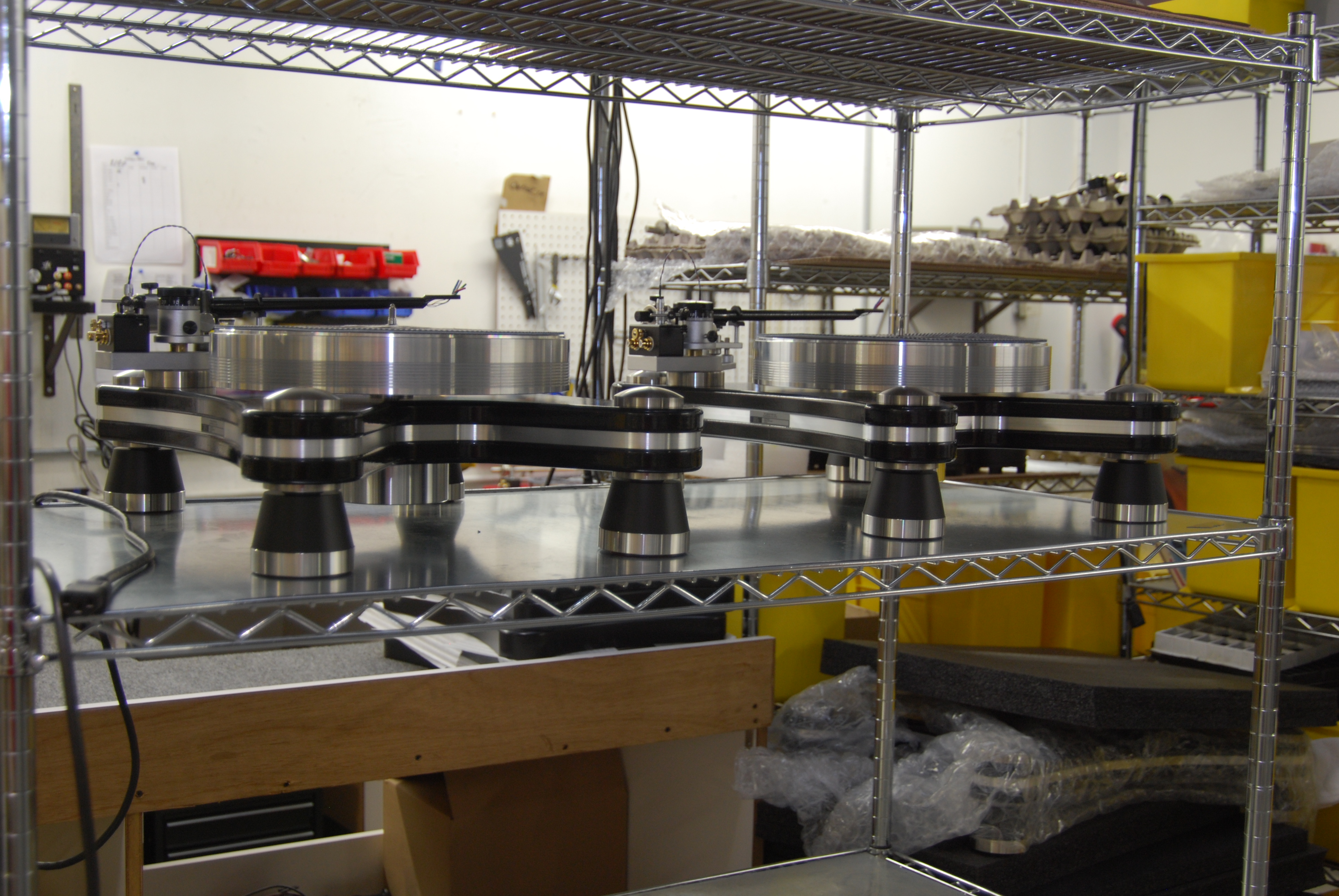 The VPI Titan assembly area. Two Titans being built, one using belt drive and the other being delivered with a rim drive. In case you're wondering, the knob on the side of the rim drive adjusts contact pressure and prevents flat areas resulting from the pressure between the wheel and belt from developing. Owners just back the pressure off the platter when the table isn't in use.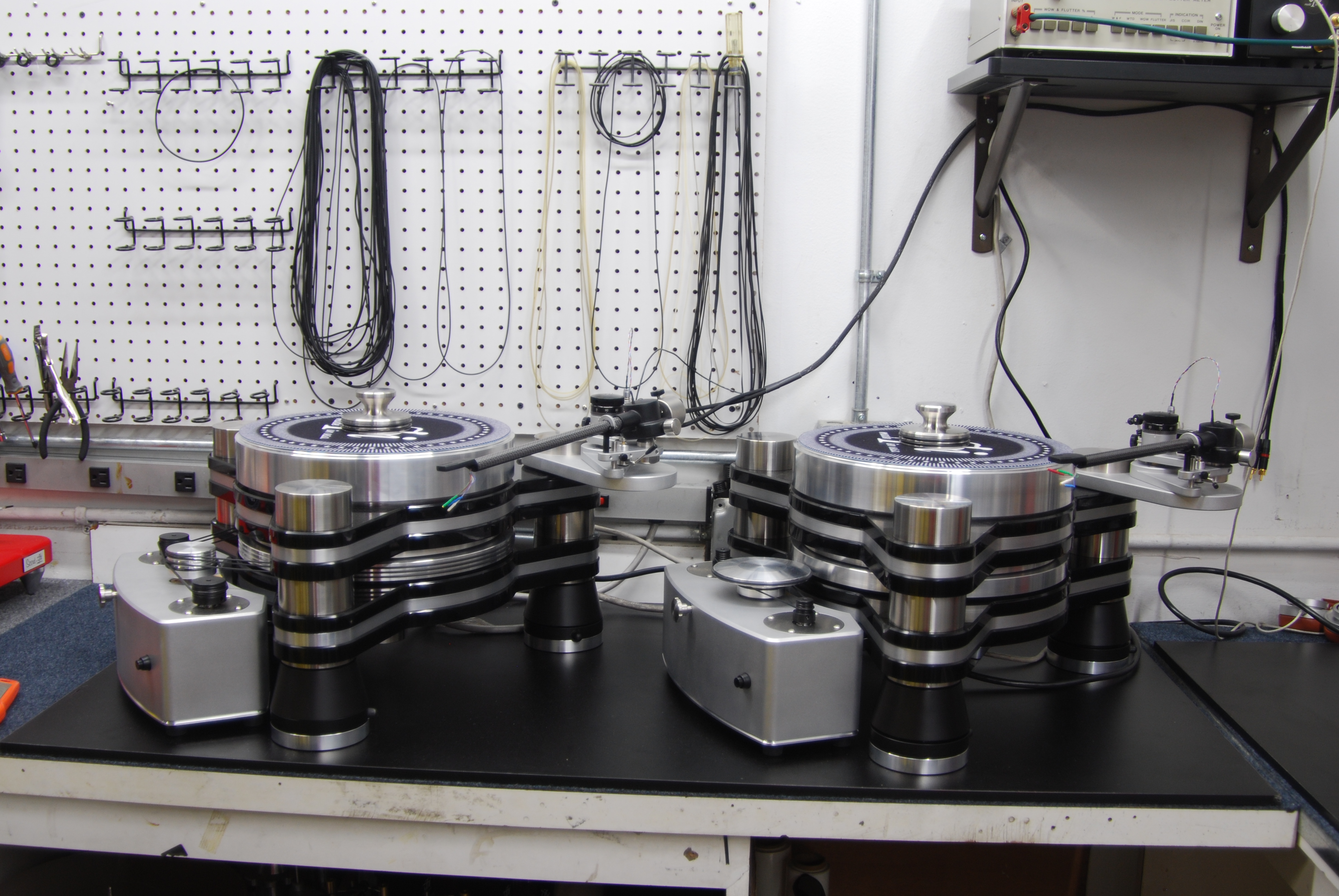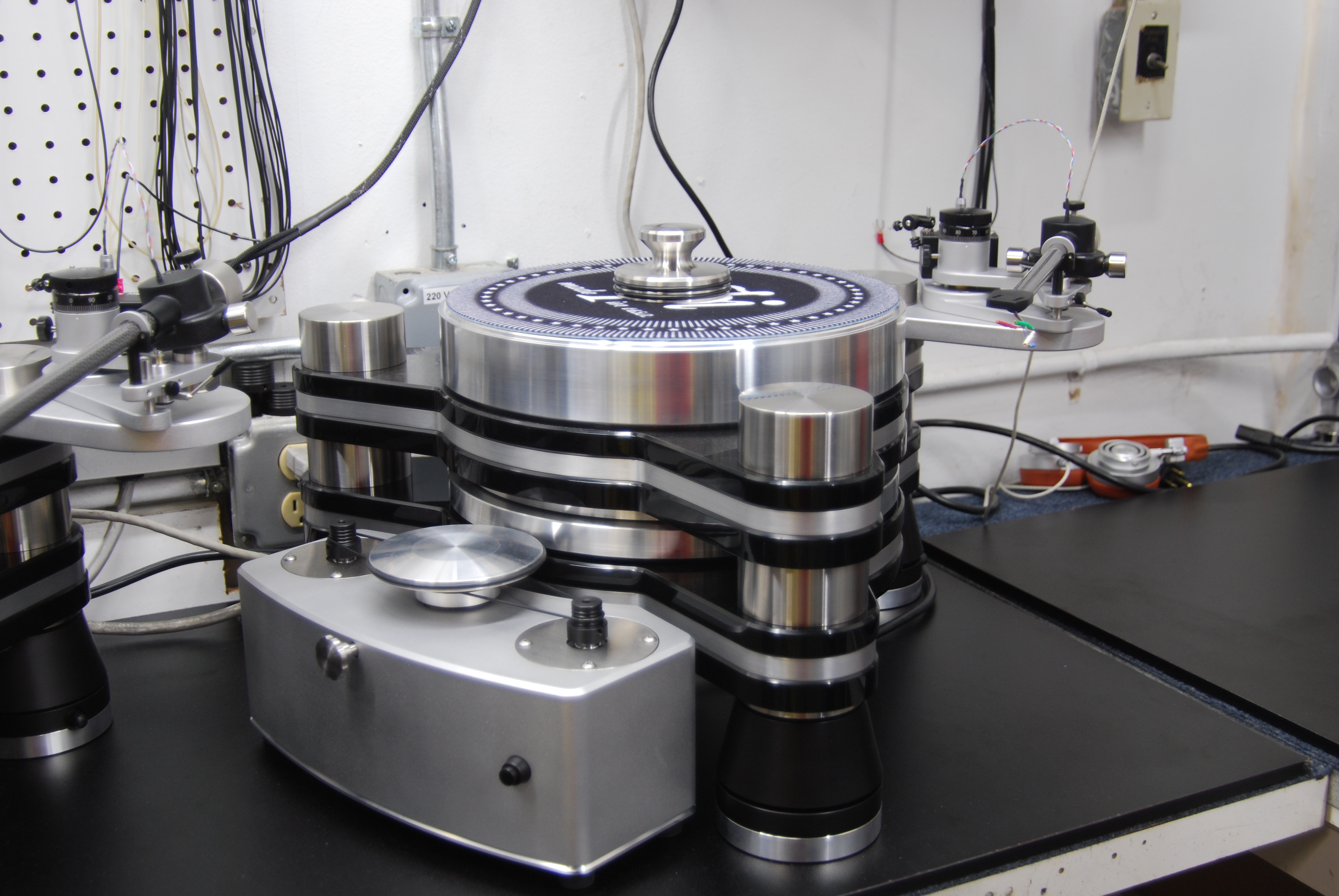 Finally, a little peek at some of Mike Bettinger inspired changes at VPI.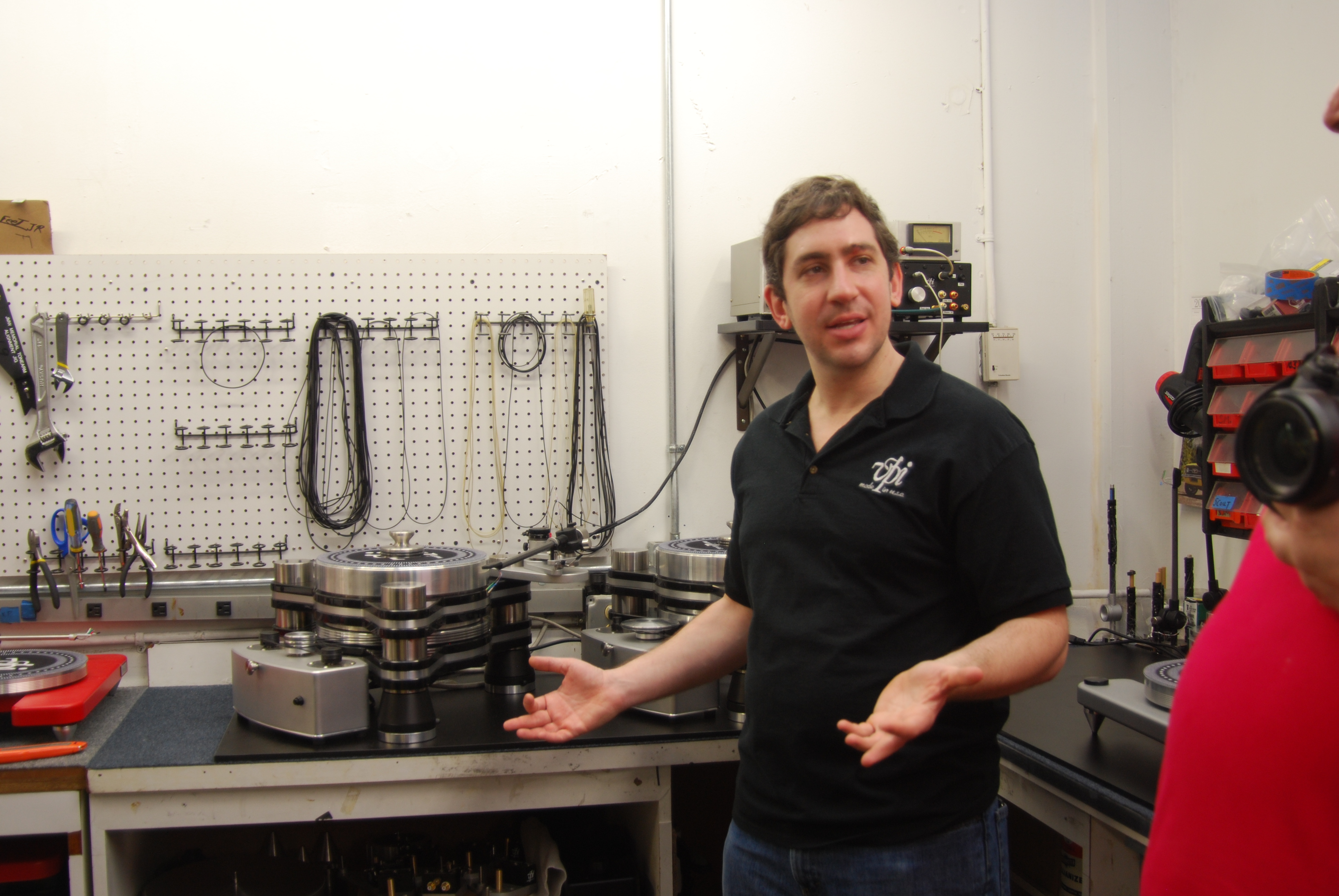 Here the run-in tables are checked for speed accuracy before shipment.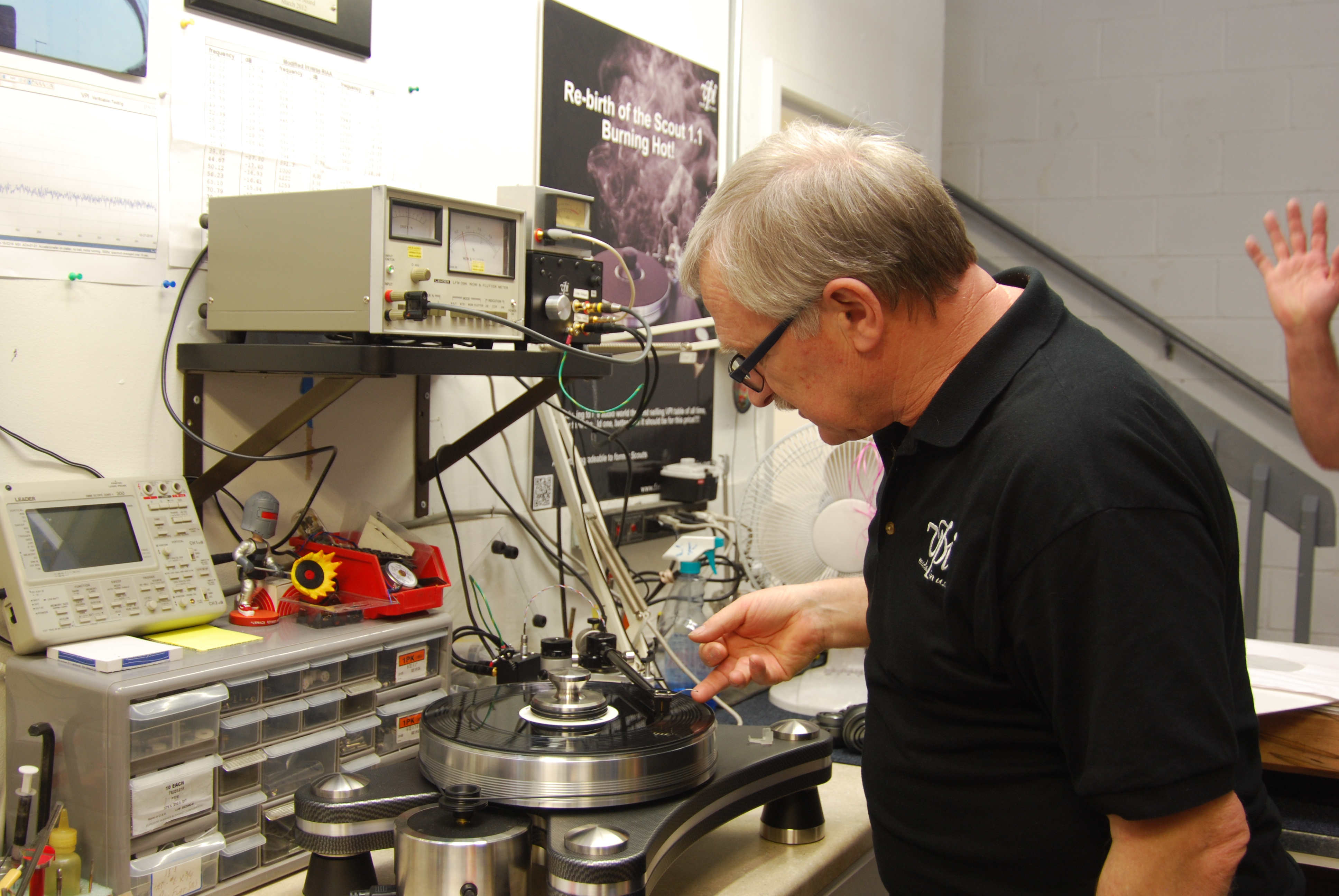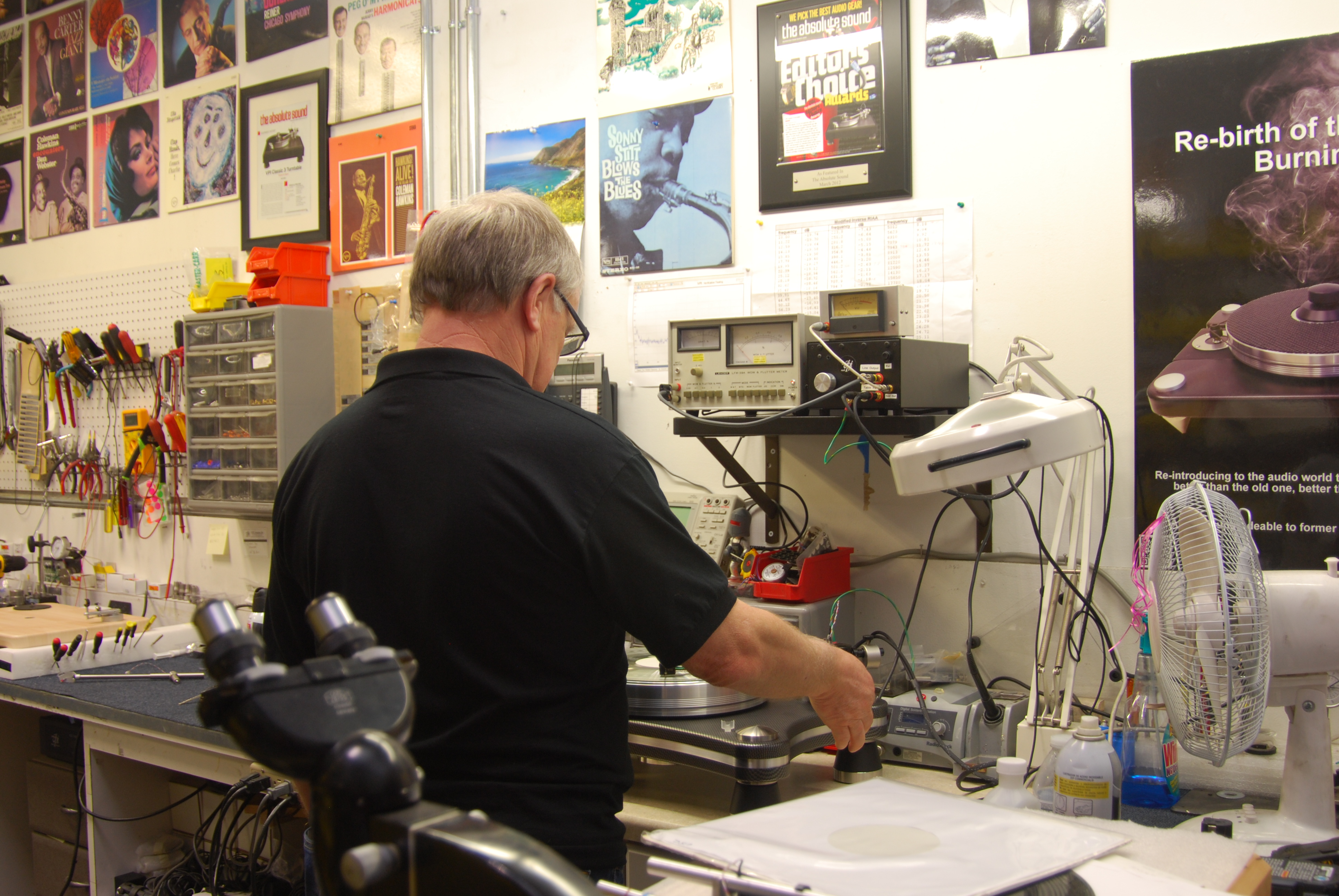 Inside Mike's Bettinger's lab at VPI. Here Mike has set up a system where turntable motor noise and vibration can be isolated, measured on an oscilloscope and the effect of different damping materials evaluated.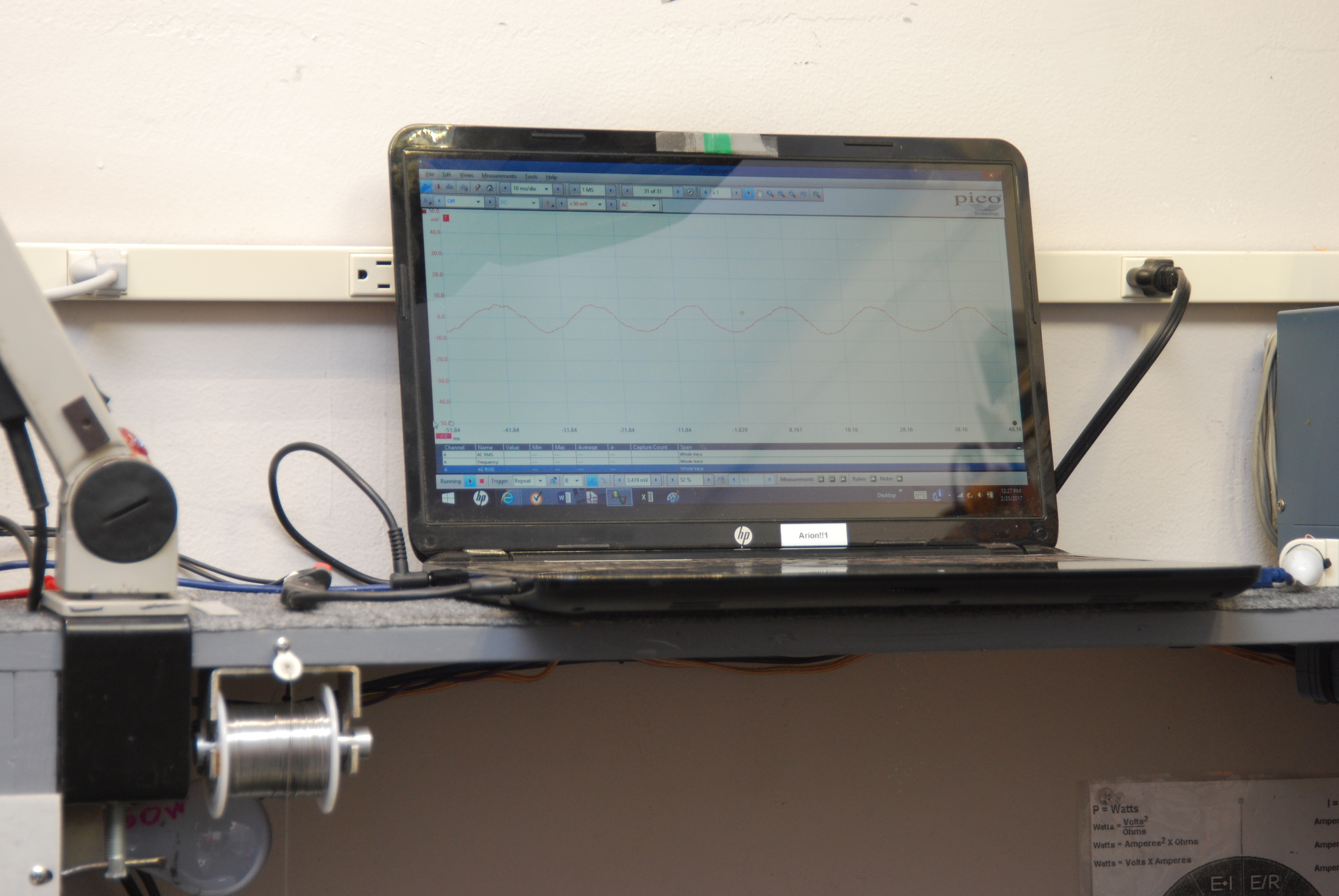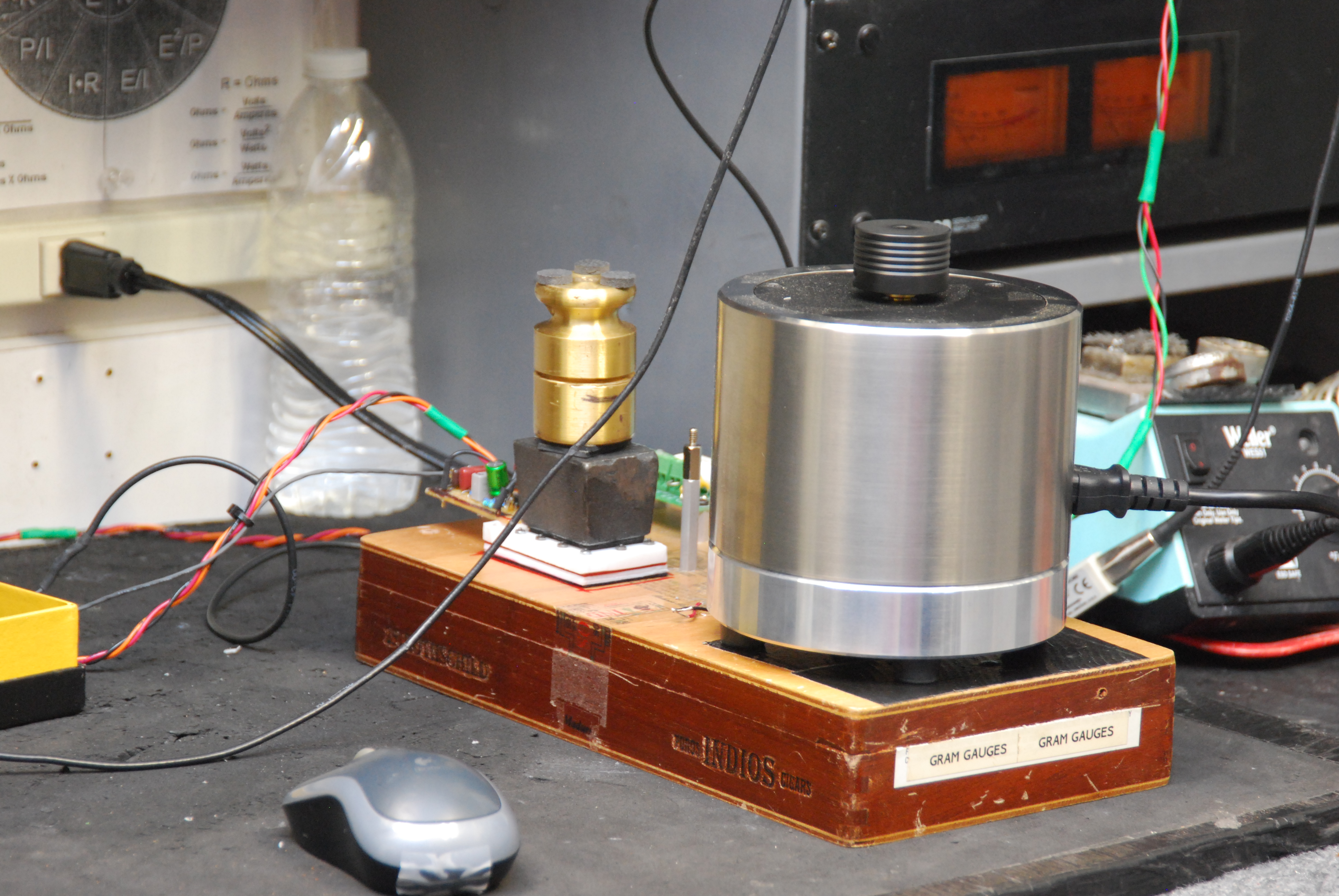 Coming: Part II: The VPI House