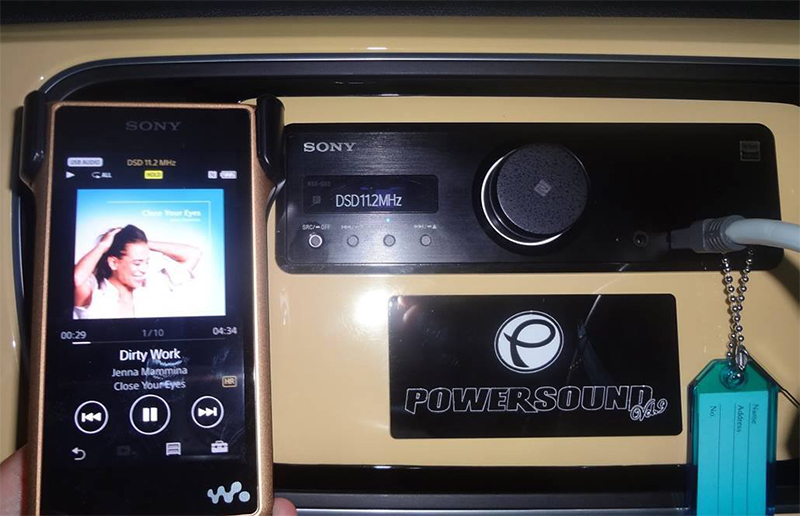 Sony RSX-GS9 Playing Dirty Work by Jenna Mammina in DSD 11.2 MHz (Photo: Blue Coast Music)
Sony Electronics has announced that their RSX-GS9 Car Digital Media Player is now available with Quad Rate DSD (11.2MHz) playback. Current owners of the RSX-GS9 can upgrade their players by downloading and installing a free software upgrade from the Sony Electronics High Resolution Music website. Here's more on this very interesting news from Sony.
First on the Market
In Early 2016 Sony Electronics expanded their audio line with several products that included DSD playback. One of these products was the Sony RSX-GS9 Car Digital Media Player ($1499). The RSX-GS9 offered PCM playback up to 24-bit, 192kHz and was the first car audio player on the market to offer Double Rate DSD (5.6MHz) playback. It has proved to be a top seller for Sony over the past year.
Quad DSD Enters the Sony Product Line
At the Rocky Mountain Audio Fest last October, Sony Electronics debuted their first three products with Quad Rate DSD (11.2 MHz) playback. This included the Sony Signature Walkman NW-WM1A ($1199), the Sony Signature Walkman NW-WM1Z ($3199) and the Sony Signature TA-ZH1ES headphone amplifier and DAC ($2199). (The TA-ZH1ES also includes hardware upsampling of music files to Octa Rate DSD (22.5MHz).
On the music side of the house, Sony Music Japan released a new edition of the classic live in Japan concert album Lotus: Complete Edition by Santana this April in support of the group's 2017 Japan Tour on April 19, 2017. The new complete edition was remixed from the original analog master tapes to Quad DSD Stereo and 4-Channel Surround Sound. It was released in Japan as both a Surround Sound SACD (featuring Stereo CD, Stereo SACD/DSD 64, and Surround SACD/DSD64 tracks) and as a Stereo Quad DSD Download at the eOnkyo Music Japan music downloads site. 
This is a nice addition to the ever-growing list of music downloads in the Quad DSD format. You will find them at several music download sites including Acoustic Sounds' Super HiRez, Blue Coast, eOnkyo Music Japan, Spirit of Turtle and NativeDSD Music. 
NativeDSD Music is of special note here as they have recently passed the 120 albums mark when it comes to Quad DSD Stereo downloads and almost 50 Quad DSD Multi-channel downloads.  That's just over 10% of the almost 1200 DSD albums offered at that site. A very encouraging trend indeed.
Clues to Sony's Next Step
After the September 2016 release of three Quad Rate DSD products, many were wondering what else Sony was planning in support of their new interest in Quad Rate DSD. The first clue appeared in March of this year when Sony appeared at a Car Audio Show in Thailand demonstrating the RSX-GS9 fed by the Sony Signature Walkman NW-WM1Z playing the song "Dirty Work" from the album Close Your Eyes by Jenna Mammina on Blue Coast Music in DSD 11.2MHz. 
After the Auto Show in Thailand and the release of Santana in Quad Rate DSD something else happened. References to the Car Digital Media Player offering DSD playback up to Stereo DSD 5.6MHz were replaced by references to DSD playback. Hmm, is something afoot here?  The answer is Yes.
Free Software Upgrade to Version 12
At the end of April, one week after the release of Lotus: Complete Edition by Santana as a Quad Rate DSD Download in Japan, Sony Electronics quietly posted a free software upgrade for the RSX-GS9 Car Digital Media Player known as Version 12. If you own the RSX-GS9 you will want to download and install this upgrade.
The version 12 software adds support for native DSD 11.2MHz/1-bit playback with a NW-WM1Z or NW-WM1A Walkman player using the car player's USB DAC port. Other new features in the Version 12 software upgrade include features for the Music Center app, song titles to be displayed when using either the USB1 or USB2 ports, caller names to be displayed when using the Bluetooth Hands-free Calling feature, choose the AUTO or OFF launch options for the Music Center app from within the Sony App setting menu, allows the lights and button illumination to be turned off to aid in theft prevention and allows you to adjust the button illumination brightness.
Official Launch at Upcoming Los Angeles Audio Show
Sony Electronics will be officially launching Quad Rate DSD playback for their RSX-GS9 Car Digital Media Player at the upcoming Los Angeles Audio Show (LAAS). The LAAS will be held from June 2-4, 2017 at the Sheraton Gateway at LAX Hotel adjacent to Los Angeles International Airport.  
The player will be on display as part of Sony's Magic Bus demonstration in front of the Sheraton Gateway at LAX hotel during the show's exhibit hours. Show attendees will also be able to learn about the Magic Bus which includes a specially designed audio system by Jon Whitledge of Whitledge Designs to show the benefits of high resolution audio.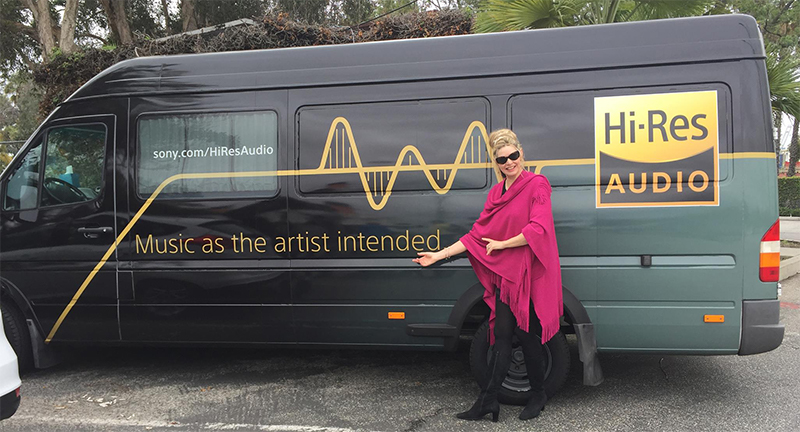 Pianist Fiona Joy with Sony RSX-GS9 Equipped Magic Bus (Photo: Blue Coast Music)
As a bonus, Sony Electronics and Blue Coast Music will be co-hosting a launch party for the SACD release of pianist Fiona Joy's album Into The Mist. The launch will be held at the show's Magic Bus exhibit area on Saturday, June 3, 2017, from 3:00 p.m. to 5:00 p.m. It will include demonstrations of the album's music in DSD 11.2MHz hosted by Fiona Joy and Blue Coast Music's Cookie Marenco.
What Comes Next?
It's great to see another key player in the audio market supporting Quad Rate DSD playback. Especially when it comes to adding this capability to the car and mobile audio market.  It does raise the question about what else Sony has planned in their support of Quad Rate DSD.
Could there be more Quad Rate DSD music downloads from Sony Music Japan in Stereo and Surround Sound down the road?  Might Sony Music also release their Quad Rate DSD music titles in countries outside the Japan market via partner download sites like Acoustic Sounds, HDTracks and HiResAudio? Will Sony's recently released STR-DN1070 AV Receiver with 5.1 Multi-channel DSD 5.6MHz playback be upgraded to Multi-channel DSD 11.2MHz playback? 
We will have to wait for the answers to these questions in the months ahead. But for now, kudos to Sony Electronics and Sony Music Japan for continuing to move the ball forward in the world of high resolution audio. Bravo!
Sony Adds Car Digital Media Player, Turntable and Disc Player to DSD Lineup
Discoveries at Rocky Mountain Audio Fest 2016
Santana's Lotus: Complete Edition in Quad DSD and SACD Surround Sound
Blue Coast Music – Downloads Store
NativeDSD Music – Quad DSD Music Downloads Store

Free Software Upgrade to DSD 11.2 MHz for Sony RSX-GS9 Car Media Player
Magic Bus to Debut 11.2 DSD (Direct Stream Digital) Playback at Los Angeles Audio Show
New Sony STR-DN1070 AV Receiver with 5.1 Multichannel DSD 5.6 MHz Playback