The DirectStream Junior DAC is my first in-home experience with a PS Audio product. It is also a brand-spanking new product, so my thanks to PS Audio's Marketing Director, Bill Leebens for making it happen. Having such a hot product on my review-plate does not happen to me that often. It's awesomely cool...
It's Steve McQueen cool.

The DirectStream Junior (DSJ) is beautifully made; solid, functional, and sleek. At $3999, it is also the most expensive digital front end I've auditioned in the Tune Saloon. Price notwithstanding, holy-crap-on-a-cracker, this DAC sounds great! One paragraph in, and you already have a good idea of the conclusion, but I went on quite a journey to get to that point.
I will report on the DSJ's functional features as they pertain to my own use of this DAC, but for more information, I suggest you spend a few minutes perusing PS Audio's website, where you will find in-depth specifications and operational data; as well as information describing digital designer Ted Smith's approach to engineering the DS series of DACs.
Unless you're a modern-day Rip Van Winkle, you probably already know about the DirectStream DAC. The DS Junior follows in dad's footsteps, and the two-year challenge for Ted Smith was to produce a junior DAC that would provide 85% of the sound quality of big-daddy DS in a package $2k cheaper. PSA met this goal by simplifying the chassis, display, power supply, circuit board layout, and balanced outputs, while keeping the pure DSD approach to conversion. But while there were many changes made to get to the lower price point, PS Audio upped the value ante by adding the Bridge II Network Card (an $899 option for the DS DAC) as a standard feature. As does DS, Junior houses a Field Programmable Gate Array (FPGA) utilizing Mr. Smith's custom software code to synchronously upsample all inputs to 30-bits at 28.224 MHz before processing by the DSJ. Input data is then converted to 1-bit double-rate (5.6 MHz) DSD and output to a passively filtered analog section.
The DSJ's sleek brushed aluminum and glossy black Plexiglas-topped body is both minimalistic and flat out gorgeous. The front features a backlit PS Audio logo Operation/standby button, and an OLED display with rotating control knob. The Op/Standby button is also a visual status indicator that flashes when updating firmware. The knob controls volume as well as Menu options after they are activated by a small pushbutton residing within the display. The DSJ features near-complete remote operation; volume and input displays are large enough to be easily read from my listening chair; bit depth and sample rate, are somewhat smaller and harder to read—doable for good eyes. Menu selections like balance and phase, are very small on screen, but can be used remotely. Other set-up options must be accessed from the unit in order to scroll through the drill-down choices—all requiring timely pushes of the menu button to activate.
The remote is a nicely made, all plastic affair, which can control other PS Audio products as well. It is therefore, quite button-busy, but it is also backlit, which is very nice. I don't typically use the remote, as I prefer to use the DSJ with the Input setting on "Auto" (sensing the input in use), and its Volume Control at 100 so I can control it with my Bent Audio AVC-1.
The rear of the unit has all the requisite power goodies; 120v IEC connector, main power rocker switch, and fuse holder. There are single-ended RCA and balanced XLR output connections, and USB 2.0, XLR balanced, S/PDIF COAX, Toslink optical, I2S (HDMI) digital inputs, and a separate USB port for updating Firmware downloaded from PS Audio and loaded into the DSJ via USB thumb drive. In addition to the other inputs, the DSJ also features Ethernet allowing the DAC to become a UPnP streaming device by way of the built-in Bridge II.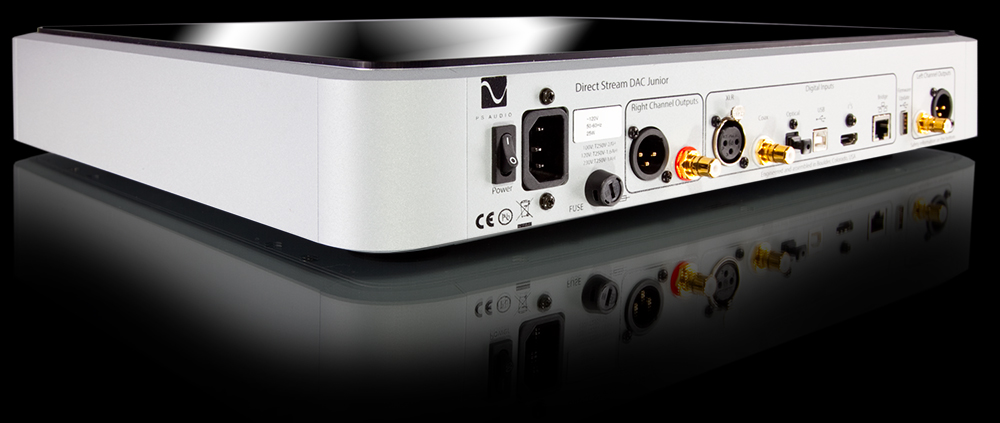 I won't lie, the Bridge II was kind of wonky to set up, but while it could've been easy to blame the DSJ/B2 when streaming didn't work, in reality, the fault for most issues were to be found elsewhere: CPU… Connectivity… Networking… Software set-up… Operator Error... all are fundamental parts of the hi-fi cocktail that is high resolution UPnP network media streaming, and when one or more don't work…well, there's more to that story a bit later. Since that initial rocky start, I've healed up from my (mostly) self-inflicted networking bumps and bruises, and when all is working as it should, sound quality is every bit as good as USB.
Operation and Design
USB operation is excellent. USB playback on Windows 10 requires PS Audio's USB 2.0 driver, and it worked from first install without even the smallest hiccup. When using USB output with JRiver Media Center 21, every file type played flawlessly. I connected my Sony DVP-7700 DVD player to both the coax and optical inputs too; and the DSJ immediately brought the old Sony new life. Whether computer files or CDs, all formats and resolutions sounded wonderful; and USB sounded so good, it made me wonder why I'm abandoning it for Ethernet… but yes, that is my goal.  While getting to the end of the streaming rainbow proved to be difficult; I believe it will be worth it. No more expensive USB cables tethered to my laptop, rather a Synology DS216j NAS serving up smokin' hot tunes via CAT 5e, and a remote server with new Samsung EVO 850 SSD, running the Roon Core, remotely controlled by a Nexus 7 tablet. Sweet… I'm stoked.
I really appreciate the PS Audio's remote controllable niceties like Phase Inversion, Input Selection, Volume Control, Balance, and High and Low gain settings. Because my Bent Audio AVC-1 is a passive linestage, I'm running the DSJ on its +20dB high gain setting. Even with high gain on, I still have 35 to 40 steps to play with before things get loud.  I really like having the option to control phase, not just because I can switch back and forth with each selection, but because I've had quite a few preamps in house that invert phase, and a few that don't. Swapping speaker cables is a simple fix, but toggling a switch via remote is a much more elegant solution. Of course I couldn't review the DSJ without connecting it directly to my Pass XA30.8 amplifier and using the DSJ as a digital preamp. The "bit-perfect" volume control works fabulously. PS Audio states that there is no sonic penalty for using the DSJ's VC, and I can say I never noticed a downside to using it. The sound was excellent, and I expect my short audition will not be the last time I run the DAC in this manner. I hope to try this configuration using balanced cables soon. If digital was my only source, I might use this simple audio chain permanently.
Diving in Head First: Directly Streaming with Junior
I'm the de facto beta tester of all things computer. Give it to me, I break it. At least that's what I'm told at work.
They don't even like it when I hold computer equipment.
I started digital life with a Commodore 64, quickly learning the rudiments of DOS (The Timewaster) by running up and down an endless number of command line directories and subdirectories, all to end up at 3 am with nothing to show but a lack of good sleep. Since then, I've built four computers, jacked around with routers and modems and wi-fi-extenders (Oh my!), and even had a real networked music streamer named Squeezebox (I got mama one, but it never kept her up at night)… so yeah, I've got (limited) skills, but I am not, never was, probably never will be, more than a computer bumpkin. So while I thought I had home-networking aptitude, I was wrong. I didn't know diddly squat. I struggled and struggled trying to get the DSJ stable and streaming. At the end of the day, there was only one real issue with the DSJ itself; I needed to set the Static IP address in the DAC's menu. The rest of the mess was completely of my own network's making. After several weeks of futzing around, I finally learned how to diddle a little, but never quite mastered squat.
Reading Audio Networking for Dummies would have saved me time and humiliation.
I never expected to have such a hard time streaming hi-rez via Ethernet, but I did, and I have some subjective recommendations from that experience: In a perfect world, own your modem and router rather than "renting" from the Internet provider as I do. And while it does work, a wi-fi network bridge may not have enough bandwidth-horsepower for the Bridge II. (It is not recommended by PS Audio.) Learn how to access your router; setup Port Forwarding, evade Firewalls and antivirus software; and yes, use a Static IP address instead of DHCP. And here's a biggie, especially if you are a JRiver Media Center user: Learn how to correctly set up your music playback software. Even though PS Audio has very good documentation on JRMC, don't expect it to work perfectly all the time—it probably won't.
Caveat Emptor
It could well be, that none of my suggestions will make one iota of difference—it may all work extra-special fine the very first time, no matter how you've set it up (which will tick me off royally if you flaunt it). And while social convention does not allow me to patently endorse a wireless bridge option, I did eventually get my Netgear AC1200 wi-fi bridge (via Ethernet port to the B2) to work well with the DSJ… most of the time. And while it does work, for maximum stability, and music streaming without dropouts or stuttering, the fastest hardwired Ethernet connection that can be mustered in your home is without question, the way to go.
Before I leave this topic for good (?), I must publicly thank PSA Customer Service Manager, Jeremy Bretey, for all his help to get this network crapola sorted out. We got there just prior to him putting my emails in his Spam folder.
As my dad used to say, "Son, they wouldn't call it (Net)work if it was fun".
Family Time with Paul and Company 
There are numerous high-end audio companies that take customer service to the highest level. Many have their own Internet forums where anyone can ask questions and get honest end-user responses, as well as have direct interaction with company representatives. A few companies furnish or sell beta products and ask for user input. A couple even have their own audio publications. PS Audio does all of the above, and it is clear, when you buy a PS Audio product, you become part of a family that has been in existence for more than a gazillion audio-years (give or take a few million) in one form or another. While certainly not unique, it is reassuring that questions on PS Audio's own forum are often answered by someone with a direct hand in designing the product.  
I spent a lot of time lurking on the PS Audio forum just to get a good feel for the temperament of owners and their relationship with PS Audio. When I first took delivery of the DSJ, PS Audio was working on a new firmware release for their flagship DirectStream DAC. Code-named Torreys, it had been in beta development and several DS owners were chipping in with their own evaluations. The subsequent release of the updated code for the DS was a success with few, if any, seriously vocal detractors. PS Audio was also working on the DSJ version of Torreys, and I quietly shared in the short journey of scrutinizing various versions of the firmware. With each upload, I was playing with a different sounding DAC; voiced by Ted Smith, PS Audio CEO Paul McGowan, and blessed by none other than Arnie Nudell (Founder of Infinity Systems).
It was a very cool experience. 
In addition to all that was happening on the DAC firmware-front, waiting in the wings was a highly anticipated update to the Bridge II that would make it Roon Ready. DS owners requesting the B2 update were greeted with the news it would be released earlier than intended to quell a minor uprising from the faithful… nice work PS Audio. 
Ruminating on ROON
Late in my time with the DSJ, I uploaded a trial of Roon Labs software music player. I think it a terrific bit of software magic. I love the GUI, and unlike MC21, it has been extremely stable with the RoonReady Bridge II, playing without distortion or drop-outs. While their subscription/lifetime purchase model has not been universally appreciated, Roon is an addictive music player that integrates seamlessly with the DSJ.
Roon still has few edges to polish, but it is pretty darn nice now. If I were to be interested in Tidal integration, then it would surely be a no-brainer. JRMC 21/22 sounds as good and costs way less, albeit with far less desirable visuals, and a quirky GUI. I do not believe Roon is grossly overpriced, but it is not quite a pull-the-trigger purchase for me. Still, the price of a single high-end USB cable could buy a lifetime subscription, so my reservation is based largely on how much I think Roon will enhance my overall musical experience. As of this writing, I enjoy it immensely.
What you really want to know is, how does Junior sound!?!
So you've skipped all the trivial pursuits and jumped to the real question: Is Junior a good kid who mows the lawn without complaint, or a beer swilling, wallet-draining, cellar-dweller?  If you paid attention to my fast forward look, then you already know the son sounds pretty darn good.
I don't think it can be argued that we are living in a time of plenty when it comes to digital to analog converters. With DirectStream DACs bucking the trend to use off the shelf chips as the brains of the converter, PS Audio can voice the sound of their DACs as they see fit, with continual improvements a reality. With the latest firmware (Torreys) loaded up, the sound of the DSJ is complex and refined, with layers upon layers of sound. Clarity is excellent. Bass is distinct and musical. Treble is extended, and the midrange, while not warm and cuddly, is engaging and highly resolved. Staging is cinematic theater wide when it needs to be. But again, for me, it's the excellent layering that steals the show. Sound seems to come from every little nook and cranny, in front, to the side, and behind the plane of the speakers.
While listening to Herbie Hancock's Headhunters, I decided that the DSJ is a chameleon.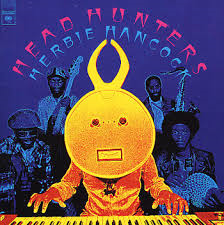 Whatever you think about it at one moment in time, may change the next. 
The DSJ renders a composed sonic picture that is as neutral as I've had in house. This neutrality—a design objective according to Ted Smith's comments on the PSA forum—allows the DSJ to bring each recording to life in a unique and exceptional way; at times sounding little like any other DAC I've ever heard—it has remarkable resolution that is fantastic to listen through. The DSJ doesn't add over-the-top sparkle; unnatural coloration or hardness, but while the most lackluster recordings still sound pretty good, the DSJ is not a politician; it will tell you honestly when there are warts on a recording, even when it's not so good.
Yep, resolution, the DSJ definitely has it.
But as we say in the Midwest (use yer best redneck accent), It's all good.
Space…The Final…
The DirectStream Junior is kinda spacy. When present on the recording, you clearly hear the reverberations of sound bouncing around the venue; and there is incredible depth and separation of individual instruments. This combination gives the DSJ a wonderful soundstage that displays big bold images and intimate sonic pictures. Ever the chameleon, one minute I can be sitting at a 4-top in the Bluebird Café; the next, rocking to Santana from a hilltop on Yasgur's farm. The DSJ loves live recordings and I've enjoyed them more with this DAC than any other I've had in my listening room. It should be noted that the DSJ is one of a handful of components that required a reset of my speakers. It was quickly obvious that in order to "set the stage" correctly, my VSA's needed to be a little closer together and pulled out a hair more from the wall.
Tone-y
A fantastic recording to assess a component's ability to reproduce proper tonality is Chick Corea's Elektric Band's Eye of the Beholder. With its neutral stance, the DSJ is very good at tone. I noted the resonant beauty of the grand piano, as well as the DSJ's ability to render the slam and delicacy of its attack and decay. Lower registers are especially impactful; each note hitting hard, the following harmonics trailing off into nothingness. Chick's mastery of keys is easily heard, as is John Patitucci's deep, sensuous  bass lines. Weckl's drums punch hard, Marienthal's sax soars, and Gambale's guitar bites and sooths... all with perfect timbre. In all, it's a tour de force by band and DAC alike. I had the great pleasure to hear this entire album played live in an intimate setting shortly after it was released. It still amazes me how much the recording sounds like that live event. The DSJ does it proud.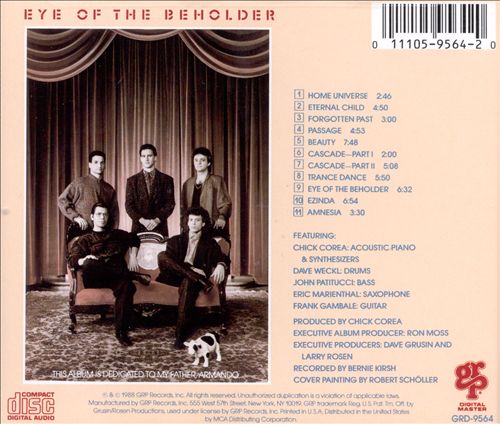 The DSJ seems to convey dynamic contrast more convincingly in the small spaces than the large. But while I do think the DAC's strengths play more to space and inner-resolution, don't mistake Junior as a polite young man. There always seems to be a little musical tension, as if my system is waiting to blow sky high. Dynamic swings will thump you when necessary, sparkly tinkles light up the room in the proper places, and there is enough detail that you will never forget it's a high-end audio component. And while I felt for a time that the DSJ might be missing a little of the explosive macro-dynamics and thumping bass that many hi-fi systems seem to relish showing off, a listen to the B-52's "Love Shack" quickly caused a different thought bubble to form. Deep bass. Check. Dynamic slam. Check. Serious boogie-factor. Check.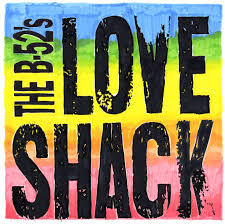 Bang, bang, on the door baby…Bang, bang!
(Credit for and apologies to, the B-52's for semi-plagiarism of "Love Shack" lyrics)
Conclusive in My Book
A brief listen under show conditions is the only time I've heard the DirectStream DAC, so I offer no opinion on how the father and son might compare. But I can say that if you like the sound of a Sony HAP-Z1ES, but are looking for more more, then Junior just might be DAC for you. For me, both DACs play to the "analog" soul of digital. The HAP is smoother and more colored. Conversely, the DSJ is as neutral as I can ever remember hearing; and offers more detail and superior resolution without becoming unduly edgy. In addition, Junior has a much more believable, dimensional soundstage. Note to perspectives: Be careful about judging the DSJ too soon, as it requires a long break-in period; which for me included moments, hours, even days, of varying sound quality. As I discovered, you will not hear the full measure of what this DAC can do until you give it time to fully blossom—especially in clarity, extension and large-scale dynamics. And for you folks that don't believe a DAC can change that much over time, either pretend you didn't read it, or consider that it was I, the listener who changed. Either way, the DSJ is a way better DAC at several hundred hours in, than it was at one hundred.  I should also mention a couple of minor issues that I experienced. Twice I had difficulty loading new firmware. In both cases this was quickly corrected by PS Audio. And there were a few times when Junior acted up a bit—growing pains perhaps—bad sound, goofy operation, just something not quite right... in every instance all it took to correct these anomalies was a simple reboot.
With the introduction of the DirectStream, and now, the DirectStream Junior, PS Audio has given the high-end audio community a pair of digital to analog converters that walk their own sonic path; one which can be modified, enhanced, upgraded, and tweaked, by a single and simple firmware upgrade. That is a pretty sweet deal.
I owned the Sony HAP-Z1ES for quite a long time. It was, and still is, a very good DAC. However, I am an audiophile—not a crazed one, but one nonetheless—and I wanted a bit more of very good in my digital source. I wanted fantastically very good. I wanted network capability, and the potential to use Roon Labs media software seamlessly, and the option to try Tidal. So I gave up my beloved Sony security blankie, took on a streaming Junior partner, and I now have all those wonderful wants. Since conquering my network gremlins, operation of the DirectStream Junior has been rock-solid, and of course, sounds terrific. And yes, it's my new digital reference.
(9-6-16 Addendum: It's a running joke among the weathermen and women in the hottest areas of the country how many ways they can find to make the word "hot", interesting. It's somewhat like that in audio writing too. That is why I write more discourse articles than strict reviews. I like taking writing risks. I like being a little quirky. But admittedly, sometimes it works better than others. That said, my original narrative on the DSJ had almost 5000 words written before I even got to the main course: How it sounds. Editing took days. And while I wanted to keep the parts/pieces that make this audio-story unique to me, the initial posting was missing something; it didn't quite hit all the right notes, and I left some meat on the descriptive bone. So I decided to do something I've never done, and provide the PF readership with this additional (and important) flavoring to my original words:
Damn, it's blistering out today! (Wink.)
The main thing to know is this; the DirectStream Junior just keeps getting better. It is noticeably improved in every facet of reproducing music. Yes, even since I posted the original discourse in late August, it has gotten better. Not huge, leaping tall building advances, but small, yet easy to discern improvements. When Junior was a mere babe, I thought it might be a bit reticent, perhaps even recessed. Macro dynamics and slam were good, but not great. Then one day I rebooted, and all that changed. It continues to evolve. When taken as a whole, these refinements in sound push the DSJ to another level beyond that of a month ago. 
I've been able to listen extensively of late, and with each passing day, I've noted something new being a part of the sonic picture. Other audio writers have commented on the richness of the DSJ. I did not specifically note that in my original review comments. What I  hear,  is the DSJ's lovely, natural, tonal color. This "natural richness" is genuine and addictive. Low-level listening has improved 10-fold since I first unwrapped the DSJ, but it still loves to be turned up to fully enjoy the improvements in holographic imaging, blazing (hot!) transients, and visceral dynamism. Deep bass is now solid and fully-fleshed out. Focus and clarity are mesmerizing; and there is a newfound cohesiveness that promotes a sense of realism that is the best I've heard in my own listening room. This is one hell of a DAC, and while I've never questioned its musicality, I don't think I could have imagined a couple of months ago how amazing the DSJ would sound today. 
I enjoy all kinds of music, but I am unabashedly in love with great rock and roll from the 60's and 70's. I still get goosebumps when Lynyrd Skynyrd asks me to "turn it up" (it's a law in my house), or when Led Zep plays "Black Dog" like there's no tomorrow. All those bands and all that music. The DSJ has a remarkable ability to recreate the great recordings of my favorite era with incredible resolution, detail, and passion, while not just retaining, but enhancing the emotive enjoyment, I've gotten over the years since hearing them for the first time. And that, my audio-friends, is the highest praise I can bestow.)