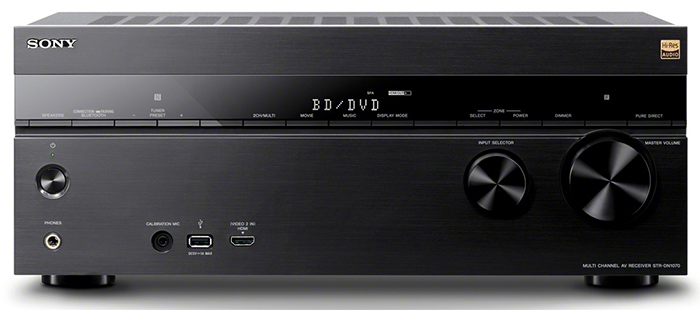 Sony STR-DN1070 AV Receiver with 5.1 Multichannel DSD 5.6 MHz Playback

Sony Electronics has expanded their DSD series of High Resolution Audio products with the release of the new STR-DN1070 Audio Visual receiver. Sony describes the STR-DN1070 as a 7.2 Channel Home Theater AV Receiver with High-Resolution Audio and Video plus Native Multichannel Native DSD Playback.
The STR-DN1070 was given a quick sneak preview earlier this year at the Consumer Electronics Show in Las Vegas. It is now in stock and available for purchase from several Sony retailers including ABT Electronics, Best Buy and Amazon.Com with a suggested list price of $599.
AV Receiver Features
The STR-DN1070 features 165 watts per channel x 7 of power at 6 ohms. It has 6 HDMI and 2 component inputs. The HDMI inputs and outputs support HDCP 2.2 content protection for 4K broadcasts and upcoming UHD 4K Blu-ray discs. 
The STR-DN1070 supports 4K 60p 4:4:4 video as well as HDR (High Dynamic Range) video content. This includes native 4K video pass through to 4K capable televisions, monitors and projectors as well as upscaling high definition movies and TV to 4K quality.
Other key features include Dolby TrueHD and DTS-HD Master Audio surround sound decoding, Digital Cinema Auto Calibration, dual band 2.5 and 5 GHz Wi-Fi, Apple AirPlay, Google Cast and Bluetooth.
5.1 Multichannel DSD & PCM Digital to Analog Converter (DAC)
A unique feature of the STR-DN1070 is its DAC which enables Stereo and 5.1 Multichannel playback of Native DSD music in both Single DSD (2.8 MHz) and Double DSD (5.6 MHz) as well as WAV and FLAC PCM files at resolutions including 24-bit/96 kHz and 24-bit/192 kHz via USB storage or a networked computer.   
Since the STR-DN1070 supports Native DSD, there is no conversion to PCM of this format enabling it to be "fully enjoyed without losing any of its original purity." The default Native DSD playback mode bypasses DSP processing. Listeners have the option of turning on the DSP processing which will provide DA conversion performed on the DSP output that has been processed in 32-bits "as-is" mode.
At $599, the STR-DN1070 is one of the most affordable ways to obtain 5.1 Multichannel Double DSD (5.6 MHz) playback on the market today.
Sony Adds Car Digital Media Player, Turntable and Disc Player to DSD Lineup
https://positive-feedback.com/audio-discourse/sony-adds-car-player-turntable-and-disc-player-dsd-lineup-updated/
Sony STR-DN1070 AV Receiver
http://www.sony.com/electronics/av-receivers/str-dn1070
Sony Electronics – High Resolution Audio
http://www.sony.com/electronics/hi-res-audio