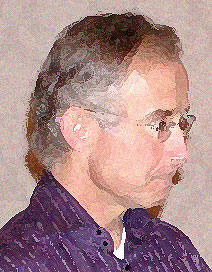 Audio consumers only want to know one thing: "Is it worth it?"
You can write, speak, sing, or finger paint about audio products all you want, but nobody stops reading and starts buying until cash equals contentment. What's more, determining value is a tricky thing. The glamor goods have it easy. Speakers the size of mahogany glaciers and amps larger than a small farm animal command crowds and attention. But even these musical Maseratis get all kinds of grief from party poopers claiming these products are bogus, increase social unrest, and don't sound as good as anything made outside of England or prior to Sputnik. Cables, modifications, and tweaks suffer even more criticism. Which is a shame, really, because many of these products give you the improved sound you want at a much better price than could be obtained from a wholesale system change. So when people walk around saying, "What price audio?" I reply, "Whatever you can spend, hear, and enjoy."
Last issue's column featured the Triangle Antal loudspeakers. For most people, the only thing you need to establish the worth of these speakers is a good photographer. That fact that their sound is bold and sophisticated is nearly incidental, as their sheer beauty is enough to get one of their five feet in the door. While reviewing the Antals, however, I was also listening to other products that, while not as immediately recognizable as bell ringers, offer considerable rewards for the right purchaser. First up in this category is the the Music Technology Incorporated Audio Upgrade Package for the Oppo BDP105D.
The Oppo BDP105D (Darbee Edition) should be familiar to any Positive Feedback reader, as many writers have extolled its virtues as an excellent and affordable multi-player (handling Blu-ray, DVD, SACD, DVD-Audio, CD, VCD, HDCD, AVCHD, MP4, AVI, and MKV s). The Darbee picture processing is the main selling point for general consumers, of course, and with good reason: The picture quality of this player is quite exceptional. Unless you have a very fine projector display, it's hard to imagine you could do better visually. The Audio Upgrade Package aims to provide comparable delights for your ears. The build and design quality of the Oppo BDP 105D makes it a good candidate for upgrades. It's been my experience that people who make modifications and upgrades are notoriously picky about which products they choose to work with. Nasty, unexpected electrical shocks and months wasted working on pieces of junk will do that to you. So, just what does the upgrade entail? In an email conversation with Positive Feedback Editor in Chief, David Robinson, Music Technology Incorporated's audio expert Bill Thalmann provides the nuts and bolts of the Audio Upgrade Package:
"In a nutshell, we replace the clock with an extremely low jitter clock, with an emphasis on decreasing low frequency jitter, that has been identified as the major culprit in producing "digititis". If you can tame very low frequency jitter (not at all easy or cheap), digital begins to sound remarkably analog-like. Also, we raised the bitclock frequency to 80mHz, from about 55mHz, which optimizes the ESS DAC for 2 channel audio, which is the focus of this upgrade. The analog circuitry is discrete JFET with a low pass filter set at about 55kHz, which we, as well as a number of other folks, have found just sounds better than the lower turnover found in most CD/SACD players."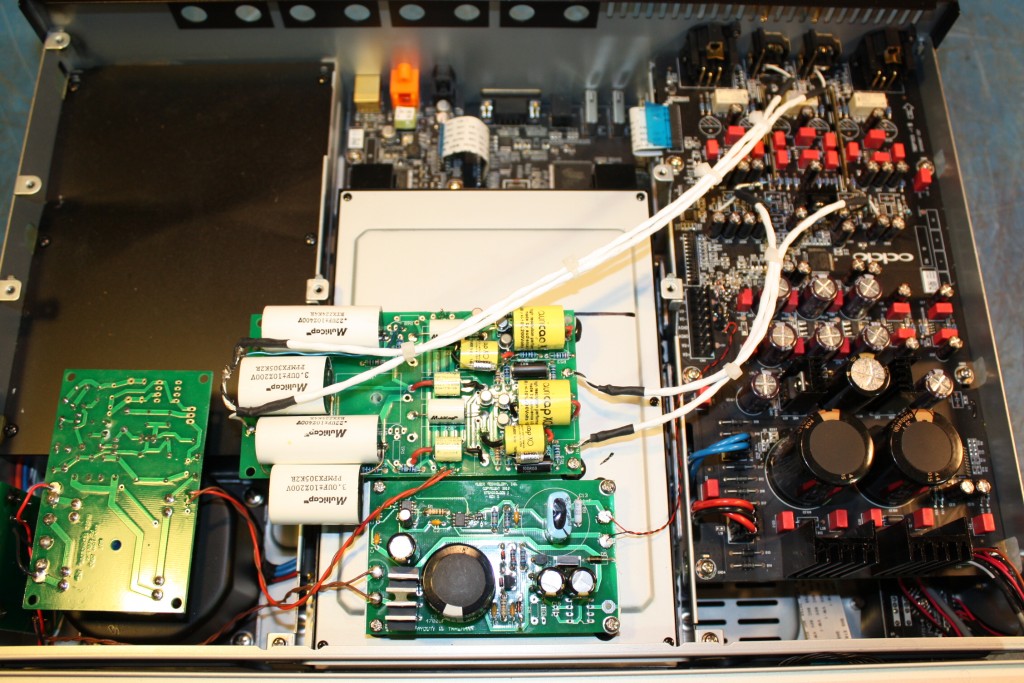 A number of companies share Music Technology Incorporated's philosophy that the key to improved digital sound is by improving the clock, but the additional step of improving the signal path could also be just as important to improving the Oppo's audio performance. In a separate email, Thalmann states that even the very best opamps, "Simply will never sound as good as a low or no feedback discrete circuit. The reason for this is the amount of feedback needed to control an operational amplifiers gain. This damages time coherence, which hurts image focus among other things." The virtues of a simplified design is a recurring theme in audio, so Thalmann's view resonates well with my understanding of things. The Audio Upgrade Package runs $1800 for the unbalanced package and $2400 for balanced, and you supply the player, which adds another $1300 to the cost. You can get by with the slightly cheaper Oppo BDP 95 model, but that won't support a balanced configuration.
The sound of the modified, unbalanced BDP 105D sent to me was, as expected, considerably better than the sound of the stock BDP 95 that I know so well. I don't know about you, but when I have new gear in the home, I invariably proceed in one of two directions: crappy to creme de la creme or vice-versa. This time, I started off with the best sounding stuff: the Yarlung Records and Analogue Productions SACDs at the top of the audiophile stack. The mark of a fine player is its ability to impart solidity to an instrument. Playing "Milonga del angel" from the exquisitely recorded Antonio Lysy at the Broad: Music From Argentina (Yarlung Records, 27517), the soft piano that introduces the piece fills acoustic space with tangible presence and anchors the romantic refrains of the accompanying piano and cello. Any music player would be challenged to reproduce the subtle details that make the piece so moving; yet, the Music Technology Incorporated player proves more than up to the task. It's been my experience that, as you move up the line of CD/SACD players, the audio picture comes better into focus. At first, lesser players sound "bigger," but you soon recognize that "boomier" might be a better descriptor. So, here, with this upgraded BDP 105, the sound is tighter and cleaner than I've heard this recording on other players.
Soaring, broad scale classical orchestra pieces, such as the "Invocation to the Nymphs" from Ravel's Daphnis et Chloe (Charles Munch, conductor, Boston Symphony Orchestra, Sony BMG Living Stereo SACD), are the prime beneficiaries of this player's heightened performance capability. In short, it achieves the essential goal of enabling one to hear and feel it more. Discerning the addition of graceful violin accents in the midst of a full chorus vocal crescendo is one of the chief delights of repeated listening, which is why someone would invest (and be rewarded by) the Music Technology Incorporated Audio Upgrade Package in the first place. Being enveloped in the caress of Nat King Cole's magnificent voice, while violins, woodwinds, and piano keys swirl about in "If Love Ain't There" (from Analogue Production's Where Did Everyone Go? SACD reissue) is a mighty sweet way to spend a sunny summer morning. So, I guess we're getting closer to answering the "Is it worth it?" question. Designing a DAC is like anything in audio, an expression of preference. To my ears, newer DACs are becoming better at fleshing out and softening the digital sound of the past. Moving down the sound quality chain (but closer to my heart) the Knitters' cover of the X anthem "The New World" is larger and fuller than on my older player, but perhaps a little less rough and rocking.
The most troubling question when evaluating this player and the Audio Upgrade Package for me, of course, is not having a stock BDP 105D on hand to listen to for comparison's sake. Fortunately, Positive Feedback's eminent music reviewer, Karl Lozier, has had extensive experience with Music Technology Incorporated's Oppo modification process from the beginning (and even before, having known the modders behind the madness for many years prior). Karl reports that this latest iteration is sonically superior to the stock model in every way. He feels that the biggest impact is the result of a significant reduction of distortion and extraneous noise, which enables the player to deliver smoother, more detailed sound. Karl then dashed off a number of examples from his extensive knowledge of classical music to illustrate the upgraded Oppo's strengths. Humbled by his music and audio expertise, I bowed, nodded in agreement, and remained respectfully silent.
Is the Music Technology Incorporated Audio Upgraded Package worth it? The Oppo is an excellent CD/SACD player, of that there's no doubt, and playing all files (including DSD) via the USB input shows that the DAC is competitive with all but premium priced competitors. The design philosophy seems sound, and multiple sources agree that the upgrade appreciably improves the player's sonics. All mods invalidate the Oppo's warranty, so it's reassuring that Music Technology Incorporated has the means and experience to make any repairs necessary, as well as offering a year warranty. For those hoping to squeeze even more performance out of their Oppo BDP 105D, the Music Technology Incorporated Audio Upgrade Package may be a reasonable investment to make a big improvement. And if you're looking for a one box solution for top grade audio and video, Music Technology Incorporated offers a tempting option. In any event, the folks at Music Technology Incorporated are enthusiastic about upgrades and sound. I can attest that they answer their phones and email promptly without knowing who's calling, and that's half the battle for the modding crowd. A fine product, and definitely worth looking into for the right customer.
Music Technology Incorporated Oppo BDP 105D Upgrade Package
Retail: $1800 (unbalanced option) and $2400 (balanced option)
Music Technology Incorporated
http://musictechnology.com