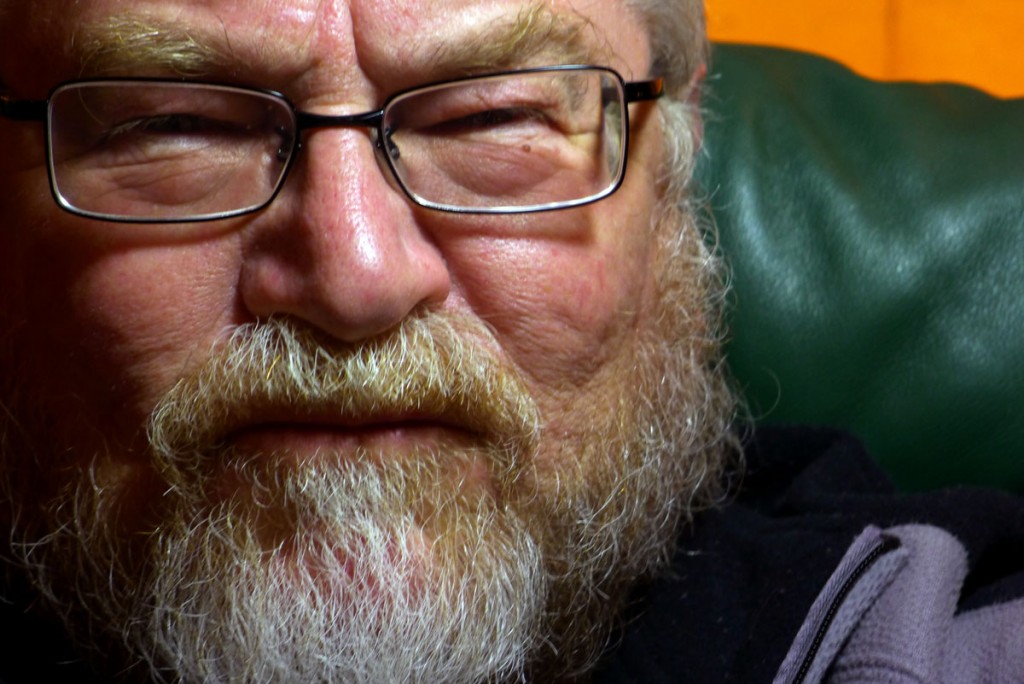 After laughter at the first GOP debate from Donald Trump's chauvinist dump on Rosie O'Donnell, jazz hounds, east and west, now look eagerly ahead to the impeccable vocal art of Diane Reeves on the third weekend of September this year near Carmel. Ms. Reeves is literally at the top of any astute list of jazz divas. Newly enshrined Hall of Fame pitcher, Pedro Martinez, often asked opponents (as well as no one in particular), "Who's your daddy?" Perhaps the celestial Diane should ask all of us who our contemporary "jazz mama" is. She has quietly taken on that status carried by the great Sarah Vaughan for several decades. Anytime Diane Reeves appears at Monterey presents enticement to book your room not to be left out.
Perhaps, in light of these pieces of Americana, we might invoke the local Guru-in-Residence at Monterey from its first festival all the way through to the 58th here in September: the incorrigible Clint Eastwood. No one owns a more perfect roll call attending this event. No one could write a more accurate summary and exhaustive understanding of its meaning. I imagine, if Dirty Harry or Josey Wales didn't spend such arduous time on-site filming and directing (off-site writing and producing), there's one book at least that could flow effortlessly from this creative man's fertile imaginative recollection. The complex character in MAGNUM FORCE who tells us that "a man's gotta know his limitations" clearly comprehends an overloaded life that speaks such wisdom.
I'll note here that legendary tenor saxophonist/composer Benny Golson, 86 and counting, celebrates the publication of his autobiography, Whisper Not (Temple University Press), next year. In a nearly endless string of profound and hilarious moments from his exemplary life, a never-to-be-equaled gig with CHICK COREA in Canarsie (at the end of the subway line) reads like a real-life version of Richard Pryor meeting Gene Wilder. Chick and Benny took turns being the straight man as well as the goof. Their safe exit from an over-wrought crowd of German revelers, drunk and patriotic, depended on their combined ability to fake the German national anthem, over and over, to thwart burgeoning aggression explicitly aimed at them. Ask Chick what he remembers of the night he survived by the slippery skin of good luck. Their subway trip back to Manhattan was a welcome vacation in the safety of ordinary banality.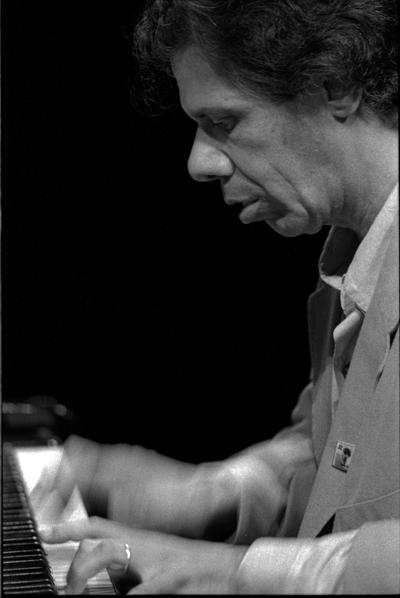 Chick Corea (Photograph by Michael Oletta)
Diane Reeves' angelic gaze across Monterey's musical pulchritude this fall will encompass a man who's powered to noble heights despite the honorific burden of owning the most indelible name in jazz history, Coltrane. Those who know Ravi Coltrane (check out percussionist Jonathan Blake) attest to his profound sincerity, humility, and flat out talent. Parenthetically, think of the difficulty of being who you are without an oracular name carried everywhere you go. One of the most difficult challenges anyone encounters in a lifetime's effort to craft a uniquely-realized identity, in any sphere, is the ambiguous "blessing" of a legendary parent who's gone before. Do not miss how extraordinary this young man's artistic grace and power truly are . . . no less his iconoclastic dignity. Consider yourself fortunate to hear Ravi in person. It is the closest you'll ever come to the Coltrane mystique and splendor.
Hooray for Monty Alexander's Trio with John Clayton (bass) and Jeff Hamilton (drums). This is a group that defines what the term "hip" means. I remember my first look at the senior Clayton, in Sarasota, Florida (1989). At an unripe age, he was granted responsibility for assembling heavyweight musicians into jam session groups, a task he pulled off flawlessly: Snooky Young and Joe Wilder, his seniors by forty years; the irascible Nick Brignola immune to overtures or directions; Howard Alden and Dan Barrett scuffling backstage like lion cubs let loose. Because I've worked with John Clayton on Benny Golson's 80th anniversary tribute at the Kennedy Center in Washington, DC; recorded his students at USC; and watched his son, Gerald, become one of the important rising pianists in jazz, I can assure anyone that—above Los Angeles, where (thankfully) the air is now clean, one's view across the crowded terrain below secure—John Clayton, bassist (composer, arranger, band leader, professor, provocateur and nurturing father) has it all squarely in his ample sight.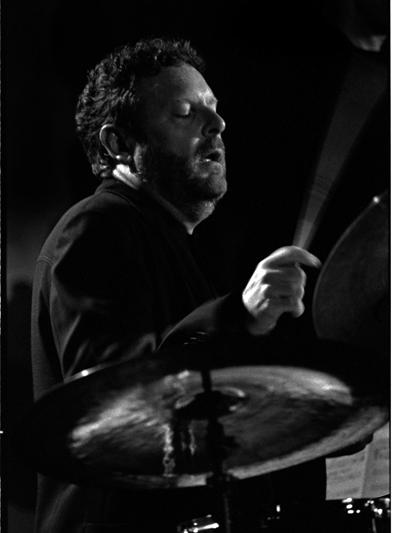 Jeff Hamilton (Photograph by Michael Oletta)
Doubtless a highlight for many will be long-acclaimed trumpeter/composer/leader WYNTON MARSALIS and his Lincoln Center Orchestra, which has become a central jazz institution in America and beyond.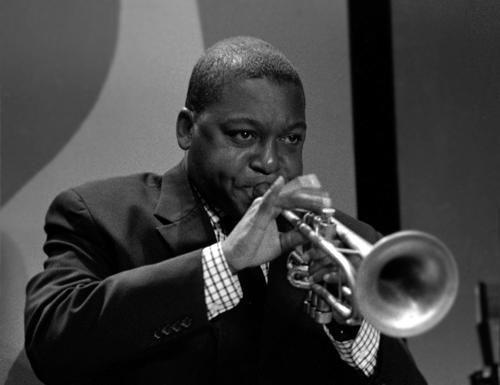 Wynton Marsalis (Photograph by Michael Oletta)
Not to be missed over the three day weekend is the high-energy timbales drive and Latin salsa/mambo enchantment of Pittsburgh born, world traveler (painter extraordinaire) Pete Escovedo. Deep in the tradition of Cal Tjader's mesmerizing grooves, Escovedo is not only a living link to the grand tradition of Dizzy Gillespie and Chucho Valdez alongside Chico O'Farrill and Tito Puente. His extended talented family (including Sheila E.) is a musical juggernaut to reckon with on its own.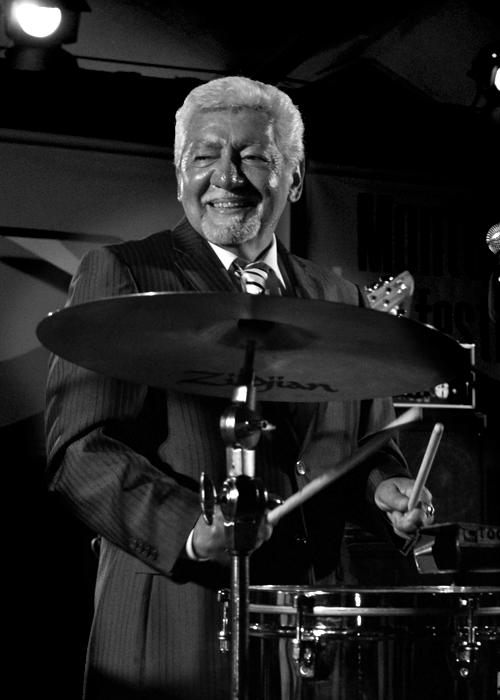 Pete Escovedo (Photograph by Michael Oletta)
One of my favorite musicians PERIOD is bassist CHRISTIAN McBRIDE. Whenever this over-the-top force of joyful nature graces a stage beautiful soulful things appear like rainbows after summer showers. Perhaps my favorite moment with Christian at his peak propulsive perfection took place six or seven years ago, at Soka University in Orange County, with Geoffrey Keezer on piano and Tereon Gully, percussion. There are moments in jazz that defy both comprehension and expectation. This was an event that allowed three great musicians to levitate simultaneously.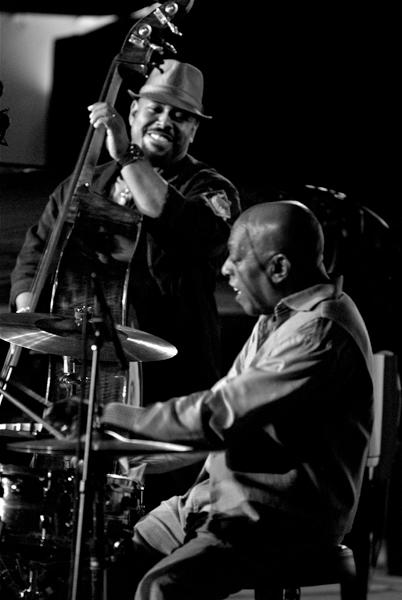 Christian McBride & Roy Haynes (Photograph by Michael Oletta)
Several years back, Vince Mendoza assembled an all-star orchestra to re-visit Miles Davis' landmark Columbia six-eye vinyl albums from 1957 and '58: Sketches Of Spain and Porgy And Bess. Terence Blanchard had the unenviable task of "being Miles"—live, outdoors, without sheet music, on a chilly blustery night on the Jimmy Lyons stage. I witnessed those remarkable performances front and center next to Orrin Keepnews and Herb Wong . . . us three ol' buzzards thoroughly enchanted as Terence, out-performing Miles, heard an utterly angelic version of Gershwin's "Buzzard Song" among other immemorial offerings.
Several things must be said about that uniquely brilliant event. Miles, in the comfort of Columbia's New York studio, was unable to complete an uninterrupted rendering of two songs that Terence (without music before him, playing in bone- numbing cold) ripped straight through without struggle or deviations. I note this not to diminish Miles, but to register what an Olympian performance, under unimaginably challenging conditions, Terence gave … truly one of the greatest executions of lyric beauty, physical strength, and personal majesty that, over more than 60 years, I've ever heard.
Vince Mendoza's charts, drawn from Gil Evans' originals, were executed by his crack aggregation of artful gangsters as if each of them had performed each piece on stage from early adolescence. Peter Erskine (returning to Monterey again this year) was at the noon-apex slot of the orchestra's wide arc. Gary Foster's arch alto sax brilliance rose to numerous soaring moments of obligato intensity. That ageless whirling dervish of virtually every woodwind instrument, Gene Cipriano, repeatedly added dark erotic tonal luster that is the hallmark of Gil Evans' harmonic palette. Let the record somehow show, forever, that at Monterey on a Sunday night (September, 2012)—in the company of several codgers who knew how great their luck was to return to a moment without equal in jazz history, long gone, but offering something "better than perfection"—a once in a lifetime concert, on Jimmy Lyons' cherished stage, accomplished a musical feat that approximated the allure and mystery of Duende suffused with Zen poise.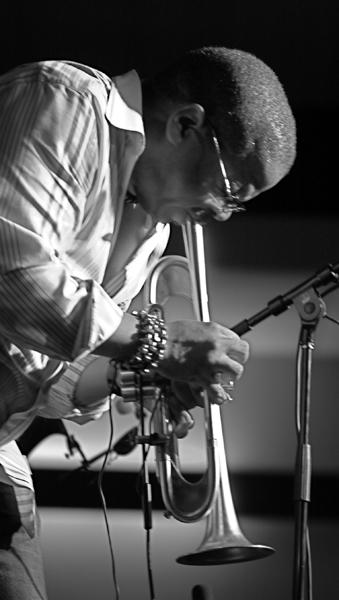 Terence Blanchard (Photograph by Michael Oletta)
Kyle Eastwood has pushed his art with diligence and care to arrive now (for a while, in truth) as a forceful, adventurous bassist of considerable significance. Perhaps growing up as the son of the one and only Clint was a better gig than what Ravi dealt with. I do not know, but I'm certain that it was not a bad trip growing up with the advantage and fun that Kyle enjoyed. Tenor sax titan Donny McCaslin has noted how cool Kyle's dad was as the two young musicians grew up together.
This is certain. Over the fifteen or more years that I've listened to Kyle's maturing style and chops, his steady advance has marked not just an earnest student who's risen to an accomplished stature but who is now primed for a future defined by perpetual surprise.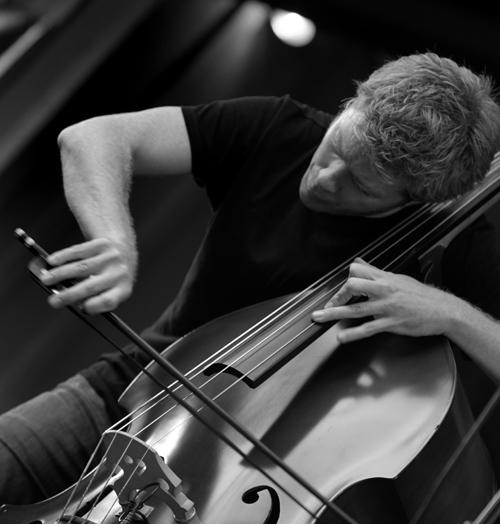 Kyle Eastwood (Photograph by Michael Oletta)
I'll end by pointing to two magnificent musicians who will be on the scene this year. Drummer Alex Acuna is a powerhouse in his own right, the leader of a fantastic 18-piece Latin orchestra, "Tolu," and the only band leader to my knowledge who—when prohibitions by the State Department kept great Cuban players from our shores—found a way to bring the glorious Lucrecia from Havana to perform in the center of downtown Los Angeles, at the California Plaza, on an Ansel Adams-inspired full moonlit night with three thousand jubilant fans regaling her every move.
Not least, bassist Darek Oles, longtime friend and associate (and more) with recently departed bass legend Charlie Haden will be on hand for a Monterey weekend that looks to be an event not to miss.