Gather around, audiosports fans! It's that time of year again…Positive Feedback's Brutus Awards season. Here is 'Part The Second' of Robinson's Brutus Awards 2016. Part The First can be found HERE and Part The Third HERE.
Electronics, Part 1
Gryphon Audio Kalliope Quad and Qcto (256fs and 512fs) DSD DAC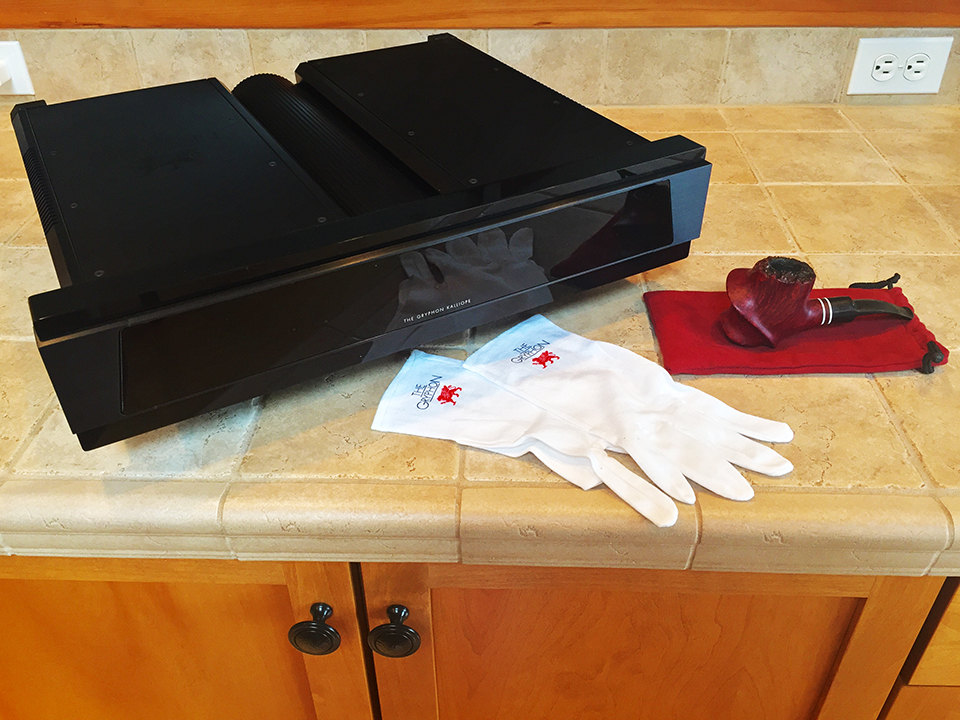 The Gryphon Audio Kalliope DSD DAC upon arrival… (photograph and processing by Robinson; Freehand style pipe by the Czech Pipemaster Michal Novak. Two works of art!)
Here was one of the true audio surprises for me in 2016.
Gryphon Audio is a very well regarded Danish high-end audio company. The founder and CEO, Flemming Rasmussen, is a man of real vision and passion about the possibilities of the audio arts...a kindred soul, in other words. Though they are presently underrepresented in the USA, I have hopes that this will change.
Why? Because the time that I spent in 2016 with the Gryphon Audio Kalliope showed me that Rasmussen and company have an excellent handle on how to do DSD in a front-rank sort of way. The dual-mono Kalliope arrived in the spring of this year, and after an upgrade procedure that I performed, was able to handle up to Octo (8x) DSD with aplomb.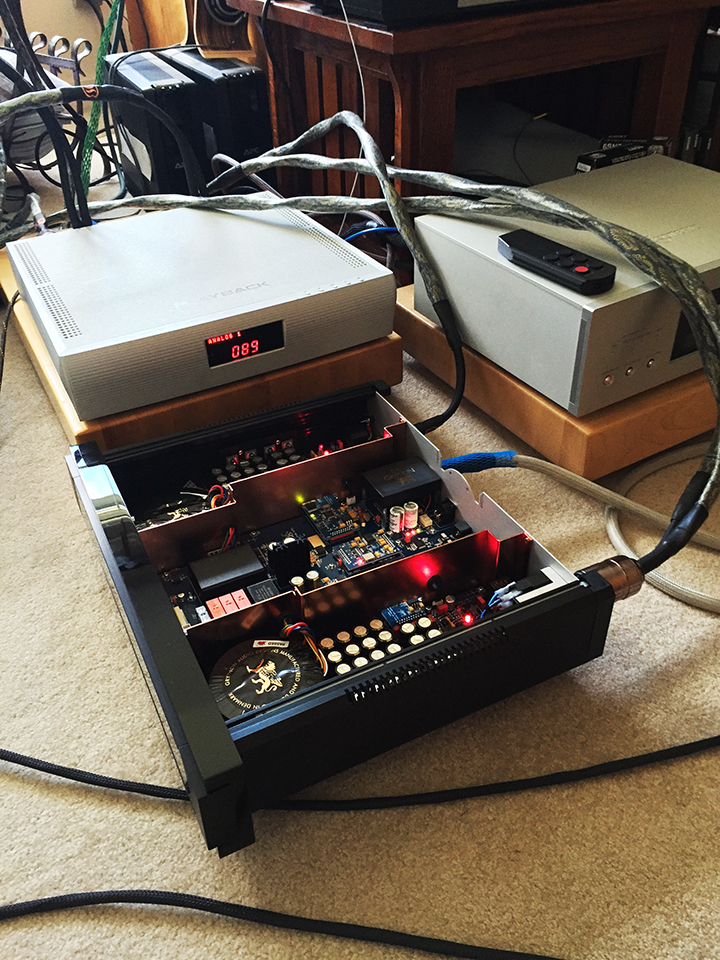 A rare sight:  The Gryphon Audio Kalliope DAC during the updating of its USB firmware (photograph and processing by Robinson)
I had gotten in touch with Flemming in late 2015 because I had seen a mention of him and Gryphon, and realized that it had been many years (Late '90s? Early 2000s?) since we had last spoken at some unremembered CES. After some discussion of what PF might do to try one of his products, he suggested that I try their Kalliope (Greek for "beautiful voice") DAC, which had just been upgraded to handle all the way out to Octo DSD (DSD512, or 512fs), twice the Quad DSD sampling rate. It would be a good way to see what Gryphon could produce these days.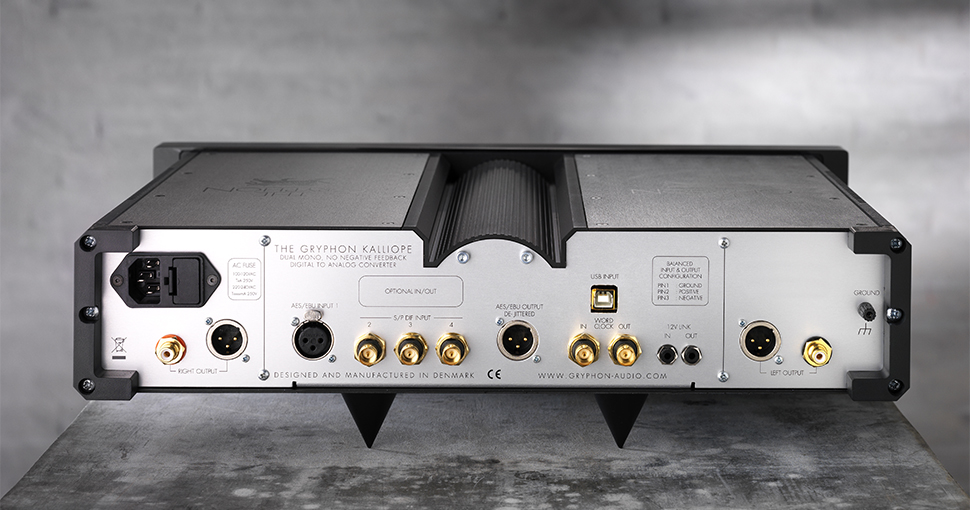 Damn. I'm very glad that I took the Kalliope on! Hooked up with Skogrand's reference Beethoven USB cable, traded out from time to time with Kubala-Sosna's reference USB cable, the Realization, Skogrand's Beethoven power cable, and Beethoven RCA interconnects, there was gorgeosity galore as the Kalliope came up to full bloom. Skogrand, Kubala-Sosna, and Gryphon Audio really like each other, it's clear to me.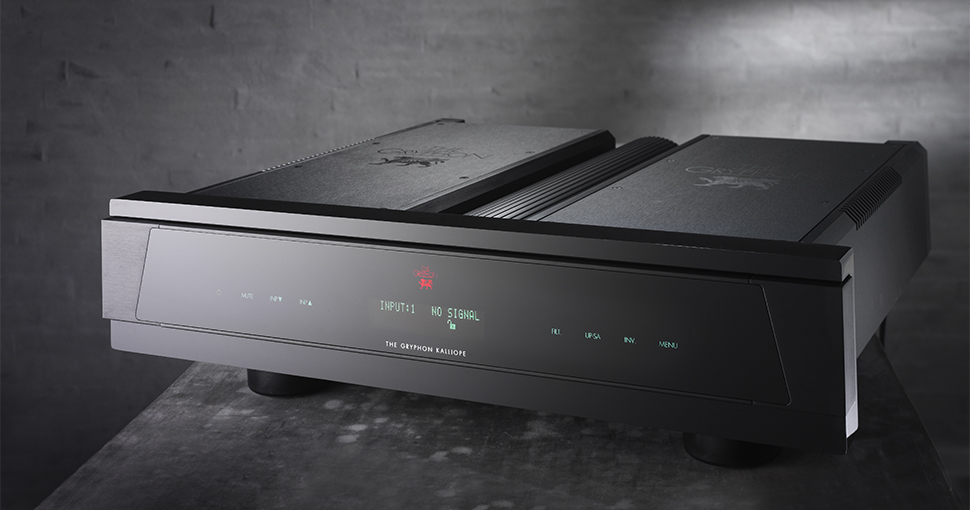 My full review will be published very shortly now, together with some notes from Flemming about what he's doing in the audio arts. Let's just say that the Kalliope exceeded my expectations in our reference desktop system, and demonstrated a combination of audio virtues that clearly put it in the top tier of DSD DACs. Detailed, transparent, silky smooth, and really dynamic without resorting to bare knuckles…kudos to Flemming Rasmussen and Gryphon Audio for the blessing of an audio revelation like the Kalliope!
Brutus Award for 2016 given…stay tuned for my review!
Balanced Audio Technology
VK-P12SE Phono Amp
VK-53 SE Reference Preamp
VK-255 SE Reference Stereo Amp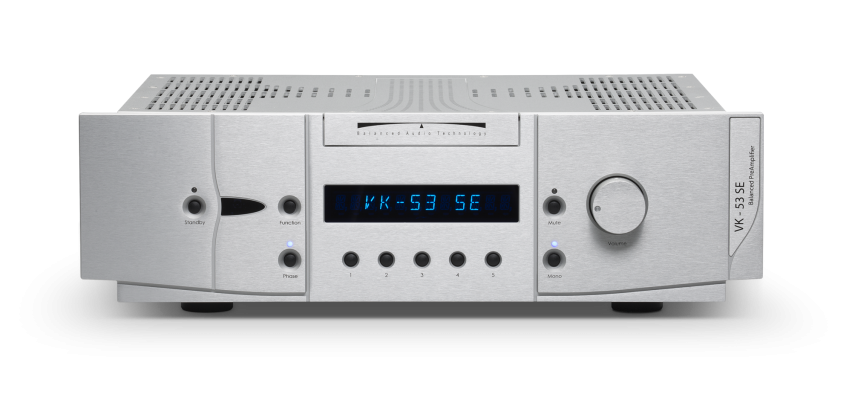 The Balanced Audio Technology VK-53 SE Preamplifier
The folks at BAT have been well known to us here for many years. The general excellence of their design work, fully balanced and with hybrid circuit topology, was commented on by both Dr. Sardonicus and myself back in the early 2000s, when we had a chance to tag-team earlier versions of the BAT preamp and stereo amps of that period. We loved them then.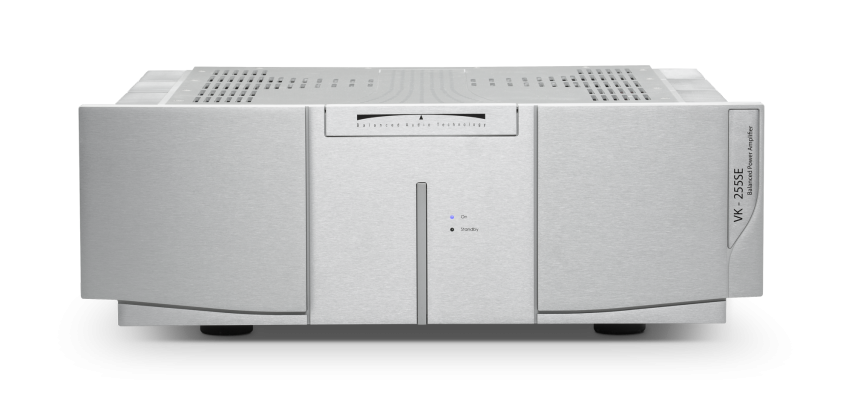 The BAT VK-255 SE stereo amplifier
In 2016, Geoff Poor of BAT and I reconnected for the first time in many years. He was interested in having me check out the newest generation of some of their products:  The VK-53 SE preamp ($14,995), the VK-255 SE stereo amp ($8495), and the VK-P12 SE SuperPak Reference Phono Stage ($12,495). The first two models are not the absolute top items in their line, being a step below their statement designs, while the SuperPak version of the P-12 SE does represent their summit design.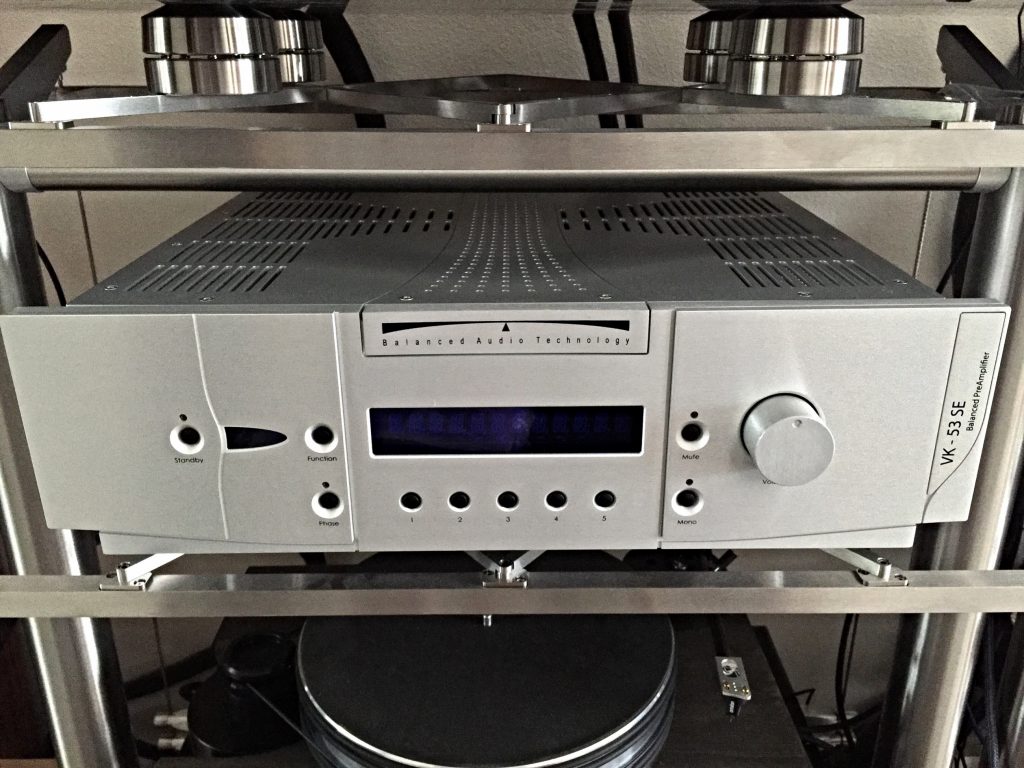 The BAT VK-53 SE preamp on Stillpoints Ultra V Isolation Feet on the Stillpoints ESS Reference Rack System (photograph and processing by Robinson)
I hesitated just a bit because of the fact that this year already had two complete system reviews scheduled (both the TIDAL Audio and the GamuT Audio systems…see elsewhere in this issue for their Brutus Awards), but Geoff was willing to be patient and flexible with this project under the circumstances. BAT designs have always been musical and lightly warm in presentation…impossible not to love! Given the history of my experience with them, I was willing to squeeze BAT into my very crowded queue.
And I can get back to the preamp and amp no-holds-barred designs at some future date, if feasible.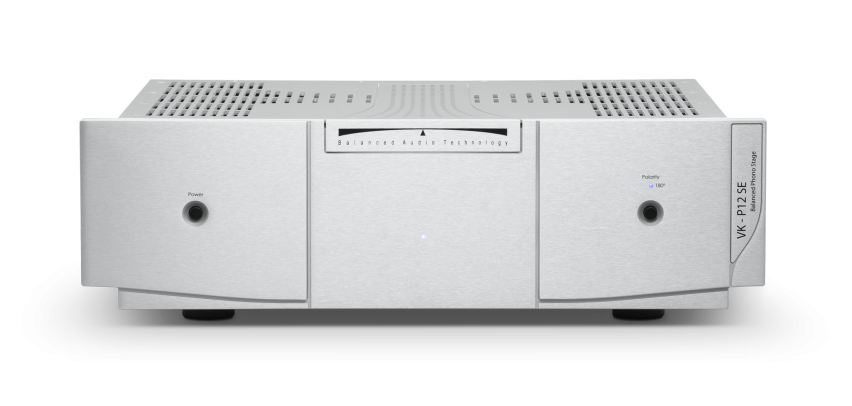 BAT VK-P12 SE SuperPak Reference Phono Stage
After the departure of GamuT Audio's reference electronics, but with their stellar Zodiac Reference Loudspeakers still in our room (where they remain to this moment), the BAT VK-53 SE, VK-255 SE, and VK-P12 SE were placed in the room. They have been in operation for a couple of months now, long enough for me to confirm that they are worthy of Brutus Awards for the quality of their performance. The signature musicality and kiss-of-warmth tubeulosity are still there, but there is a noticeable gain in detail, transparency, and soundstaging with both DSD and LPs that have impressed me quite a lot. This is bloody delicious stuff!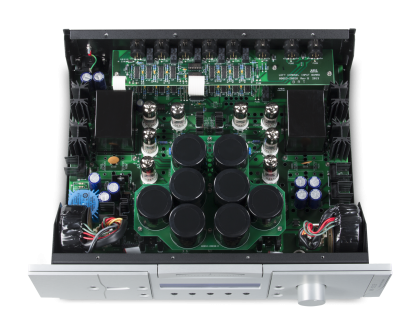 BAT VK-53 SE preamplifier, interior view
And I note that the GamuT Audio Zodiac speakers work and play with the BAT gear extremely well, for those taking note of great synergies. The state-of-the-art custom Scanspeak-based Zodiacs are always intensely organic and completely musical, as I'll be talking about in my full review of the GamuT Audio system in the very near future.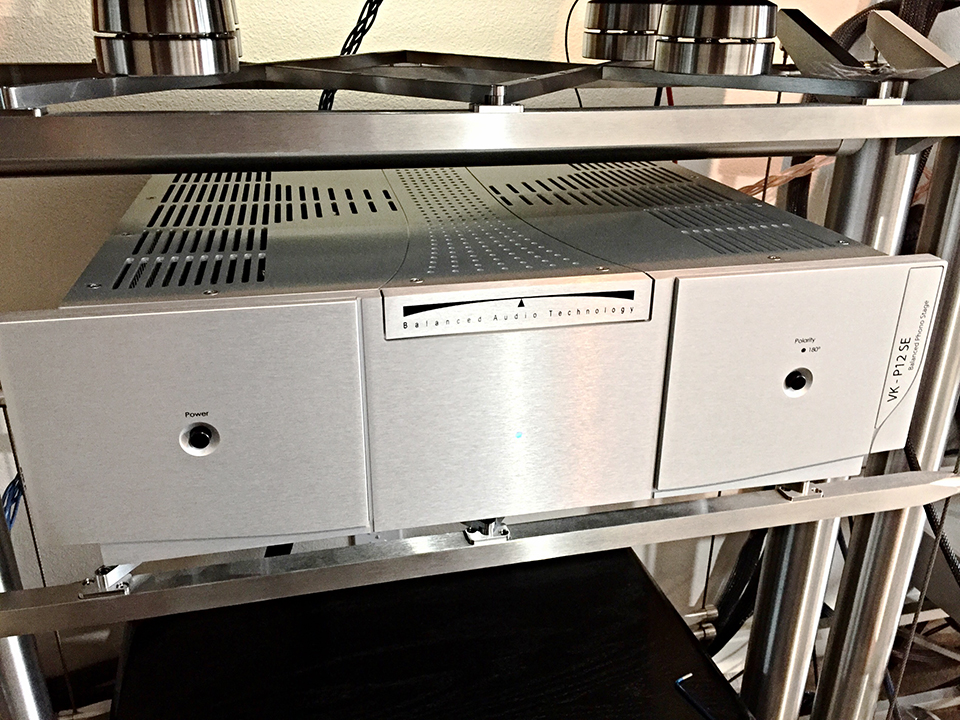 The BAT VK-P12 SE SuperPak Phono Stage in our Stillpoints ESS Reference Rack #1 (photograph and processing by Robinson)
It will take more time to round out my impressions of the BAT electronics, especially the VK-P12 SE SuperPak, due to some interruptions in our reference turntable lineup, but I should be able to complete this by the end of the first quarter in 2017.
Meanwhile, I've had two reference-grade full systems here, plus the BAT electronics; I can say that the BAT gear is worthy company, and fully merits the three Brutus Awards for 2016 that I am giving here, with affection and enthusiasm.
Very well done, BAT…great stuff! Carry on!
Pass Labs INT-250 Integrated Stereo Amplifier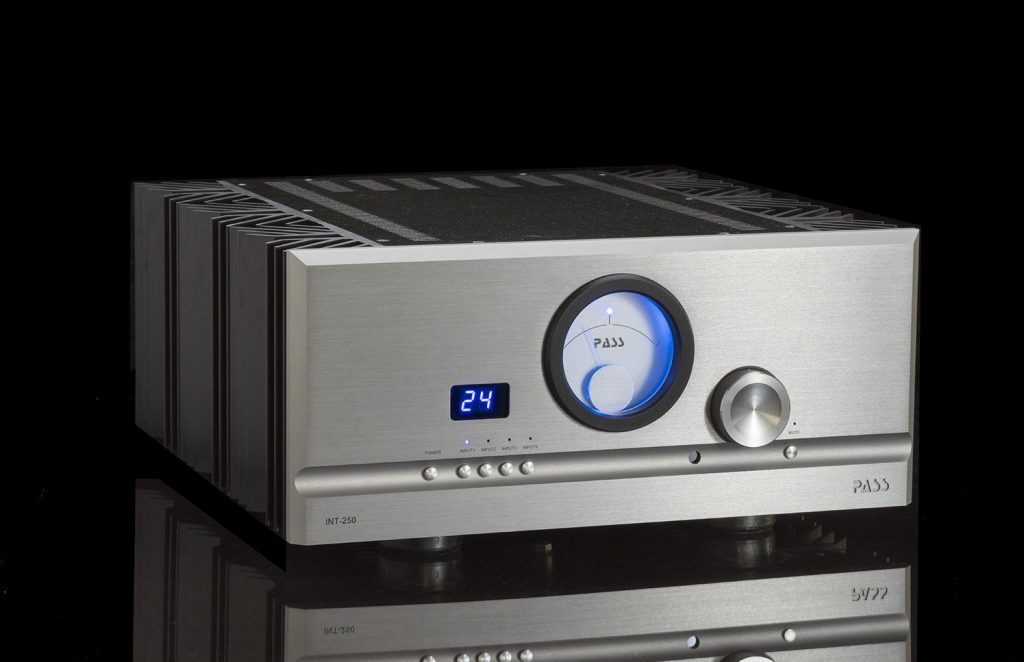 Pass Labs is no stranger to the pages of PF, either. We've done quite a lot of coverage of the great work that Nelson Pass and gang have been doing over the past six or so years, with Robert Youman leading the charge, and Scott Robertson adding a review himself. I got to hear the Pass Labs gear that Scott had in place myself, since he lives just across the Columbia River and is in nearby driving range. Our writers have loved the Pass Labs components that they've examined.
But yours truly hadn't heard a Pass Labs component in my own listening rooms for critical listening until the second half of 2016. Bryan Stanton had sent me a notification about Pass Labs INT-250 integrated amp…was anyone at PF interested?
Well yes, as a matter of fact, I was. It was about time that I got to know Pass Labs better in one of our own listening rooms here.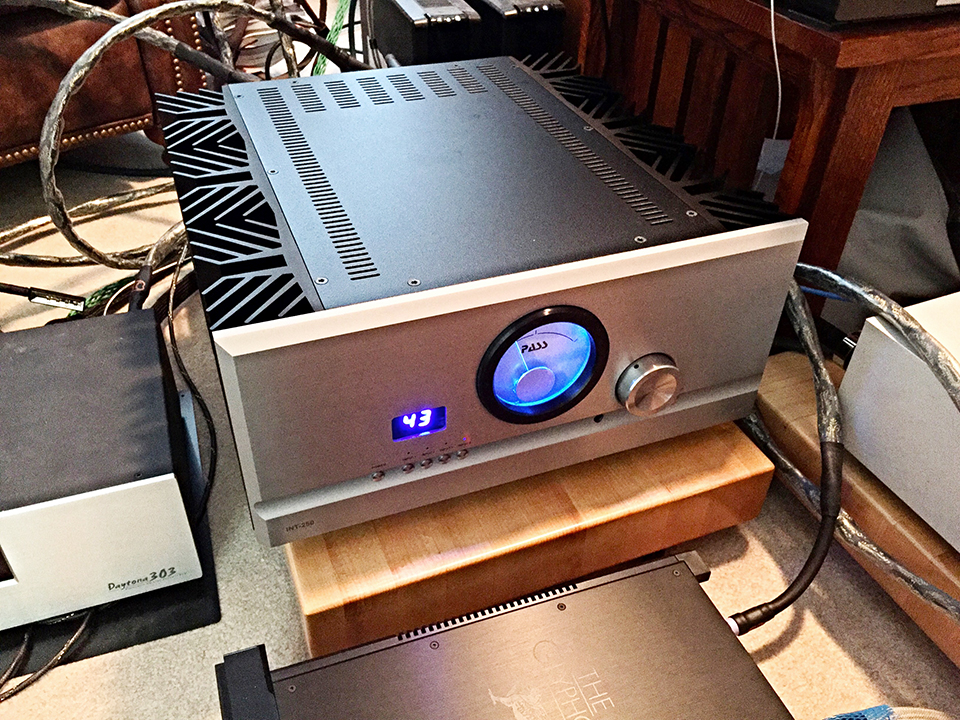 The Pass Labs INT-250 on one of our Walker Audio Prologue Amp Stands, cabled with Skogrand Beethoven Reference cables to the Gryphon Audio Kalliope DSD DAC (photograph and processing by Robinson)
Our reference stereo listening room was full-up, but it would be a good time to try it in our reference desktop system in nearfield application. It would be tied up with a Skogrand Beethoven Power Cable and RCA interconnects on one input, and a Kubala-Sosna Elation! RCA interconnect on the other, both of which are Brutus Award winners.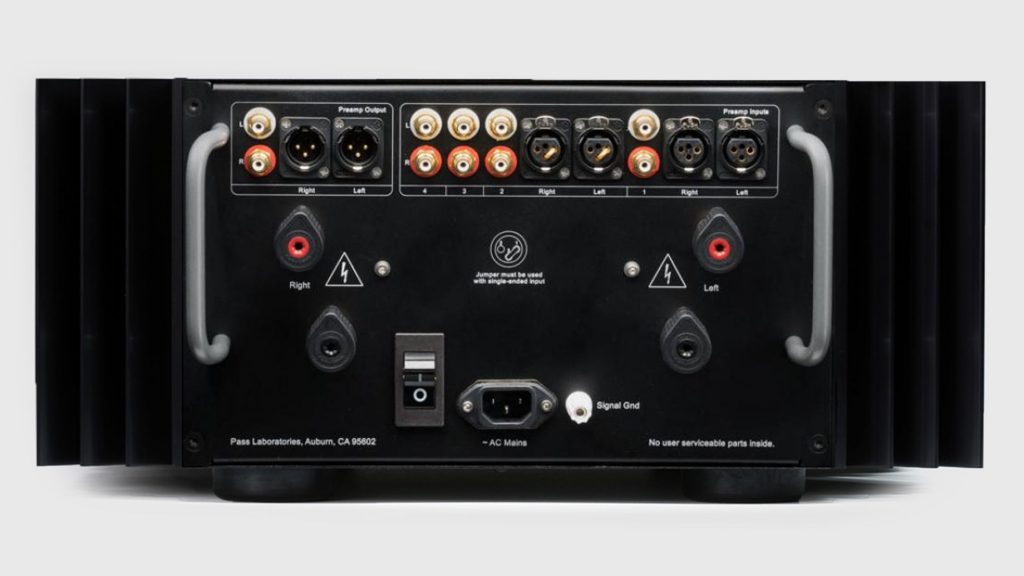 I have therefore been listening for tons of hours to the powerful and impressive INT-250 as I've been working at my desk doing…well, doing what I'm doing right now. (At this moments, streaming Sufjan Stevens' Greetings from Michigan at 44.1kHz PCM via our Roon interface to our Tidal HD account, courtesy of exaSound's brilliant Roon-ready PlayPoint Network Audio Player and their brand-new e32 stereo Quad DSD DAC. Yeah, pretty nice, all right, for Red Book PCM.) It's been feeding our Evolution Acoustics MMMicro One Speakers, used in nearfield as reference desktop speakers, in which application they are truly spectacular. A Walker Audio Prologue Amplifier Stand provides the sonic isolation, and also contributes its Maple-based quickness to the sound of the INT-250.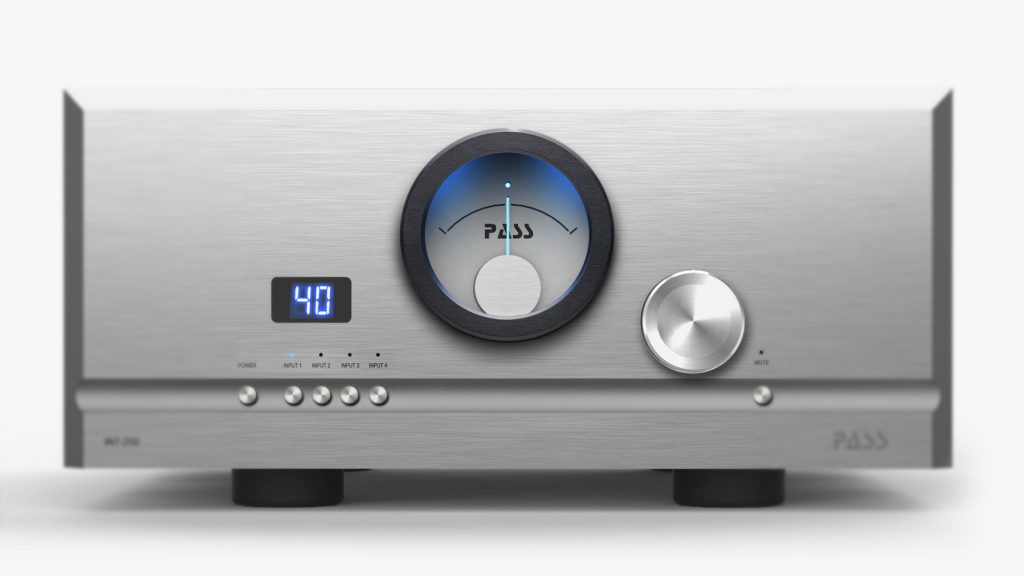 What an audio beastie! At 105 lbs, this Class AB integrated design cranks out 250 watts per channel at 8 ohms/500 watts per into 4 ohms, with decent bandwidth (the minus -6dB point is at 80kHz). It drives the MMMicro Ones with an almost arrogant assurance. The effortless ease and naturalness of SACDs, all rates of DSD, and streaming media via the chain listed above are really gratifying. The hefty remote (everything about the INT-250 is hefty) is a handsome matching brushed aluminum finish, and works with rocklike reliability. Everything about the INT-250 is seductive:  It's potent, but with velvet gloves. Priced at an MSRP of $12,000, it isn't completely unaffordable, either.
Again, my full review will be appearing in the near future. But my extensive experience with the INT-250 tells me already that it's a must-name on my Brutus Awards list for 2016.
Whatever Nelson Pass is drinking/smoking, he should keep it up. It's magic!
 van den Hul The Grail SB Reference Phono Amplifier with separate power supply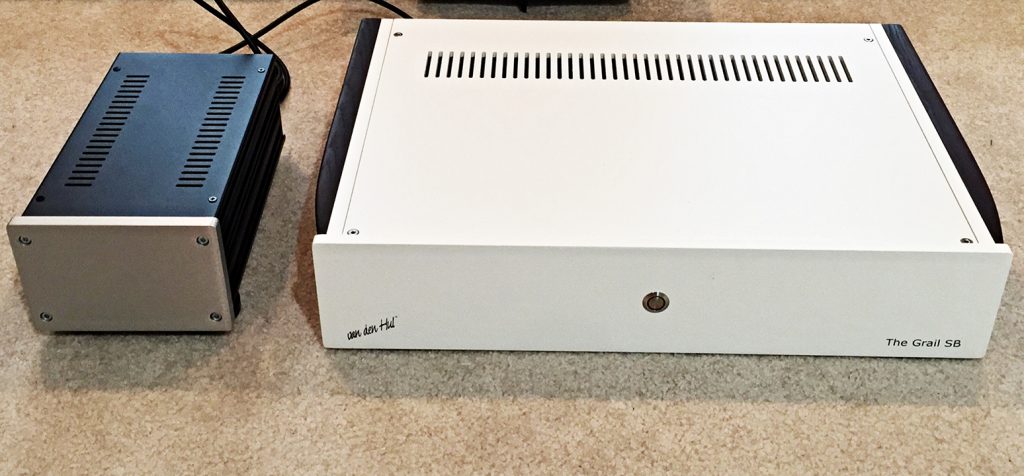 van den Hul's The Grail SB, with its associated power supply (left) in our stereo listening room (photograph and processing by Robinson)
 While the Gryphon Audio Kalliope (above) was a surprise, a very pleasant one, there was also another audio gob smacker this year. This happened when Randy Forman of Finest Fidelity, the distributor of van den Hul in the USA, got in touch with me to see if I would be interested in a new reference phono amp from a familiar name:  AJ van den Hul.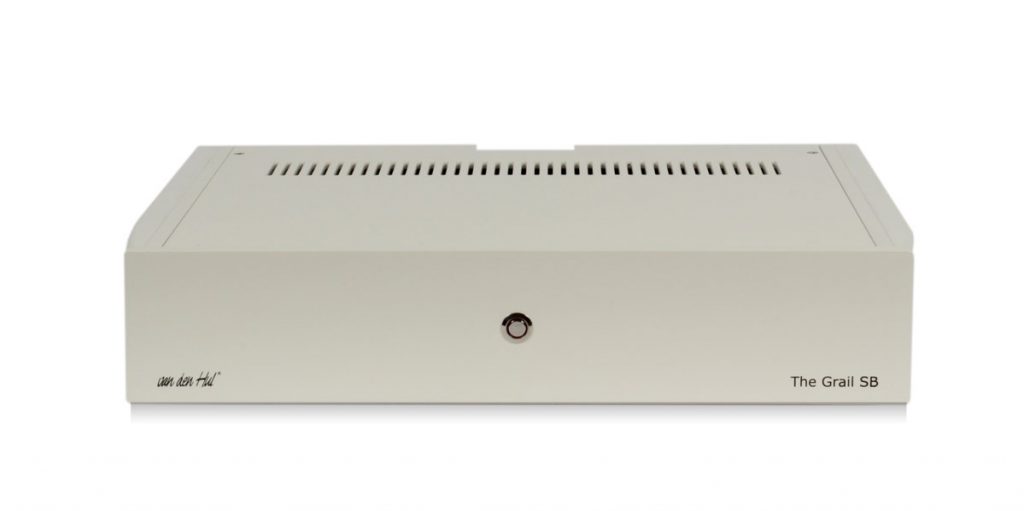 A blast from the past! I knew the name very well, of course, but hadn't been in touch with any of van den Hul products in years, apart from perhaps a rare view of a cable or a cartridge at an audio show. Truthfully, I didn't even know that vdH was in common distribution in America these days.
Randy assured me that it was. Was I willing to give it a shot? I could try it, and then he would come out and spend a weekend, scope out the Portland area, and we'd spend some time listening.
And that's what we did.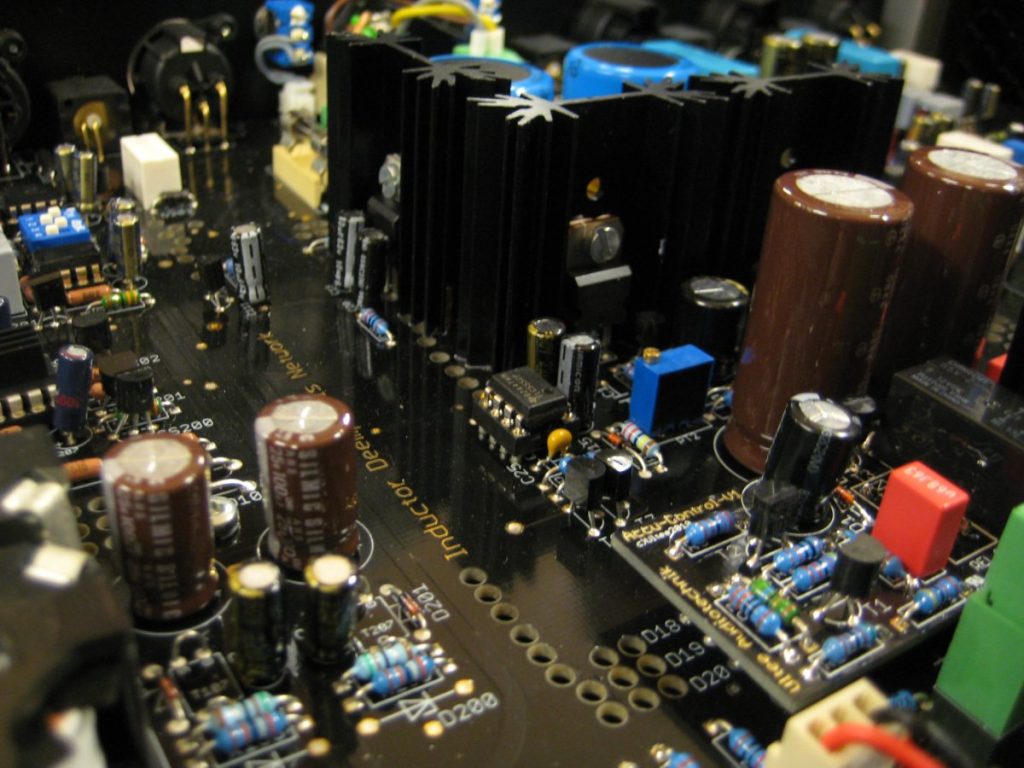 The van den Hul The Grail SB is the two-box reference version of the single box The Grail, with a separate power supply. The bloody thing weighs a ton! It was hooked up on our Stillpoints ESS Reference Rack to the KRONOS Pro with the Black Beauty Tonearm with an Air Tight PC-1 Supreme MC in place of our usual Audionet PAM G2 Reference Phono Amp with EPX Power Supply. Cabling was Kubala-Sosna Elation!, with the Kubala-Sosna XPander Power Distribution Unit in the power chain.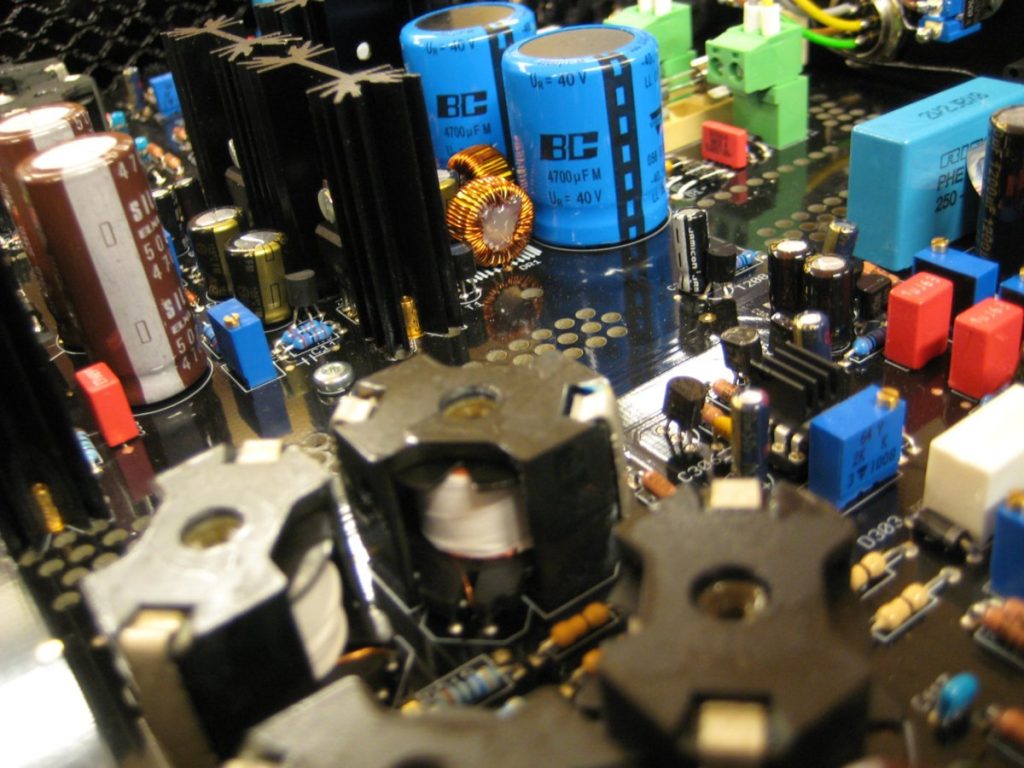 The rest of the system was the GamuT Reference System with the Zodiac loudspeakers, to be mentioned in another Brutus Award section elsewhere in this issue.

The results from the very beginning...right out of the box...were extremely impressive…seductive as hell! I already had the range on the GamuT Audio Reference set, which was organic, intensely musical, and connected with listeners quite deeply in our room. The Grail SB slipped directly into this audio environment, providing LP sound with a finely balanced blend of warmth, dynamics, detail, and coolosity that was really delightful. Every visitor to the room was taken by the sound, so clear and rich. I can say that The Grail SB really connects with GamuT Audio, and likewise with the KRONOS Pro/Air Tight PC-1 Supreme.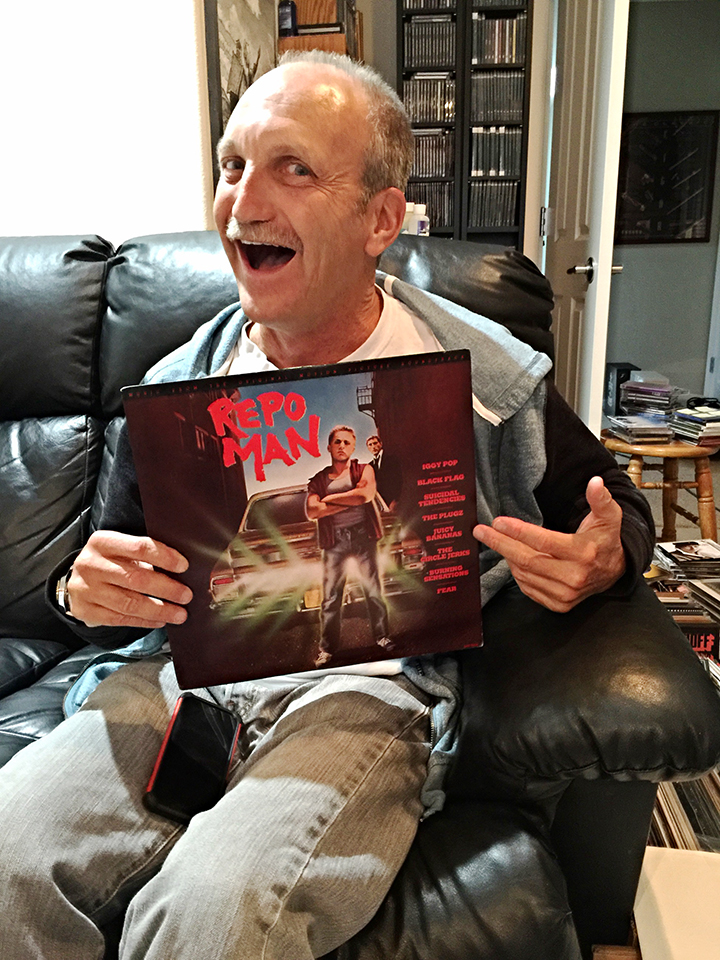 So, how did Randy Forman like the van den Hul The Grail SB with the GamuT Audio Reference System? Need I say more? To tell you the truth, I felt the same way…. (photograph, fire hose, and processing by Robinson)
I didn't know what to expect with The Grail SB, but what I got was way beyond whatever that was. This is audio ambrosia, amigos! Not exactly cheap at $16,495 (check with Randy Forman about current pricing; he's at 386-341-9103), but not the most expensive phono amp, either. If you have a bit of a budget, then The Grail SB simply must be on your check-it-out list.
An exceptional phono amp; very highly recommended.
Fully worthy of one of my Brutus Awards in 2016…gladly given!