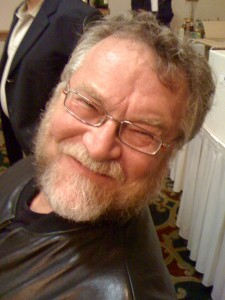 For more than two decades I've been a fan of vibraphonist/pianist/band leader Ruben Estrada, whose lyrical delicacy and musical intensity define, and extend,the profound artistic heritage he absorbed on his way to Number One world class Latin jazz vibe and timbales guru.
Estrada is an enormously modest man. His pride in his playing and his dedication to the musical universe he created with others in his extremely talented family are fully evident not by flashy attitudes or boastful braggadocio, but in the no nonsense focus he brings to his art's special legacy. Ruben Estrada was Cal Tjader's last student. Since Cal influenced both jazz outlooks as well as the world of salsa-bolero inflected Latin rhythms (and much more) – a jazz synthesis often dubbed, somewhat misleadingly, "acid jazz"—the heritage Estrada carries forward is far from negligible.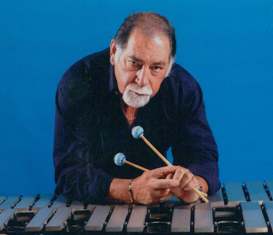 Ruben Estrada (image courtesy of Soka University}
I'm certain that Ruben Estrada is the single finest artistic and personal representative of Tjader's irreproachably deep legacy. Estrada embodies the fleet, brilliant complexity of Tjader's unrivaled legacy. To be exact, Tjader's musical archive holds quite literally the essence of musical buoyance and cheer. We think of Mozart's brief life's amazing output, and admire its ferocious playfulness, its happy verve and pugnacious melodic perversity, swirling production of emotional joy and uplift. Cal Tjader's music creates just such energy, and Ruben Estrada's music sustains that shared aim.
While the longstanding group that has benefited by Estrada's exuberant vibraphone playing, The Estrada Brothers, has a number of fine (and quite popular) albums published over time, it's been too long since a new album gave fans more excitement and pleasure. I regard that fact with sadness. Ruben Estrada's hip musicality is augmented by fantastic partners such as Justo Almario, Rene Camacho, Edmund Velasco and Ruben's greatly talented percussionist son, Cougar, who held the drum chair for a long span with the legendary Los Lobos aggregation.
The roster of memorable, often hauntingly beautiful (on occasion jaunty, even Raucously jovial) songs that make up a live Estrada set includes "Black Orchid," "Contigo a la Distancia," "Alonzo," "Viva Cepeda," "Mambo Inn," "Tangerine," and "Cubano Chant." Contemporary popular "music"—mindlessly repetitive, rhythmically banal and stranded in un-ironic formulaic juvenilia—seems impervious to the jubilance of several musical generations (and forefathers such as Dizzy Gillespie, Chano Pozo, Tito Puente, and both Cal Tjader and his sidekick Vince Guaraldi). Our public culture suffers from that oversight. Because Ruben Estrada's vibraphone playing creates glorious sonic magic, it continues to deserve attention...new recordings shared with a world in need of its affirmative emotional sensitivity.
I was fortunate to know Ruben's remarkable late wife, Delia, a woman with great dignity and warmth. Her "vibe," also, resounds gently in the joyful artistic mundo her grateful husband's vast musical feeling brings to our vulnerable collective reality. Perhaps the ultimate truth of Ruben Estrada's ongoing artistic significance resides with the essential humanity of its amorous ferocity. The vibraphone is an instrument that has a distinguished history: Lionel Hampton, Milt Jackson, Terry Gibbs, Red Norvo, Bobby Hutcherson, Tyree Glenn, Buddy Montgomery, Johnny Rae, Gary Burton, Emil Richards, Larry Bunker, Gary McFarland, Jack Brokensha, Victor Feldman, Don Elliott, Joe Locke, Carl Leukaufe, Steve Nelson, Anthony Smith, Stephon Harris, Dave Pike, and Warren Wolf. This long list only suggests the nearly infinite variations of percussive attack, instrumental voicing and vibrato that the instrument entertains.
Ruben Estrada, like Tjader, combines the frisky elegance of exact, quick notational expression punctuated with songful sustained reverberation. These virtually opposite tonal qualities and their seemingly contradictory sonic footprints create powerful melodic allure which Ifind enchanting. Hutcherson, for example, has a far more restrained tonal envelope. I adore his playing. No one I've ever heard has such an enigmatic and seductive complexity. And yet, while it explores a musical orbit unique to itself, the emotional impact it creates is essentially meditative, even "philosophical," rather than exuberant with effusive cheer.
I suppose what I'm calling attention to here (celebrating Ruben Estrada's embodiment of Cal Tjader's path-breaking art) is its cheerful expressive innocence: an energy that reaches out, inclusively, to confirm undying possibilities for jubilant awareness that recall, and emulate, the wisdom of childhood's self-fulfilling abandon.
[Portrait of Jim Merod by David W. Robinson}