TOM GIBB'S SYSTEM
LOUDSPEAKERS
Zu Audio Omens (Dirty Weekend Edition); Magneplanar MMGs, modded with custom-built stands and Peter Gunn's (of Audio Asylum fame) outboard crossover mods; REL T1 Powered Subwoofer; Definitive Technologies Powerfield 1500 Subwoofer.
ELECTRONICS
Emotiva XPA-2 amplifier; Acurus RL-11 preamplifier; Rolls Bellari VP130 tube phono preamp, used interchangeably with Mullard new production, JJ Electronic and Sovtek 12AX7 tubes (depending on my mood).
SOURCES
Digital: Sony BDPs-780 BluRay/SACD player; Custom-built PC (Intel platform): Windows 7/64-bit, 2 TB hard drive, 8 GB RAM, 1 TB Seagate external drive for storage, using JRiver Media Center 17 as my music player, via the High Resolution Technologies Music Streamer II+ USB DAC.
Analog: Rega P2 turntable, with RB 250 arm, modded with Michell Technoweight and stub and glass platter upgrade; Ortofon 2M Blue cartridge.
CABLES
Interconnects: Audioquest Topaz, Blue Jeans Cable LC-1's, Monster 400i's. Speaker cables: Monster M1. USB: DH Labs Silver Sonic.
ACCESSORIES
Bright Star Audio Big Rock turntable base; Tiptoes and various isolation devices; ASC Tube Trap panels; GIK Acoustics bass traps; Custom-built acoustic panels; Target stands; Disc Doctor and LAST record cleaning supplies.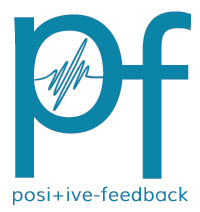 You are reading the older HTML site
Positive Feedback ISSUE 73
may/june 2014
hrt
Music Streamer III
as reviewed by Tom Gibbs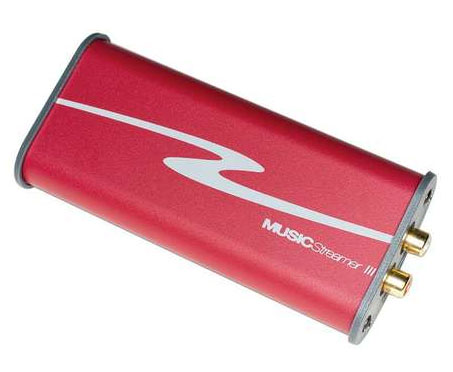 HRT's new Music Streamer III replaces the MS II in the Music Streamer lineup and is now their entry level streaming device in an increasingly crowded field of inexpensive USB DACs. The MS II was priced at $149 when it debuted three years ago, so what does the MS III give you for the extra fifty bucks? I spoke with Scot Markwell at HRT, and he told me that chief designer Kevin Halverson took the front end of the MS II and designed an improved, higher performance analog output section that offers performance closer to that of the excellent Music Streamer II+. Until I replaced the MS II+ in my rig last year with HRT's damn-near perfect top-of-the-line Music Streamer HD, the II+ was definitely my go-to device, and offered an impressive level of musicality for a really reasonable price. Can the MS III offer comparable performance? Lets have a listen!
Definitely an improvement over the original
The MS II was my first foray into computer audio, and it shocked me with amazing musicality and its ability to resolve files upward of 24/96 with stunning precision. The II+ took an already robust base and gave the listener much more subtle musical shadings that gave the unit an impressively analog sound quality. The MS III uses the same red aluminum casework of the MS II, with a standard USB-B input and a pair of gold-plated unbalanced analog output jacks. The unit caps out at 24/96 resolution, and offers essentially the same LED display as previous Streamers to show the bit and sample rates of your chosen file. It's a compact, no-frills package, but who really cares about appearances – just give us great sound!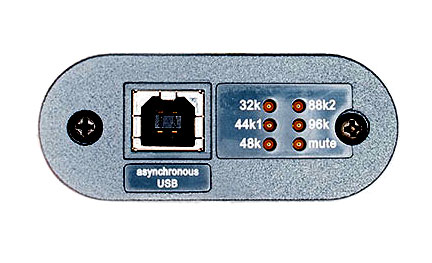 Cold and right out of the box, the Music Streamer III offered a highly detailed sound that didn't seem at all etched, and with greatly improved warmth over the MS II it has replaced. In fact, the added warmth was probably the MS III's greatest attribute in comparison to it's predecessor; everything I played through it showed an abundance of improved resolution over the MS II. Not quite on par with the MS II+ or the HD, but for those looking for a reasonably priced, entry-level device, the MS III will easily provide superbly ungimmicked sound for the masses. The unit was truly plug-and-play, and required a minimum of set-up and tweaking through JRiver Media Center to achieve consistently good sound. Over the course of a couple of weeks, the sound quality continued to improve as the unit achieved a significant number of hours of burn-in. While the MS III is not in direct competition with the more expensive models in HRT's lineup, it is a very good-sounding unit with excellent musicality.
The new paradigm
A lot of folks might rightly accuse me of being an HRT fanboy of sorts, and while I have frequently raved about the often superb musicality of the Music Streamer series, I've always felt that they offered an excellent performance to price ratio and pretty remarkable sound. But in the short space of just a couple of years, a new paradigm has risen among budget DACs, and the competition to produce a new generation of devices that offer improved performance at reduced prices includes entries from at least a half dozen manufacturers at around the $100 mark. And while I really can't comment on their performance as compared to the Music Streamer III, at least one manufacturer is offering DSD playback at the MS III's same $199 price point (and with a boatload of enthusiastic reviews). And while I still believe that PCM done right can sound DAMN good, at the under $200 level it's an incredible temptation to dip into the DSD waters.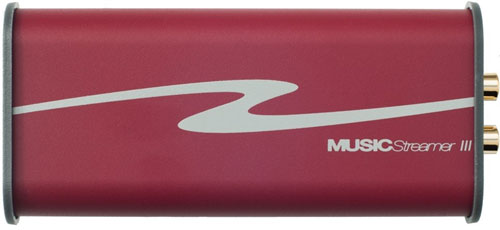 I love the guys at HRT; their flagship Music Streamer HD is still my 24/192 PCM reference unit, and in balanced mode has provided me with countless hours of musical enjoyment that at under $500 rivals or exceeds playback quality of any digital device I've owned or auditioned in my system. But that device is a (and their) peak performer, and that level of performance comes at a certain price. In today's world, where bohemian hipsters are rapidly becoming the new generation of audiophiles with the purchase of $300 turntables, an inexpensive DAC needs to offer a lot of value for the money to get their attention. And I fear that in order to get those guys to dabble in higher-resolution digital, the price needs to be low, and the value high—an area that a company like HRT will have trouble competing with many of its contemporaries whose entry-level products check in at around the $100 mark. The Music Streamer III is a great-sounding offering from HRT, but I have to recommend auditioning the competition before plunking down your hard-earned cash. Tom Gibbs
Music Streamer III
MSRP $199
High Resolution Technologies
www.highresolutiontechnologies.com