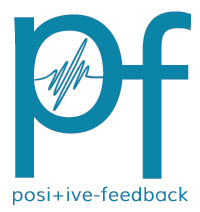 You are reading the older HTML site
Positive Feedback ISSUE 73
may/june 2014
Chet Faker, Built On Glass
by David Williamson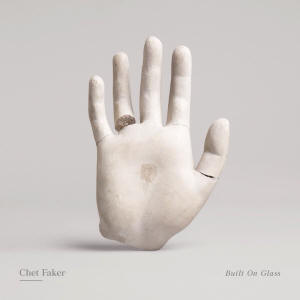 The debut Chet Faker album, Built on Glass, has quickly established a place of pride in my ever changing rotation of go-to, highly-enjoyable and mood-setting albums (Current jems: Damon Albarn – Everyday Robots, Lydia Loveless – Somewhere Else, and Danny Brown's Remix EP – 25 Bucks). It has easily transcended any early listener-imposed background-music limitations, as I became so entranced with this note or that beat that I routinely let it play three or four times through before I even considered changing albums. It's almost (almost!) as if James Blake had decided to record a jazz album, which I now fervently wish to see happen within the next year.
It's reassuring that Built on Glass is not built on one-off singles or guest appearances with which to ensnare listeners. The album settles into a confident and steady groove almost immediately with an opening track intro that seems like it was lifted directly from Mr. Rodgers Neighborhood. It's a calming introduction, one that feels soothing to the soul and is comfortably fitting for a track titled "Release Your Problems." Yes, good sir, I'd like to release my problems and relax with you for a while. Calgon, take me away...(!)
Musically, this is a seductively strong debut from Chet Faker. Songs like "Melt" and "Gold" push a hybrid of R&B and Soul that brings enough indie cred to make his beard superfluous. The album reaches assuredly in the (general) direction of soul-leaning-pop that bands like Daft Punk have recently mined for (massive) hits (see: "Get Lucky"). If you've heard Faker's cover of Blackstreet's No Diggity, you may be unavoidably disappointed with this album's dearth of reworked 90's R&B gems. I was personally holding out hope for a stripped, chopped, and slowed down version of Montell Jordan's "This Is How We Do It." I'll let that thought linger here for a moment to tantalize all those who have heard the Blackstreet cover (and if you haven't, I provided a link, so go to it!). As much as I'd like to hear an entire album of 90's jams (sample track list: Tennessee – Arrested Development, California Love – 2pac, Informer – Snow, Gangsta's Paradise – Coolio), I'm glad Faker didn't chose to go the easy route and push his material on the backs of slickly reworked covers (besides, that what EP's are for!). His original compositions carry their own weight sufficiently.
The closest thing to a break-out track on the album, the song you'd play for your weary and skeptical friend (or mention in a review of the album) is "Talk is Cheap." Be forewarned: things get a little...hot...here. Steamy-like. If this album is playing on a first date, you may (or hey...maybe not) want to skip over this track. The song is sensual in all the right, all of the wrong, and all of the best ways.
Let me paint you this picture: a tanned, yoga-pant-and-tunic-wearing Kenny G., leaning on a stool off to the side of the stage with a softly lit white robed choir swaying gently in the stands. The Rhodes piano is centrally positioned, like a pulpit, so that all you see of the musician is the bunching of his shoulders in time with the beat, everything else surrounding him swathed in shadows. The background-vocal swells and groans evoke a southern choral sympathy that lifts everything brokenly upwards, even as the verse drags it back down, down, down. You're not walking into a recital or concert; you've accidentally stumbled upon a weekday jam session where all the Sunday pageantry and restraint has been traded for the soulfully exuberant moving of the Holy Ghost. And clothing is totally optional. To be clear: if the word "climax" was to be used in a written description of this song (not this one, mind you) you'd be right in questioning the intent of the author.
If Nick Murphy, taking the stage name Chet Faker, should be a bit contrived for you, rest assured that the feeling will pass quickly. It is neither a sly wink nor calculated ploy, but an honest ode to a man whose voice carried with it a remarkably fragile intimacy. The intent with which Faker chose his nom de théâtre comes across as the most sincere form of admiration. As a homage to Baker, one could do much, much worse than to attempt to mimic or "fake" a name so eponymous with poignantly personal musicianship.
Built on Glass connects then, as it presents with a transparency that flows uninterrupted from song titles to lyrics. You see every move being made here clearly. There's no trickery, no sense of affected wit or intellectual preening. What you hear, what you think you hear, you hear. The lyrics "you've got to feel it on your own" may be the simplest summation of the album possible, a paean to the begrudging emotional development that permeates the album.
There's a confidence to this album that for a debut comes across less as cocky and more as practiced. Nothing on this album plays like it comes from a first attempt. What other musician has the audacity, the big-brass-pair, to title an almost six minute song "Lesson in Patience," and then spend the entire track noodling on instrumentals with nary a vocal in sight? On their debut album? Yet Chet Faker né Nick Murphy lets his music follow the path he forged on his EP, which is anywhere he damn well pleases! As a first act, as even a third act, this album drifts willfully into interesting and unsettled waters, bringing forth a unique sound and aesthetic that is less fully realized and yet more foundational than I would have expected from a debut.
With this in mind I keep coming back to the album, time after time, to eke out just...a little...more. This is an album that begs to be internalized, pleads to be grooved to and demands to be listened to over and over and over... with or without clothing.