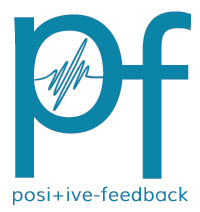 You are reading the older HTML site
Positive Feedback ISSUE 52
november/december 2010
Two New 45 rpm LP Releases from ORG
by Tom Gibbs
The love-hate relationship I seem to be having with ORG's LP releases continues with this most recent batch of titles. First of all, thankfully, all their recent releases seem to have conformed to something close to a standard jacket size—thank God, because many of their previous LPs won't fit in any kind of outer sleeve, whether resealable or not, and at this price point ($59.99 a pop), I want to be handling these pricey pieces of art as little as humanly possible. It also seems to be a recent trend that many of their LPs are now 2-disc, 45 rpm sets; and whereas their previous benchmark price point was $39.99, for a well-made, well-produced premium 2-LP pressing, forty bucks isn't totally my "ouch" point. But at the sixty dollar level, well, let's say that it must be an absolutely irresistible album title to make me even think about forking over that much bread! And to make matters worse, at that price point, I expect perfectly flawless pressings—which is not what I've recently been receiving from ORG.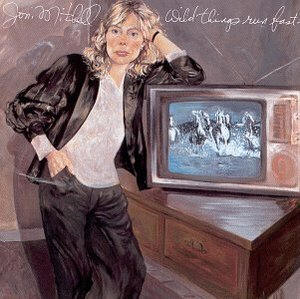 Joni Mitchell, Wild Things Run Fast – Joni Mitchell, keyboards and guitar; Larry Carlton, Steve Lukather, Mike Landau, guitars; Larry Klein, bass; Wayne Shorter, sax; Vinnie Colaiuta, drums; many others – Geffen/ORG 0056 – 45 rpm, 180 gram 2 LP Set
While I've learned to try and take the good with the bad, sometimes it's just really hard. When I saw that Joni Mitchell's 1982 LP Wild Things Run Fast was on ORG's slate of upcoming releases, I kind of scratched my head—really? A huge Joni Mitchell fan (I still count Blue as one of my desert island discs), my love for her was rooted in her folkie/confessional sixties/early seventies period, and even jazzily influenced albums like Hejira and Mingus still spoke strongly to me. With Wild Things Run Fast, she'd pretty much abandoned her trademark sound and gone in a more pop-oriented direction—an avenue that held very little, if any, interest for me at the time (and possibly even now!). So when I saw this was an ORG 45 rpm release, once again—really? For sixty bucks a pop, I've gotta really want it badly! And when I pulled the first 180 gram disc from it's sleeve and placed it on the turntable, the first thing I was met with was a contaminant of some sort embedded in the vinyl leading into the first song, "Chinese Café/Unchained Melody." Let me tell you, the hair on my neck just bristled as the unbearably loud POP-POP-POP-POP-POP roared through the speakers—made even worse at 45 rpm! Fortunately, whatever it was—while indeed embedded in the pressing—was mostly dislodged by that first pass of the stylus, and is now thankfully only just a tick-tick-tick-tick-tick that the stylus will still track through, and is much less abrasive on the ears. In the good old days I'd have been running back to the record shop demanding an exchange in a heartbeat! Even though this was a promotional copy, it's the sort of egregious thing that almost had me calling ORG for a replacement prior to the review—hopefully this is just an aberration, and not really what they're planning on serving up to us for sixty bucks!
Which makes this all the more a shame, because I have to admit, after giving this album a couple of weeks to grow on me, I pretty much liked it. It is a very mixed bag, and will never rate for me with her more classic albums—it seemed that Joni was always looking for love in the early years, and that search spurred her on to write an amazing body of work that's still totally relevant today. On Wild Things Run Fast, she seems to have found love (and maybe her preoccupation with it has affected her work ethic), but the poppy, uptempo nature of most of the songs just doesn't meld well with her idiom. The absolute worst offender is the song "Underneath The Streetlight;" I just cringed at every listen—this has to be one of the worst Joni Mitchell songs ever! Some of the songs are, however, quite enjoyable; "Chinese Café" is a really clever song that deals with her experience of motherhood and a return to her Canadian hometown and the changes and industrialization that had irreparably altered her memories of home in comparison to the experiences of a childhood friend, Carol. This is exactly the sort of song I expect to hear from Joni Mitchell, and very much in the same vein as the classic "Song For Sharon" from Hejira. And several of the songs carry on in the jazzy vein, with some tasty reed work by Wayne Shorter on the songs "Moon At The Window," "Be Cool" and "Love," a paraphrase of Corinthians 1:13 which also hearkens back to Hejira and is definitely one of the best songs on the album. But the songs continually alternate between the poignant and the pedestrian—among the worst songs on the albums are those that feature guitarist Mike Landau, which push the energy level way too far over the top. "Solid Love" is pretty much a throwaway, and the aforementioned "Underneath the Streetlight" is just almost unbearable to listen to. The only song on which I felt Mike Landau really got into anything resembling an enjoyable groove was on the song "You Dream Flat Tires," which at less than three minutes is over far too quickly to sustain any momentum. Following this record, the song became a concert staple for Joni, and often resulted in an extended jam—five or so minutes of extra music would have made a worthy addition here!
An additional concern for me is how poorly Joni's voice is mixed in some of the songs—I understand from a colleague of mine that on the original Geffen LP release, her voice was practically nonexistent in the mix, and for fans of this album, the ORG reissue is a revelation compared to the original. That said, while her voice is not absolutely buried in the mix, it is still quite recessed in the soundfield, almost as if she's standing ten or so feet behind the other musicians. I can't begin to imagine it being any worse than it is on this reissue. And the pressing issues that I noted above—these 45 rpm discs are pressed by Pallas in Germany, the same plant that has pressed Joni's other Warner reissues. The Warner reissues so far have been a revelation, rivaling or perhaps bettering the original LPs in sound quality with absolutely whisper-quiet, flawless pressings—I don't get how the ORG records pressed at the same plant can be such a quality control nightmare in comparison!
I would easily have given this release at least three and a half to four stars—there really is a lot to love about this album, and the good songs are borderline great. But the quality control issues with the pressings and the uneven mix of songs made this record an often challenging listen for me. At this price point, I just expected more.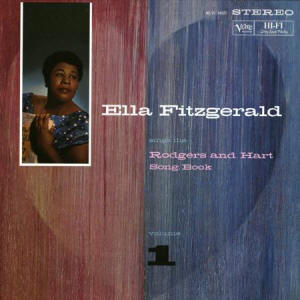 Ella Fitzgerald, Ella Fitzgerald Sings The Rodgers & Hart Songbook, Volume 1 – Ella Fitzgerald, vocals with Buddy Bregman and his orchestra – Verve/ORG 0055 – 45 rpm, 180 gram 2 LP Set
Ella Fitzgerald got her start back in the thirties singing with Chick Webb's big band, and scored a major hit with the song "A Tisket, A Tasket," which pretty much became her signature song and her claim to fame throughout the late thirties and into the forties. But by the fifties, her star seemed to be setting and her record label, Decca, showed little interest in bolstering her career by letting her sing standards or show tunes. Producer Norman Granz, who had just become Ella's manager, approached Decca in an effort to record her singing songs from America's great songwriters. He was rebuffed, but eventually signed Ella to his just-formed Verve label, where he immediately paired her with great orchestras from the likes of Nelson Riddle, Buddy Bregman, Duke Ellington and Billy May—all the big-band dream teams of the day. The results were spectacular; the Great American Songbook series was born, and the first entry, Ella Fitzgerald Sings The Cole Porter Songbook, sold 100,000 copies in the first month of its' release! New life was breathed into Ella's career, and she went on to record the great songs of Gershwin, Ellington, Irving Berlin, Cole Porter, Jerome Kern and Harold Arlen—all the great ones, and generally speaking, Ella's recording of any particular standard is considered the definitive version. Ultimately, she won 14 Grammy awards during the Songbook period!
I really didn't acquire a healthy appetite for the standards until the advent of the CD era, and one thing I noticed right away was that the digital versions of all of Ella's Verve recordings gave her voice a very metallic quality. And the orchestra accompaniment—whether the recording was stereo or mono—had a very congested, lifeless quality with only so-so dynamics. I never really made much of an effort to acquire any of the vinyl pressings or reissues at the time, so I really can't attest to the sound quality of those, but the CDs just sounded very average. Now you can still develop an appreciation for great singing even listening to mediocre discs—but wouldn't it be just swell if a little bit more care was put into those timeless recordings? The Speaker's Corner LP reissues offered all the songbooks in fabulous 33 1/3 sound, and now the ORG 45 rpm LPs give us the promise of even better fidelity!
Not to sound like I'm flogging a dead horse, but the love-hate relationship I seem to be having with ORG's LP releases definitely continues with this title. When I pulled the first 180 gram disc from it's sleeve and placed it on the turntable, side one played without a hitch. But upon flipping the record to side 2, a quick visual inspection filled me with dismay—the LP looked as though I might have just pulled it from the bargain bin at the Goodwill store, and was scuffed and scratched beyond belief! Fortunately, most of the scratches are fairly low enough in level that I can live with them, with just a few ticks and pops scattered across the side. However, had this still been the good old days of vinyl, I'd have been running back to the record shop demanding an exchange in a heartbeat! Even though this was a promotional copy, it's the sort of egregious thing that almost had me calling ORG for a replacement prior to the review – hopefully this is just an aberration! And it's really shocking to me that the Warner Pallas pressings I've bought have all been uniformly superb, while the ORG pressings from the same plant have been such a mixed bag from a quality control standpoint.
OK, enough complaining, on to the music. If you are a lover of Ella Fitzgerald, or a lover of good jazz singing or just standards in general—this 2 LP set is an absolute no-brainer for you! When the first advance information for this release came out months ago, the song list included all the tracks from the original LP release of this album—I guess they hadn't done the math at that point and finally figured out that you can only get so many songs on a side at 45 rpm. So until this set showed up, I really didn't know what the song selection would be, and I was a tad disappointed that some of the really memorable Rodgers and Hart songs like "My Funny Valentine," "Blue Moon," and "Bewitched" wouldn't make it until Volume 2 is released. Well, not to worry, because the song set here is really strong, and from the first note of "Have You Met Miss Jones?" Ella's crystalline voice is just intoxicating! And the mix really varies throughout, from rollicking numbers like "You Took Advantage Of Me" and "The Lady Is A Tramp," to maybe the best song about New York ever written, "Manhattan." And the ballads flow seamlessly too, from perhaps my favorite selection here, "Where Or When," to such poignant numbers as "It Never Entered My Mind" and "Little Girl Blue." I could easily gush here—this is the stuff that all my Ella dreams are made of!
And the sound quality is to absolutely die for! Yes, I'm still not happy with the lackluster pressing quality control, but the sound coming from these 45 rpm discs is shockingly good. The silkiness of Ella's vocals is just amazing—without a trace of the metallic cast that so affected the Red Book CD versions of these albums, it's just hard to believe that these LPs come from the same master tapes! Lifelessness is not an issue here—Ella, and amazingly, the band—are right in your living room, and as amazed as I was by the presence of Ella's vocals, the presentation of the band is also almost beyond belief. And the band plays with no signs of the congestion or lack of clarity that were so prevalent on the CD versions—you can actually pick out the various players scattered across the soundstage in your listening room. I haven't heard any of the Speaker's Corner Ella Fitzgerald releases, but I just can't imagine them approaching the clarity, quality or just plain magic coming from these ORG 45 rpm LPs. Very highly recommended!