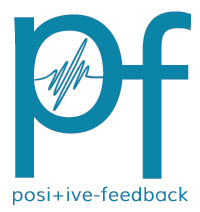 You are reading the older HTML site
Positive Feedback ISSUE 52
november/december 2010
Music Reviews Issue No. 52 - A Half Dozen Recordings by CPO, BIS, Delos, LSO-Live and PentaTone
by Karl Lozier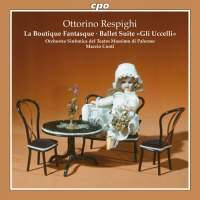 Ottorino Respighi, La Boutique Fantasque, Gli Uccelli (The Birds). Orchestra: Sinfonica del Teatro Massimo di Palermo. CPO SACD Hybrid 777 295-2
After listening to this fine recording a few times I decided that it was between very and extremely good in all respects and I really mean all. I am even referring to my enjoyment of the music; I have not received a recording of the La Boutique Fantasque ballet in quite some time and I enjoyed it immensely. It would not be considered great music, simply enjoyable with some of the passages reminding me of the unique or cute dances from the Nutcracker. The performance is just one aspect that receives my above rating, admittedly I remember one performance of many years ago that had a bit more pizzazz in the extroverted passages (probably Fiedler, Solti or Dorati) but none of those would be available now in such excellent SACD quality that is almost as good as it gets and here the listener's seat appears to be where the middle third of the music hall meets the rear third. Typically all is easily heard there with little over emphasis and an almost relaxed feeling or perspective. With that seat in mind the sound quality is also outstanding and is simply without obvious fault of any kind; simply a music lover's delight if not quite in the very best available but oh, so close; there will be no complaints about my rating as an overall top recommendation.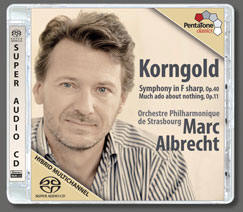 Eric Korngold, Symphony in F sharp, Op. 40. Much Ado About Nothing-incidental music. Orchestra: Philharmonique de Strasbourg. Conductor: Marc Albrecht. PentaTone SACD Hybrid PTC 5186 373
Korngold was one of the last classical composers to continue writing romantic compositions and operas. By 1938 he had to flee to Hollywood in America. He had almost immediate success as the favorite film composer and quickly won two Oscar awards! He considered film scores as operas without songs. His early successes were A Midsummer Night's Dream, Captain Blood, Anthony Adverse and The Adventures of Robin Hood. This symphony was composed quite some years later. His truly outstanding ability with film scores certainly is also found in this symphony in my opinion. It is romantic, dynamic and melodic and creates atmosphere or moods as needed. It is also a very bold composition and easily a bit different than others. The dynamic range is very wide here and the conductor and orchestra are in sync. They provide an extremely exciting performance of a very wide and powerful range that is faithfully captured by the audio engineers and clearly into the bottom or deepest bass range seemingly without straining from there to the highest reaches of the treble range cleanly and clearly. If you hear any harshness or edgy distortion, check out your system because it is not on the disc. I can not think of any way to improve this recording and audiophiles will have fun seeing if their woofers can handle the solid bass response without muddying the mid to deep bass ranges. Looking for something new to listen to with superb audio quality? Here it is with my highest recommendation. The symphony deserves repeated listening for full appreciation; it has appeal with drama and melodic passages. The added selection is quite attractive and a bit more subtle than the symphony. Your apparent seat location is near the middle of the front third of the music hall or possibly even two or three rows closer to the orchestra with both compositions. You will miss nothing.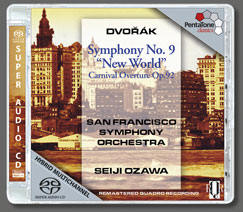 Dvorak, Symphony No.9 "New World". Carnival Overture. Orchestra: San Francisco Symphony. Conductor: Seiji Ozawa. PentaTone SACD Hybrid PTC 5186 168
This recording was done thirty-five years ago. I did not review it at that time but double checking my memory showed that the original release did not garner rave reviews. Here it is now, part of PentaTone's remastered Quadro Recording series. I had assumed that the best of those early four channel (no center channel) recordings or performances were the only ones to be remastered; obviously not so. I do not believe that Ozawa was ever known for his efforts with Dvorak. With a generally well regarded release about seven years ago featuring Yakov Kreizberg why anyone would now choose to remaster Ozawa's efforts; doesn't make sense so maybe politics is here too, who knows. The clarity and detail offered in this remastered recording would be acceptable to most casual listeners but not to PFO subscribers. I must withhold recommendation here. My memory seems to accept Kreizberg's efforts for Dvorak's ninth though probably not the equal of what he did with other Dvorak symphonies more recently.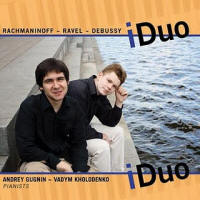 iDuo, Piano Duet (Music for Four Hands on One Piano). Performers: Andrey Gugnin and Vadym Kholodenko. DELOS CD stereo DE3405
Music for piano four hands is the most intimate of chamber music. No arguing that I guess. The earliest published music for four hands is from 1777. It became more popular in the eighteen hundreds as did transcribing orchestral music for piano duet both for one piano as well as for two pianos. On this release, are featured two rather young pianists who are relatively unknown in the USA. The selections are ones they regularly perform on their many tours. That explains the particularly fine performances of two pianists in seemingly perfect sync. All four selections are widely appealing though all were not written for piano and are finished in an hour and ten minutes—no intermission here. The opening selection is wide ranging, written by Rachmaninoff and relatively seldomly performed (Six Morceaux). My personal two favorites are Ravel's Rapsodie Espagnole and Debussy's Petite Suite. The last selection is the rather fun composition Ma mere l'oye, translating as "Mother Goose". For piano lovers here are four good selections in fine performances that should appeal to nearly all classical music lovers. The very good audio quality suits the apparent perspective almost perfectly and could be called relaxed. It is not a very close up perspective though the audio engineering and excellent low-noise equipment lets the details be very apparent with no 'in your face' too close a perspective-remember relaxed. No readily apparent negatives must mean a very good recommendation is awarded.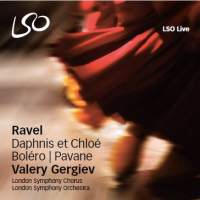 Ravel, Daphnis et Chloe. Bolero & Pavane. Orchestra: London Symphony. Conductor: Valery Gergiev. LSO Live Hybrid SACD LSO0693
Here we have three of Maurice Ravel's well known compositions, beautifully played and recorded with the London Symphony Orchestra very ably aided at times by the LSO chorus. Newcomers to classical music can begin their introduction to Ravel right here. Anyone needs to go further though to get at least a taste of Ravel's wide ranging compositions. Daphnis and Chloe is the musical side of that famous ballet that treats us to far ranging atmospheric and exotic music. It is another one of those selections that was "almost owned" by one of yesteryear's great conductors, in this case the beloved Pierre Monteux. I believe he conducted the premier performance. Gergiev's performance is just fine if not quite in league with Monteux's. Near the beginning there are some very natural and impressive deep bass drum strokes. They do not seem to get repeated to any extent. This performance holds its own or more compared to any in my recent memory. Sit back and enjoy the beautiful sounds here that are not always heard from the infamous acoustics of the Barbican Center. Ravel was surprised by the popularity of Bolero and claimed (wrongly) that it was merely orchestration without music! It is still known for its erotic effects with Bo Derek in the movie "10" some years ago. I also think that the last measures failed to reach a climax of really great power with suitable bass response. Deep and powerful bass can often be a problem in many halls or in some areas there in. Depending on many factors it can vary from too much and too flabby to overly tightly controlled in different auditoriums. The third selection here is far removed from the outgoing emotions of Bolero. Contemplative, introspective, subtle and almost sad at times as beautiful melodies are slowly revealed in Pavane. Overall, a varied Ravel grouping is splendidly presented here; enjoy them fully.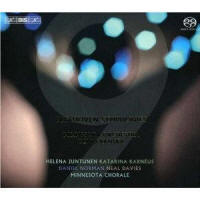 Beethoven. Symphony No.9 (Choral). Orchestra: Minnesota. Conductor: Osmo Vanska. BIS Hybrid SACD 1825/26
This fine recording is probably the last of the BIS complete set (5) that is comprised solely of the nine symphonies of Beethoven, that I planned to review. All, so far, have been consistent in nearly every respect. That can be very important to anyone desiring a set featuring the same conductor and orchestra. That combination is probably a main goal of most major symphony orchestras. It often "stamps" the conductor and orchestra for a very long time, making or breaking reputations. Many listeners simply use the ninth symphony as the only reference to rate or rank an orchestra's Beethoven prowess. I found that to bring out the inherent power and dynamics inherent in this musical masterpiece I had to increase the gain/volume control by two notches on my Herron preamplifier. That is typically one and a half to two decibels louder. That is simply a function of the recording company's policy and has nothing to do with quality; for pop or rock, louder is always better some companies like to claim. Certainly not true for wide ranging classical music where listeners are interested in quality not quantity. Vanska's vision seems to emphasize the lyrical beauty more than the power and drive residing in this grand score. Keep that in mind when comparing to any other performances; many others tend to mainly promote the power over the beauty you might simplify. The last movement seems to offer some variable qualities unlike the consistency of the first three movements. As well constructed, performed and appreciated as it is, two things stood out so much that I simply can not forget them. Everything else just seemed to fall into the expected places in my mind. Both are found in the last (choral) movement. First, though a single singing voice can get a bit lost in a large performing arts hall, there's no excuse for that in a modern recording.
No, I do not want a single voice to produce the volume or presence of the entire chorus, but the solo performers preceding the choral passages are at such a low level that they add very little to the overall performance, in my opinion. Let me now take a 180 degree turn and praise the contribution of the Minnesota Chorale to the heavens! Beautiful, rich, full of presence and projection and near perfection to my ears saves the overall performance thanks to the chorale. This performance and the others in the set deserve serious consideration overall and can be recommended. The only other set of Beethoven symphonies I have received for review in the past couple of years is the six disc SACD set by Haitink on the LSO label. It contains two other Beethoven selections and all are done in slightly more traditional sounding performances than in this BIS set.