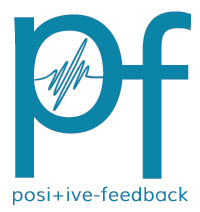 You are reading the older HTML site
Positive Feedback ISSUE 51
september/october 2010
Monterey Jazz @ 53... A Rare Weekend with Rare Joy
by Jim Merod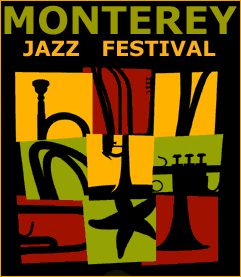 One expects the Monterey Jazz Festival to be one of an intelligent person's highlights any year that trek begins the fall season. Verizon's MJF is a special institution. Clint Eastwood has never missed a single festival near his Carmel home... all fifty three have earned his time and respect. Clint is one of my few genuine heroes. If Monterey's unbeatable three days of great music is good enough for Dirty Harry, it's good enough for dirty me.
Two items of note at Monterey's 2010 edition should be registered right away. Over time, the festival's sponsor, Verizon, has donated more than $5 million to the festival's scholarship fund for young musicians. That's not chump change. Even the most cynical witness can't easily dismiss the generosity of that exchange. Also, festival's director Tim Jackson outdid himself this year—an "off year" by the standards of Monterey Jazz, since the big bang line ups are usually targeted for round year anniversaries... the 40th was a hoot; the 50th even more. But MJF 2010 was a stealthy accomplice to the best of this venerable festival's long tradition.
Highlights abounded. Vocalist-without-equal Dianne Reeves took no prisoners twice in two nights. On the Jimmy Lyons stage, backed by a brilliant quartet, her suave sophistication won the hearts of a large crowd despite less than ideal weather. The next night, in Dizzy's Den, a standing room only throng hung on her every breath and intonation. Billed as "Dianne Reeves and Strings" (Romero Lubambo, acoustic guitar; Russell Malone, electric guitar), the evening presented this gloriously mesmerizing singer with maximum subtlety and intimate feeling. Ms. Reeves clearly adores and respects her two sidemen. And for good reason. Romero Lubambo has been an essential part of Trio Da Paz for years. His deft touch and authentic Brazilian warmth are magisterial. Russell Malone, once Diana Krall's side man, has a melodic verve and rhythmic drive so infectious in their understated perfection that one searches for terms adequate to his hipness. Without question for this reviewer, their seventy-five minute set on Sunday was the festival's summum bonum... an experience that recalled Sarah Vaughan at her best—with this remarkable added punctuation. Ms. Reeves' personal charm and artistic candor, alongside her immense range and stylistic complexity, raise themselves beyond the poise and bravura of the vocal art at its most astonishing. Dianne Reeves is in a class by herself in a world that thoroughly needs such a stunning example of artistic beauty and public intelligence.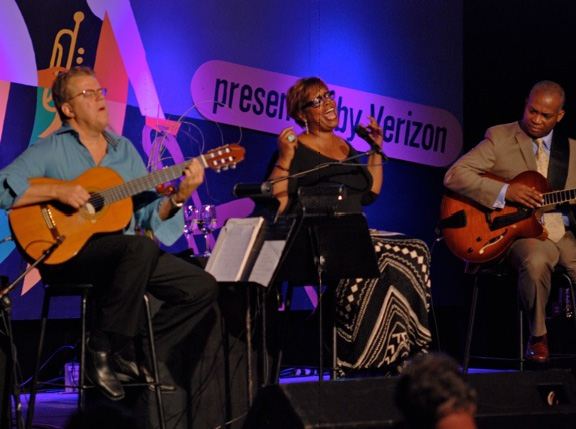 Romero Lubambo, Dianne Reeves, Russell Malone (photo: Michael Oletta)
Ageless piano master Ahmad Jamal closed the festival Sunday night on the Jimmy Lyons stage. Maestro Jamal is like no other pianist in his expressive use of dynamic contrast and in his sheer lyrical bravura. For this writer, no pianist has ever commanded so much respect for so long. Ahmad Jamal's classic trio of the late '50s, with Israel Crosby on bass and Vernell Fornier on drums, literally refined piano trio interplay. Pianist Bill Evans is often given credit for opening up the range and degree of individual creative energy in the world of jazz piano trios. That's not the case. Evans was influenced the great Jamal and the universe of jazz has never been the worse for that fact. On the Lyons stage, all of the piano maestro's rhythmic tricks and tactics were at work. His augmented trio—Herlin Riley, drums, and James Cammack, bass, with percussionist Manolo Badrena—roused the full house to its feet for a long closing standing ovation. To be there was to feel Monterey's magical tug.
One of the young lions now rearing mature and growing chops with astute aplomb is pianist Gerald Clayton... a musician born into jazz royalty with father John, an all star veteran on bass, and uncle Jeff nearly unrivaled on alto sax. Gerald's trio romped joyfully across three sets before a packed house in the Coffeehouse Gallery—which, increasingly, enjoys a place of nearly equal honor and musical surprise with Monterey's four other major stage settings. Once an almost overlooked sidebar to MJF's grand attractions, the Gallery has grown in stature and importance year by year. My personal regard for Gerald was, as ever before, amply rewarded. For those who make a mad scramble for seats in that small setting, Marcus Roberts' Trio (with Jason Marsalis on drums and Rodney Jordan, bass) provided high energy underscored with soulful delicacy. Fed Hersch's Trio featured John Hebert on bass and Eric McPherson on drums to close out that venue with two sets Sunday night.
Gerald Clayton (photo: Michael Oletta)
George Wein, founder of the Newport Jazz Festival, was honored all weekend. Quite literally, Wein is the paterfamilias of festival jazz. Tim Jackson, Clint Eastwood and the MJF board feted Wein privately before the 2010 kick-off, but kudos continued his way with gracious on stage remarks by Jackson, a one on one interview to a large gathering in Dizzy's Den, and the Old Master's "Newport All Stars" Septet on the outdoor Garden Stage. If there's anyone in the history of this great music's long life who has been there and done it... George Wein may be at the head of the line.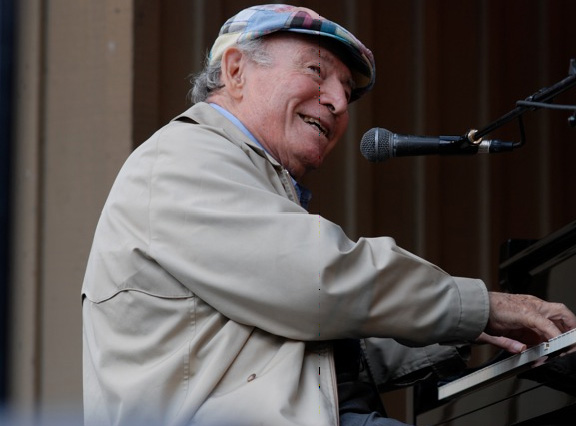 George Wein on the Garden Stage (Photo: Michael Oletta)
Trumpeter Roy Hargrove may be one of the most enigmatic high-profile players on the jazz scene today. He brought his powerhouse eighteen-piece big band to the Jimmy Lyons Stage on Friday night along with vocalist extraordinaire. Roberta Gambarini. They repeated their partnership again that night to close out the evening in Dizzy's Den. The enigma I refer to is not the trumpeter's chops. Hargrove can play with anyone and his leadership of his crack band was impeccable. One misses that je ne sais quoi, the youthful verve and daring his predecessor in such buoyant activity, John Birks Gillespie, once shared... but let no one misunderstand. Roy Hargrove knows what he's up to musically and his work with the brilliant, beautiful and altogether musically engaging Ms. Gambarini was nothing short of spectacular.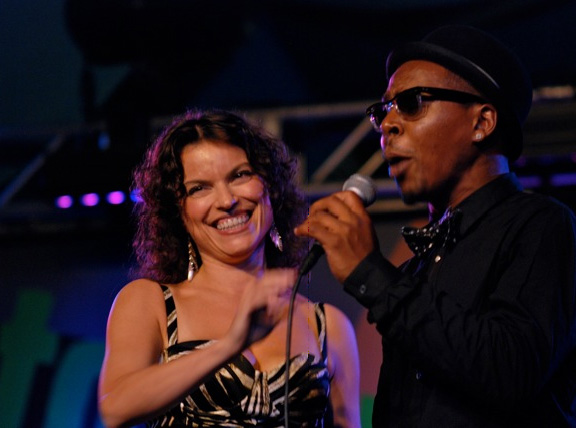 Roberta Gambarini & Roy Hargrove (photo: Michael Oletta)
One of the most compelling sets at Monterey 2010 was bassist Kyle Eastwood's Quintet. I've been listening to Clint's gifted son play for quite awhile and can report with pleasure that this dedicated young man has put it all together as an acoustic and electric bassist... and as a composer and band leader. He's also chosen great players. In particular drummer Joe Strasser is a Rolls Royce rhythm engine and trumpeter Jim Rotundi is one of the secret weapons on the jazz scene at present—though he's about to haunt the jazz world in Vienna (to which I say to Axel, who runs Jazzland there, to 'get ready').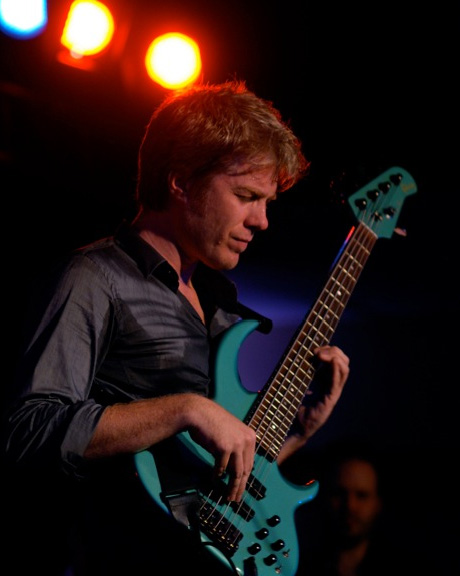 Kyle Eastwood (photo: Michael Oletta)
Not to be overlooked, the venerable percussionist Roy Haynes closed Dizzy's Den on Sunday night, with a semi-surprise guest appearance from bass guru Christian McBride.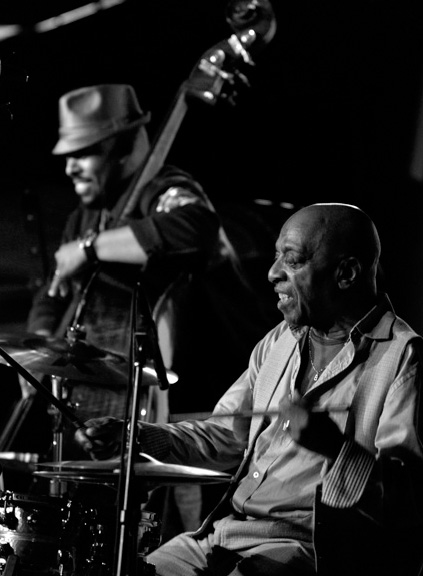 Christian McBride & Roy Haynes (photo: Michael Oletta)
Both on the Garden Stage and on the Lyons Stage, crowd-pleasing Trombone Shorty brought his New Orleans good times vibe to lift spirits and set feet dancing. There is something about the vibe from that watery, soulful part of the cosmos that is both irresistible and utterly resilient. I can honestly report, with unflagging un-weariness, that Tim Jackson put his most alluring and engaging stamp of genius and surprise on this year's version of the best annual jazz party on the planet. Some festivals are larger and longer. Some are more or less expensive. But Monterey, surviving its 53rd birthday with flourish, is now poised to exercise its maturity over and over with all the youth still maturing in Roy Haynes' octogenarian drumsticks and George Wein's 85 year old fingers. Here are two last photos from MJF '10 by the inestimable maestro of the shutter, Michael Oletta, who has been at his craft constantly for three decades.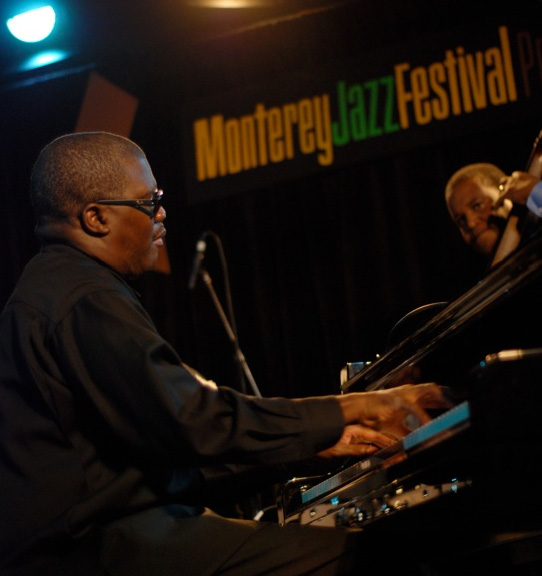 Marcus Roberts (photo: Michael Oletta)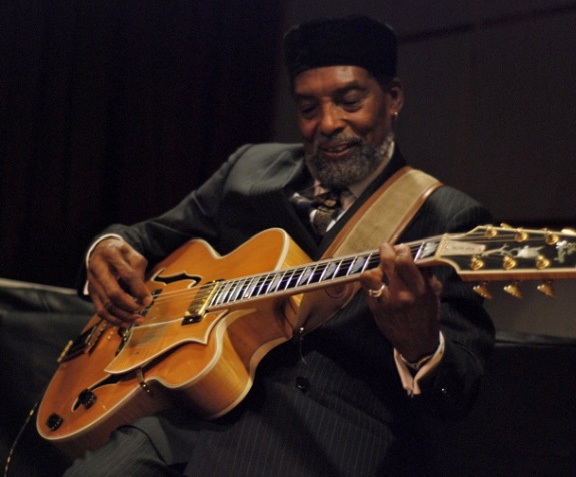 Calvin Keys @ the Hyatt Regency (photo: Michael Oletta)