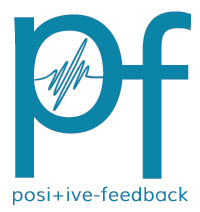 You are reading the older HTML site
Positive Feedback ISSUE 50
july/august 2010
The Apple iPad, the Ray Samuels balanced Protector and the "universal" version of the Moon Audio Silver Dragon modified Ultrasone Edition 8's: The Ultimate Gentleman's Portable Media Center
by Andy Schaub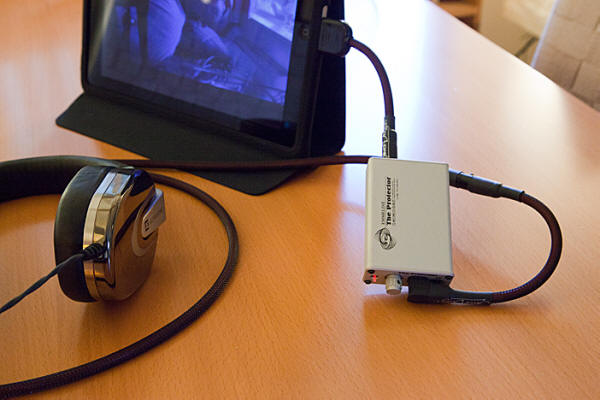 I have to confess, I love my Moon Audio modified Ultrasone Edition 8's; between the really beautiful looking and lovely sounding Silver Dragon cable—not to mention the intrinsic, mild warmth of the Edition 8's themselves—and the fact that Drew Baird has come up with a system where you can have a 4 pin miniature XLR connector at, say, 5 feet (that's where mine is) and then you can have an indefinite number of terminations and extensions from there. I have the following:
6" Silver Dragon gold-plated mini plug (i. e., 6" on top of the 5' to the XLR connector)

6" Silver Dragon Ray Samuels Protector balanced connector (which provides excellent bass)

5' Silver Dragon Furutech FP-704(G) ¼" stereo phone plug (for at home listening)
They all sound great plugged into the right devices and the original ruthenium plating combined with the reddish black braid covering the Silver Dragon cable looks quit "spiffy"; and of course the black connectors draw little attention to themselves; but it's really the sound—and the flexibility—that draws me to them.
I would like to mention, as an aside, that when I refer to Lee "non-Weiland" at True Sound in Campbell, CA (who works WITH Nick Gowan), she is his ASSOCIATE, his equal business partner, NOT his ASSISTANT; they work together to bring music into the homes of people like me (and possibly you) in the Bay Area and elsewhere; so if you contact True Sound or actually get a chance to visit the store and hear their amazing Ongaku-centered system, PLEASE refer to Lee as a full business partner, NOT as Nick's assistant. It's an important distinction and Lee has made 90% of the aesthetic decisions regarding the setup, look and feel of my system.
Returning to the article, the reason I describe the system—including amps and source players not yet mentioned—as the ultimate "gentleman's" system is because one time I was standing in a professional photography store and the owner was talking about Leica, who makes extremely fine camera and lenses; however, their "M" series—which uses a rangefinder and no mirrors or prisms—is generally regarded as optically superior to their "R" system, which does have through-the-lens viewing, macro lenses, longer telephoto lenses, wider wide angle lenses, Etc., but partly because of the mirror, prism, viewfinder and general issues with "body depth" don't share the superlative optical series of the "M" series. The owner was saying that he had discussed this with the Leica representative and asked why they had never tried to engineer a way of making a Leica M-series macro lens; there ARE good technical reasons but the Leica Rep. said it was because the M series was not regarded as a professional photographer's tool, it was regarded as a, "gentleman's camera", meaning that it was meant to sit in the glove box of your Jaguar XJ-S with a couple of small lenses and be ready to photograph portraits of your French wife in the English countryside at dusk.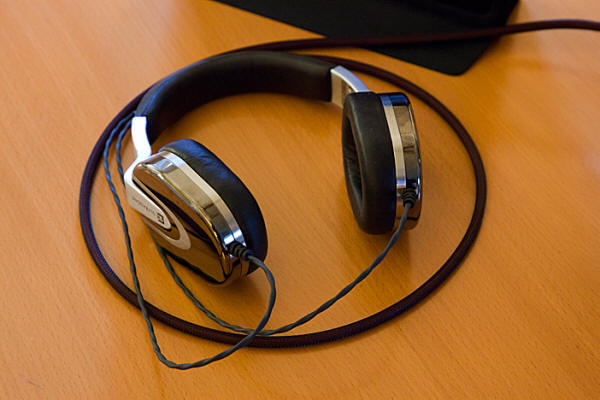 My title can then be read somewhat ironically, because on the one hand, with the Palladium and Luxury Editions of the Edition 8's coming out, it's clear that Ultrasone wants their top of the line headphones to be seen as "gentleman's head gear", driven directly by your T. S. Eliot inscribed iPod Classic or via (as in my case) indirectly by the black version of the ALO Audio Rx single-ended headphone amp with ALO's Triple Pipe LOD (Line Out Dock) which at one point could be purchased as a kit, along with some heavy duty rubber bands (which I have and like) for holding your iPod or iPhone and Rx amp together; however, with the introduction of the 4 pin miniature XLR connector, Moon Audio has managed to make an "M series" headphone do everything that an "R series" could with no loss except that you have to carry a few more things with you when you travel. But once you watch Avatar in HD on your landscape-oriented iPad while playing the introductory drums on your Edition 8 headphones being driven by the Ray Samuels balanced Predator with the Moon Audio Silver Dragon LOD and feeling like you're sitting in a movie theater rather than on the tarmac at O'Hare in the back of a 747, you start to appreciate what I'm talking about; and of course if you happen to be lucky enough to upgrade to First Class and you're wearing a black cashmere sports jacket with a black Gap t-shirt, a pair of baggy Levis and some New Balance walking shoes, the classic Silicon Valley millionaire outfit (think of Steve Jobs for the ultimate archetype) then you'll realize that for all practical purposes you are flying with "The Ultimate Gentleman's Portable Media Center". But onto the details...
So, what does "The Ultimate Gentleman's Portable Media Center" involve? Well, it can involve as much or as little as you want and can evolve over time, as mine has; but right now, I have the following:
Source Players
Apple 17" MacBook Pro with 8GB of RAM and a 256GB internal SSD in lieu of a traditional magnetic hard drive.

Apple 64GB 3G + Wi-Fi iPad – First Generation.

Apple 160GB silver iPod Classic – All files in Apple Lossless Compression (as with all other sources) imported using ERROR CORRECTION.

Apple 32GB iPhone 4 with black bumper – Mostly used as a backup for the iPod or in "casual" listening situations with the Sennheiser MM50 iP's.

DAC's/Amplifiers (with digital cables or with LOD's, i. e., Line Out Docks, connectors that get a line level signal from the source player into the amplifier)

Ray Samuels Predator DAC/headphone amp in brushed aluminum called, oddly, "clear/white" with Locus Design 12" mini-B Polestar USB cable

Ray Samuels Protector balanced portable headphone amp in brushed aluminum, with Moon Audio 6" Silver Dragon LOD

ALO Audio Rx portable headphone amp in black with black rubber band to hold iPod securely to Rx with ALO Triple Pipe LOD
Headphones (with cables)
Moon Audio Silver Dragon modified Ultrasone Edition 8's (in ruthenium) with Moon Audio's "universal" 4 pin XLR connector at 5 feet and the following terminations:

6" of Silver Dragon cable with gold-plated mini plug

6" of Silver Dragon cable with Ray Samuels Protector-only balanced connector

5' of Silver Dragon cable with a Furutech FP-704(G) ¼" stereo phone plug, for "at home" listening

JH Audio JH13 Pro custom-fitted IEM's (In Ear Monitors) – Blocks all external noise, provides very high-quality sound; used with either Whiplash Audio Elite TWag replacement cable with gold-plated mini plug OR Whiplash Audio Elite TWag replacement cable Ray Samuels Protector plug.

Either B&W P5's or Sennheiser MM50 iP's as emergency backup "no amp required" headphones; please note that the Ultrasone Edition 8's CAN be driven directly off of the 17" MacBook Pro but not with the fidelity of the Predator and Polestar.
Now you don't need to have this elaborate a system; and, as I said, this has really grown and evolved over time. I didn't just sit down, make a list, and order all this. So please don't spend an excessive amount of money just to complete the "Gentleman's System". If you do want to put together something basic (and I am stretching the limits of the word "basic"), I would say go for one version or another of the iPad with the Moon Audio 6" Silver Dragon LOD, the Ray Samuels balanced Protector and the Moon Audio Silver Dragon modified Ultrasone Edition 8's (ruthenium, palladium or "Luxury Edition", they all sound the same) WITH the universal 4 pin XLR connector at about 5 feet and at least two terminations, the 6" Protector plug (obviously) and the 6" gold-plated mini plug. You can always add more later. Although these headphones don't block extraneous noise as effectively as the JH13 Pro's, the Edition 8's are noise blocking headphones and can be used on an airplane (although you will not feel that sense of an eerie silence), and they have a slightly warm tonal balance that helps to mask the sound of the engine. If you do decide to get the JH13 Pro's—which is a long and tedious process, but one well worth it—be sure to get the Whiplash Audio Elite TWag replacement cable, either with the balanced Protector plug and/or with the gold-plated mini plug, because the Elite TWag cables really open up the sound and without making the JH13 Pro's bright at all (for IEM's, In Ear Monitors, they are strikingly neutral), they do make the sound less congested.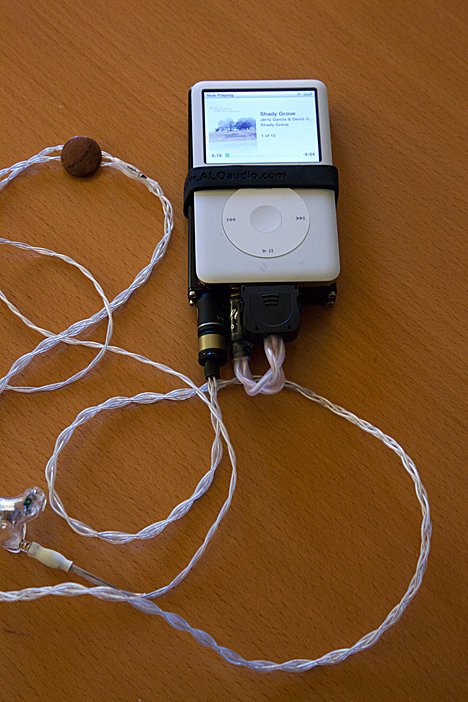 All that being said, it is—again—only when watching the HD edition of "Avatar" on my iPad in "landscape mode" (i. e.,, sideways) with the 6" Silver Dragon LOD, the Protector and the Silver Dragon Edition 8's that I have felt like I was IN the theater and I could almost feel myself falling down the steep cliffs and hear the drumbeats clearly and with an appropriate tautness; although the Protector can sound a bit rolled off—even with the Edition 8's which are not bright but quite open sounding— it's really the clean, tight deep bass that you get from the Protector that draws you in and makes your heart beat. The same thing is true of the Elite TWag wired JH13 Pro's although they have a more neutral tonal balance overall and while they sound stunning, with an absolutely silent background, there is a slight lack of that "thump" in the opening drums of "Avatar" that you get with the Edition 8's. So it's a tradeoff.
Now, let's suppose you don't care about movies at all, you spend a lot of time listening in the plane but not much at your destination and you want maximum noise isolation and sound quality across the audio spectrum; then I would say this is the combination you want:
Apple 160 GB iPod Classic in either silver or black

ALO Audio Triple Pipe LOD

ALO Audio Rx portable headphone amplifier in black, silver, red, Etc. WITH the heavy duty rubber bands that let you couple the iPod Classic and Rx.

JH13 Pro's with the standard Elite TWag replacement cable using a gold-plated mini plug
Getting the JH13 Pro's is a hassle. You have to get your ears cleaned (just do it), then see an audiologist to get latex ear molds made according to a very specific set of instructions you get from JH Audio when you commit to buy the IEM's, then send the ear molds to JH Audio and wait. They cal it "sweet anticipation". I call it waiting. Regardless, you do eventually get the custom fitted IEM's and you should follow the instructions on how to change out the cable and put them in your ears; and if the fit isn't perfect you can send them back for fine adjustments. I ALMOST sent mine back because the left ear didn't seem to be a perfect fit and I was getting the occasional "popping" sound; and they said an extra coat of one thing or another might thicken them a bit for a better fit. Then I discovered I just have a funky left ear canal and it took a little finesse to insert the left IEM properly; after that, there weren't any problems at all.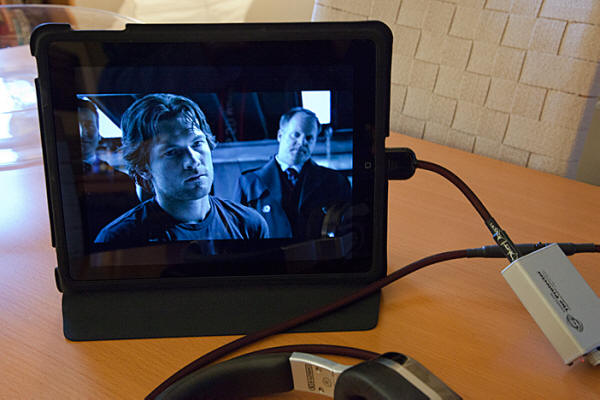 In terms of using the Elite TWag cable with the Edition 8's, I just don't know. I was able to try the Sennheiser HD650's—which are very good headphones—with Elite TWag cables, Moon Audio Silver Dragon cables and Moon Audio BLUE Dragon cables—made of copper—all going into a Ray Samuels Protector with a 160 GB iPod Classic as a source and a rhodium-plated right angle LOD from Whiplash Audio. I would say the TWag cable did something that the Silver Dragons couldn't, which is that it changed the fundamental character of the HD650's and made them a more open sounding pair of headphones whereas the Silver Dragon just made them a little brighter; and in that sense, I preferred the Blue Dragons because they emphasized the characteristics of the HD650's I like the most, a strong sense of a warmth, a very rolled off treble and an ultra-low distortion upper-midrange; IF I wanted to use the HD650's as monitor headphones for recording, I would choose the Whiplash Audio Elite TWag cable because they made the HD650's more neutral; but for "at home" listening when I want the sound of the HD650's, the Blue Dragons bring it out; however, with the JH13 Pro's, I would definitely recommend the Elite TWag cables over the stock cables, which are somewhat lifeless by comparison; I haven't heard the Silver Dragon JH13 Pro cables yet, so I can't comment on how they might sound.
So what else do you need to know to assemble your own gentleman's (or ladies) portable media center? Well, I would just say a few things:
First, get as much storage capacity as you can. You really need to import CD's into iTunes using Apple Lossless Compress and Error Correction, which is going to take up a lot more space than iTunes Plus, so don't be afraid to get the 64GB iPad or the 160GB iPod Classic versus the 64GB iPod Touch (unless you need email and web access on your portable device and you don't already have an iPad and/or iPhone; one advantage of the latter two is they can both be purchased or configured to use 3G, so you don't need to find—and possibly pay for—Wi-Fi just to run WunderRadio).
Second, USE GOOD CABLES; yes, they cost more, but the difference in sound quality between the 12" Locus Design Polestar mini-B USB cable and the comparable Kimber or Kimber Silver is just beyond words. You've got a $3-5K computer, an expensive DAC and headphone amp, a pair of headphones which with correct cables are probably pushing $1500 and you've put a lot of effort into importing CD's and creating special playlists; and you want to save a few hundred dollars on USB cables because "bits is bits"? Come on. It's not 1987 anymore.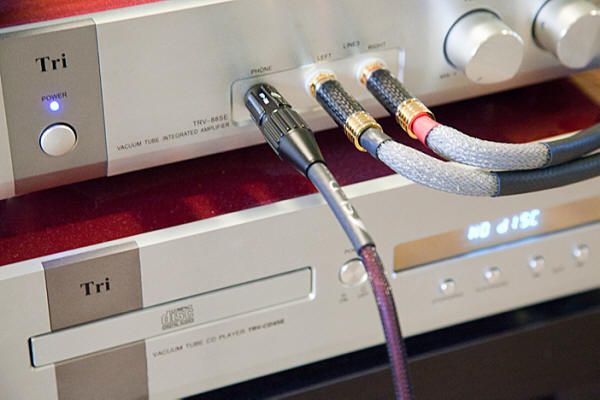 Third, try things. I found that the machine-locked of Amarra MINI—which may have been replaced by a different version of Amarra but should still be available and affordable in some form—makes a big difference in sound quality; for that matter, since I have an iLok license for the FULL version of Amarra 2.0, I can download it onto my 17" MacBook Pro and just take the iLok dongle (which looks like a key with a USB plug on it) with me. You're not violating any licenses; you only would be if you duplicated the key and used one key for your iMac at home and one key for your MacBook Pro simultaneously. Just remember that dongles don't always like hubs; so be sure hat if you're using a 13" MacBook Pro—which would make a GREAT portable machine—you know you're only going to have two USB ports, one for the Polestar and one for the iLok. So think FireWire 800 chaining for portable data storage; both LaCie and G-Technology make very nice "mini" external bus-powered FireWire/USB drives, the G-Tech in both magnetic and SSD (Solid State Drive, although the G-Tech version, while reliable and FireWire compatible with chaining built in, IS expensive).
So I'm not sure what to say. Neither Drew Baird at Moon Audio nor Craig Sanborn at Whiplash Audio have ever steered me wrong; and Ray Samuels is a straight shooter and a very cool dude, just don't take his advice on digital cables too firmly because he's not quite up to speed there (claimed my Garmin GPS mini-B cable would work as well as an audiophile-quality mini-B cable, an honest and innocent mistake). Do take his advice on headphone matching though; he didn't recommend the Edition 8's to me, Drew did; be he did recommend the JH13 Pro's for use specifically with his Protector, and he was right; it's a great combination. The ALO Audio Rx is just a bit more neutral across the frequency spectrum. The only problem with ALO Audio is sometimes they'll have a hit like the Rx portable headphone amplifier (with a VERY nice digital volume control) and you might get lucky—like I did—and get the one I wanted (the black one) in a kit with the Triple Pipe LOD and the heavy duty rubber bands; but I might have missed it and wound up with a red or silver one, which is fine.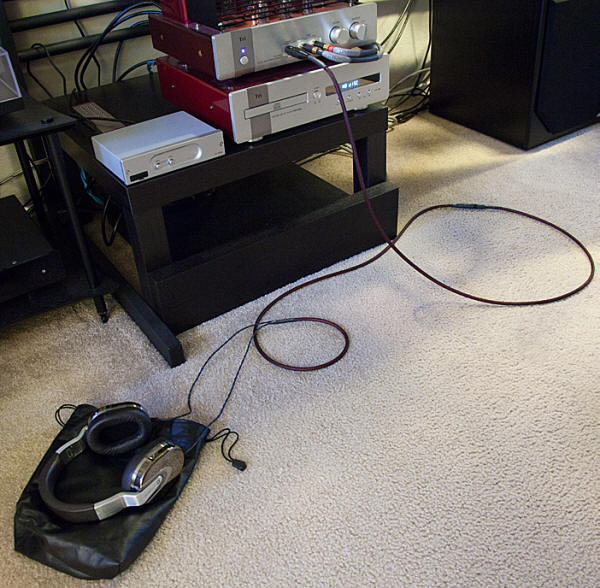 Which reminds me, the Rx amplifier and Triple Pipe dock with the shortened Eichmann mini plug and the heavy duty rubber bands is intended to hold an iPod of one type or another as closely and compactly to the Rx as possible without having the LOD add an extra 3" to the measurements; to my great delight, my silver iPod Classic, Triple Pipe dock and Rx amplifier are so compact that they slip quite neatly into a little a black carrying case I have that slips nicely into my backpack; the case was a present from my former girlfriend Robin. It used to hold prophylactics; now it holds a miniature stereo system. I guess that's what happens when you turn 50. Priorities change…
"Every year is getting shorter never seem to find the time.

Plans that either come to naught or half a page of scribbled lines

Hanging on in quiet desperation is the English way

The time is gone, the song is over,

Thought I'd something more to say."

– Mason, Waters, Wright, Gilmour
And remember, Lee "non-Weiland" is a BUSINESS PARTNER, NOT an assistant, Batman #2, not Robin and definitely NOT Alfred.
>Addendum to the Gentleman's Portable Media System
In an attempt to put my own words into practice, I took some equipment on a recent cross country trip; I was visiting friends and didn't think I'd be doing that much listening at my destination, so I packed the following:
1. My Apple 64GB 3G + Wi-Fi iPad

2. My silver Apple 160GB iPod Classic (most recent generation)

3. My ALO Audio Triple Pipe line out dock

4. My ALO Audio Rx portable headphone amplifier (with one of their big rubber bands)

5. My JH Audio JH13 Pro's with the Whiplash Audio Elite TWag Replacement Cable terminated in a mini plug
That's all!
On the flight, I used the iPad in landscape orientation held up at a good viewing angle by the versatile case that Apple sells on my tray table and—to avoid having wires running everywhere -- I just plugged the JH13 Pro's into the iPad directly, no amp, because they're efficient enough to be driven directly although an amp might have improved the sound (not that it was necessary).
I found the image and sound quality quite enjoyable and then as I switched to music only through the iPod function of the iPad, I found THAT very enjoyable and marveled at the comfort, isolation and utterly neutral sound quality the JH13 Pro's afforded me with the Elite TWag cable; in fact, I did do some listening at my destination—though not a lot—and I just used the same combination because I wanted to manage my email and do a little writing in Pages while listening to music, and it was just easier to leave the ALO Triple Pipe and Rx set aside because it was just too much to haul around with me in a house of 5 (including myself) with no guest room.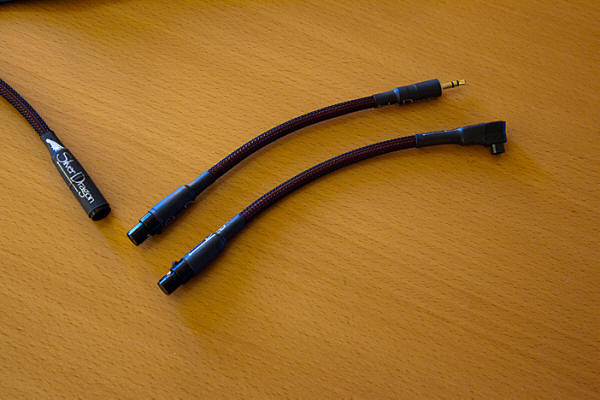 Did I wish I had my Protector and Ultrasone Edition 8's with me? Maybe, if I wanted to watch "Avatar"; but I had the Triple Pipe and Rx and I still choose to use "direct drive" just to keep things simple.
So I guess I would say that what I heard was—by analogy—like the difference between a good 180 gram reissue of Hugh Masekela's "Hope" and the Analogue Productions 45RPM reissue of the same title, which is marvelous; if I was in the mood to put on the 45RPM reissue and get up to flip or change records every 10 minutes, it's wonderful, just like the Rx or Protector and the Moon Audio Silver Dragon Edition 8's. On the other hand, I might want to put on the 33.33RPM reissue—or even the CD—and just be able to kick back and enjoy the music simply by plugging the JH13 Pro's directly into the iPad. And what you get with that is NO PENALTY. The JH13 Pro's don't hurt to wear and they don't seem bright the way my Eymotic ER 6i's can; they just play the music and, especially with the Whiplash Audio Elite TWag Replacement Cable, they play it VERY well. So, to quote a once well known candy bar commercial, "Sometimes you feel like a nut. Sometimes you don't." One thing I will say is that these custom fitted IEM's (In Ear Monitors) REALLY isolate you from outside sound. My nephew Ben was playing his horn ("French horn") loudly not that far away from me, and without headphones, you really hear it because it's LOUD; but even during quiet passages I couldn't hear him, and between songs I could hear him but it was very soft. So that's one thing that despite their bliss and glory, the Edition 8's just won't do. They block noise; but they don't block THAT much noise (if Ben will forgive me for calling his horn playing "noise").
Kindest regards,
Andy