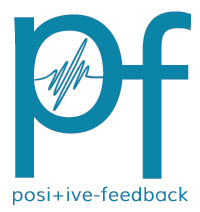 You are reading the older HTML site
Positive Feedback ISSUE
40

november/december 2008
Two Reference Recordings Vying for State of the Art Sound Quality
by Karl Lozier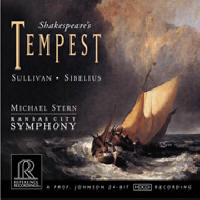 The Tempest by William Shakespeare. Incidental music by: 1) Sir Arthur Sullivan, 2) Jean Sibelius. Orchestra: Kansas Symphony. Conductor: Michael Stern. Reference Recordings HDCD RR-115
Here we go again. Keith Johnson' well known superb recording abilities shine as brightly as ever. Do not let the HDCD processing label deter you. I have no doubt that with the proper HDCD decoding, not very common lately, there would be a slight but definite overall audio improvement. Only a very few players, preamplifiers or AV-receivers have the unique HDCD playback circuitry ( thanks to bickering between various factions regarding licensing fees many years ago). If that had not happened, HDCD might have become today's better playback audio format though probably not able to offer multi-channel which SACD does quite well. The HDCD system is not the only reason behind Reference Recording's superior results. Recording engineer, Keith Johnson is seriously regarded as one the very finest audio engineers in the world and known more for achieving a natural listening quality with great unforced detail rather than spectacular affects. Play back on any of the handful of better CD (or SACD/CD) players will reward serious classical music lovers with overall audio quality at least the equal of any standard or red book CD I have ever auditioned. Music lovers and audiophiles both benefit here. There are few bass drum thwacks hiding on this disc popping up naturally, forcefully and palpably from time to time. I will call the audio quality downright impeccable and natural with fine detail.
The selections here are a bit of a mixed bag. The Sullivan excerpts, composed very early in his career are tuneful and melodic though certainly not very profound. Sullivan's career rather neatly falls into three distinct time periods. Obviously this is from his beginning period and might give a few hints of what was to come—his famous and brilliant career of some of the most popular light operas ever composed in the English language—all of course with the equally famous Gilbert. Perhaps an acquired taste, lovers of the famous Gilbert and Sullivan compositions such as the Mikado are almost fanatical in their devotion.
Sibelius' efforts inspired by the same Shakespeare tale and composed at the end of an outstanding long and brilliant career as probably the most loved and popular classical composer ever in his beloved Finland is very different. His approach would be more in keeping with the cover picture for the liner notes. Overall it seems reasonable to consider the Sibelius excerpt as more profound and intricately scored than Sullivan's easy going efforts. If either Sullivan or Sibelius are new to you, I suggest trying one of the popular and light or very light Gilbert and Sullivan operas. For the deservedly famous Sibelius, try his popular Symphony number two or the attractively varied Kareila Suite. The Kansas Symphony orchestra is not quite as large as some and the recording venue is new but those facts have not prevented another RR recording from being essentially state of the art. I wonder if the pending RR plans to possibly bring out SACD releases can offer audible improvement; RR's HDCD results are so close to the better SACD releases now. Another absolutely top recommendation is received by the good folks at Reference Recordings.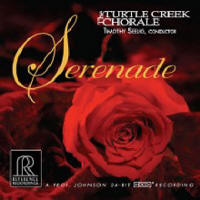 Serenade, The Turtle Creek Chorale. Timothy Seelig conductor. Reference Recordings HDCD RR-110
The very appropriate title for this release pretty much says it all, but not quite. What an outstanding release! As indicated in the fine liner notes, in recent years serenades need not be romantic ballads. It is true that the emphasis in this album's selections is on romantic ballads though, and they are beautiful, reflective or meditative music. I am not sure that Rutter's well known Choral Fanfare fits any of the above defining words or phrases. For those of you who wonder about such things, I shall put your mind to ease. Schubert's famous Standchen ( Serenade ) as well as Brahm's Abendstandchen ( Evening Serenade ) are, as would be expected, included here.
The audio quality on this recording is simply or perhaps not so simply, seemingly perfectly appropriate for the sublime beauty of the music and its performances.
As you may have gathered, I consider this new release to be a truly great recording. In no way audiophile oriented, unless the audiophile truly enjoys or loves beautiful, descriptive and melodic music. No tremendous bass drum or percussive tympani thwacks here. As expected of this famous large group it is mainly male and male oriented though at least one selection is arranged for the addition of a smaller female chorus. Accompaniment borders on perfection, subtle perfection admittedly, provided by a doubled string trio, double bass, oboe and piano/celeste. Usually not all are playing at the same time. Typically only one or two instruments play on a single selection and blend in seamlessly and atmospherically. An absolute top recommendation that should have wide listening appeal. If you or your partner ever enjoy late night choral music beautifully performed and recorded, you can not go wrong obtaining this recording. No special player is needed to enjoy this example of essentially state of the art music recording. I can not give a higher recommendation. General perspective is close to mid-hall.