Taneyev, Symphony No. 2 in B flat; Symphony No. 4 in C minor, Op.12 Russian State Symphony Orchestra/Valeri Polyansky
(Chandos CHAN 9998)
by Steve Vasta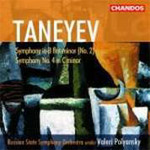 History remembers Sergei Ivanovich Taneyev (1856-1915) primarily as Tchaikovsky's composition pupil at the Moscow Conservatory. Chandos' new coupling of Taneyev's best-known works ought to restore him some stature of his own. The early B flat symphony betrays his professor's influence; indeed, the slow introduction's dark-hued clarinet-and-bassoon chorale is a typical Tchaikovskian device. The Allegro strides vigorously, with trim tremolos propelling it into celebratory climaxes. The central Andante is a broad, wistful song–David Nice, in the booklet, finds it "more reminiscent of [a] Germanic vein"–set off by a doleful motto introduced by horn and trumpet, calling across the orchestral expanse. Surprisingly in a Russian symphony, there is no scherzo—the score proceeds directly to a rambunctious finale whose brassy chorales again suggest German influence.
The C minor symphony of 1898 speaks in Taneyev's own dramatic, grandly epic voice. In the booklet, Nice compares Taneyev's orchestration unfavorably to Tchaikovsky's. Taneyev's denser textures certainly aren't as luminous as his teacher's, but his scoring is equally colorful and even more lush. The ominous opening gesture leads to an active, nervous theme. The second theme, a handsome, strangely heavy waltz, veers briefly into uncharted emotional territory before returning to grander gestures and–surprise!–an old-fashioned exposition repeat. The Adagio patiently unfolds in dignified, stepwise themes, until the woodwind choir's brighter colors bring an airier mood. A sprightly oboe introduces the infectious Scherzo, in which even the full orchestra passages dance. The Finale incorporates cyclical techniques, reintroducing themes from earlier movements (the first movement's waltz returns in full orchestral garb) to round things off in a series of blazing tutti.
Valeri Polyansky understands this music well. He projects the Fourth with greater conviction, but then it's a better score. The playing of the Russian State Symphony is spirited and orderly, save for a patch of unstable coordination in the first-movement development of the Second. In Chandos' characteristically robust recording, brasses cut through with power and impact and the chorales are nicely "deep," but soft strings sound recessed and, as the music builds, the fuller textures are hard to hear through. Steve Vasta