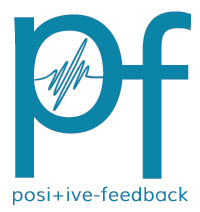 You are reading the older HTML site
Positive Feedback ISSUE
4

december/january 2003
CES 2003 - A quick look at what was good and, well, not so good.
by Dave and Carol Clark
Carol and I have been attending CES since the early 90's. During this time we have come to find that the more things change, the more they stay the same. Yes there are exceptions, but more often than not, we see too many "new" products that are just another rehash of something from the past—"Hey, listen to my new (insert any amplifier or speaker design here) product." "It is based on (insert any amplifier or speaker design here that has been around for 20 years)." "What do you think?" "I think it has already been done to death, and better! That is what I think." Jaded? Certainly, though like I said there are exceptions. When visiting CES we look for new products that are at the very least "attempting to try" something new or be new to these shores. Examples are speakers from Marten Design, Morel, and Impact; electronics from Unison, Audio Pax, ASR, Norma, and Opera; cables from Prana Wire, Acoustic Zen, Stealth, and Dynamic Design; and accessories from Stillpoints and Music Tools, to name just a few. But what really makes CES a good time for us is seeing old friends and having great meals. Speaking of which were the dinners at Piero's and Grand Lux—two great places to have dinner with friends. Anyhow, on the our first ever show report!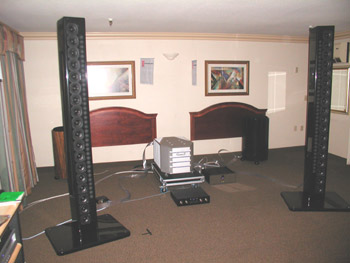 Featuring the tallest speakers with the biggest amp was the Gamut (www.gamutaudio.com) and Pipedreams (www.nearfieldacoustics.com) room. Nice BIG sound, but have heard this sound to death—boring. Great soundstage, but not what I would want to hear on a daily basis.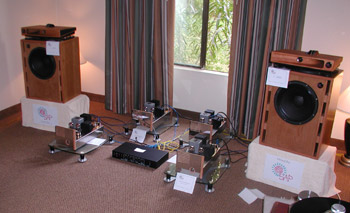 The SAP (www.sap-highend.com) room featured cool amps, speakers, and accessories. Like the new Anniversary integrated and stand pictured below. Not your typical horn sound. Very cool and so Italian!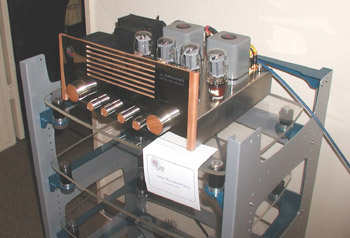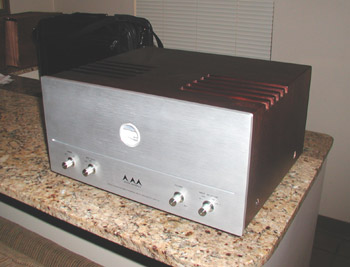 After a few warm hugs from Mr. Muira we were introduced to his new babies. A new 30 watt integrated at around $3000. (Review sample arriving this month!) And check out the new Air Tight statement amps below—340 watts each! Suggested retail should be around $50K for the pair. Sounded very sweet and effortless driving the new Odeon speakers. (www.axiss-usa.com)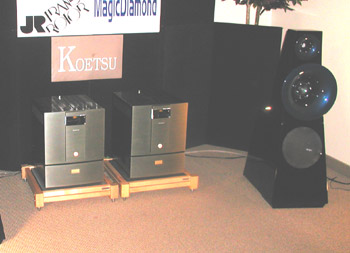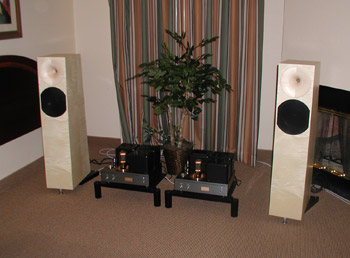 More from Odeon and Air Tight—the ATM 211 mono-blocks and Tosca speakers. Sounded very open and musical, and some of the nicest people in the business!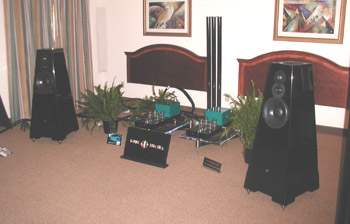 The Talon Audio (www.talonaudio.com), Joule Electra (www.joule-electra.com), and Elrod power cables room was sounding pretty good. Jud is a great guy and it was nice to meet David Elrod. The new Heaven's Gate amps sounded and looked fabulous (review pair coming in a month or so). Look for a full Elrod review next issue!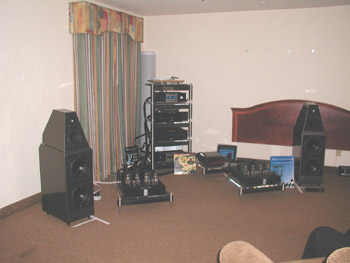 Wilson Audio (www.wilsonaudio.com) and BAT (www.balanced.com) room sounding like, well, not our cup of tea. Nice, and we do like the BAT stuff, but we still don't get why everyone jumps onto the Wilson Watt bandwagon. Nice speakers, but for the money, we have heard way better for lots less.