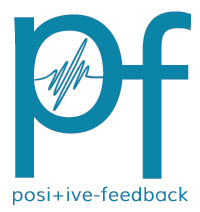 You are reading the older HTML site
Positive Feedback ISSUE
4

december/january 2003
Four From Audio Fidelity
by Max Dudious
The major labels have been busy re-mastering their older best-sellers into high resolution formats for re-release. Audio Fidelity (http://www.audiofidelity.net) is an independent label that has bought the rights to some golden oldie albums for similar treatment. This allows the label to enter the market with material that has an established audience, and it allows us would-be consumers access to established material that would otherwise languish in the pre-CD category.
Here are three albums that originated in the "direct to disc" methods of the small Gryphon label, and one (The Zombies) produced by major labels Decca and CBS Records. The Gryphons are exceptional efforts that began life as "audiophile" pressings and had to wait for their resurrection until the development of SACD, as only such a superior format could capture the benefits of "direct to disc." The Zombies' efforts were recorded to tape at about the same technological level of sophistication as The Beatles' early albums from the same years.
The albums are: Mel Tormé's The London Sessions (1977), now Audio Fidelity SACD AFZ 002; Buddy Rich's The Best Band I Ever Had (1977), now AFZ 003; Cal Tjader's Latin+Jazz=Cal Tjader (1968), now AFZ 004; and The Zombies' The Zombies Greatest Hits (1964-68), now AFZ 001. Anyone who's seen a James Bond film knows how important it is to be named 001, so we'll begin with it.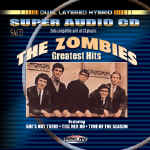 The Zombies were Colin Blunstone, Rod Argent, Paul Atkinson, Hugh Grundy and Chris White, each of whom went on to careers in the music business. For a while these insouciant Brits were among the aristocrats of Rock; their debut single was "She's Not There," after all. Few bands can match that musical sophistication with their first single. The Zombies had a career about par for a struggling new band; four years, two great hit singles, and a lot of interesting material that never quite catapulted them into stardom the likes of which some lesser bands enjoyed. But they certainly touched something in their fans that few bands reached with "She's Not There" ["Well, no one told me about her; the way she lied."] and "Time Of The Season" ["What's your name? Who's your daddy?"]. As for the other material on this album, there are many hidden gems; "Tell Her No" and "She Does Everything For Me" are two excellent examples of the band's trademark minor key arrangements with tight vocal harmonies, and they might convert you into a Zombie fan, if you're not already.
If I put the SACD on repeat-play while I was at my computer I could listen to it over and over, and the music drew me in and grabbed me onto Zombie wavelength. Once there, it was easy to appreciate how artful they were. The engineering has a lot to do with it. For the first time I could hear what each instrument in the band was doing, all their barely noticeable licks were made audible by SACD, and capturing the singers' diction in hi-rez made the words more distinct. It's really amazing: I heard stuff down in the mix jumping out at me. I felt, for the first time, I heard everything! Forgive me if I do a bit like a cheerleader here, but one "Great Job!" to Steve Hoffman, recording engineer.
Who was it who first said, "It's only rock'n'roll?" Well, whoever; he wasn't talking about this band. The Zombies do more than take the same three-dreary-chord, twelve-bar-blues form, and put it together with bubblegum lyrics. If you don't believe me, get a load of "Time Of The Season" and crank it up. You'll get that old Zombie feeling, and you haven't lived if you haven't...
Mel Tormé's The London Sessions also benefit from Steve Hoffman's re-mastering, and the same benefits accrue to a large ensemble of musicians as to a small rock'n'roll band via this high resolution medium, SACD. Many Mel Tormé fans think this album represents Mel at the top of his form. So do I. So does Mel, in the liner notes. Mel chose a great program for this album including; Stephen Sondheim's "Send In The Clowns," Billy Joel's "New York State Of Mind," Stevie Wonder's "All In Love Is Fair," Ewan McColl's "The First Time Ever I Saw Your Face," Janis Ian's "Stars," Paul Williams's "Ordinary Fool," Johnny Mercer's "When The World Was Young," Charles Aznavour's "Yesterday When I Was Young," and Mort Dixon's "Bye Bye Blackbird." If you consider yourself a jazz fan and that lineup doesn't arouse your interest, you must have either a most exquisitely honed taste, or a vitamin deficiency.
The format is Mel with sidemen Phil Woods (sax), Barry Miles (piano), Vic Juris (bass), and Gordon Beck (drums) fronting a pretty large orchestra, known as "With Symphony Orchestra Conducted by Chris Gunning." This allows Mel to sing with a wide range of accompanying combinations: trio, quartet, with or without a string section, with the orchestral brass and reeds playing as a "big band," or all together, depending on the mood the song is meant to create. The takes were "live," that is, with everyone playing on the same stage at the same time. If the session lacks the spontaneity of audience reaction, this system seems better than having the rhythm section come in and put down a track, followed by the strings, followed by the vocalist and his sidemen. Furthermore, the "direct to disc" masters must have turned out just fine for re-mastering, or the result wouldn't sound as if it had just been done last week. And Mel's voice was as supple and fluid as ever.
I had the privilege of catching Mel in this type of concert years back, and the combined forces seemed just large enough to contain his larger than life persona; singer, composer, ("Chestnuts Roasting On An Open Fire") drummer, & comic. (Well, he told a few funny jokes.) It may have been the ultimate match for Mel's considerable ego, and I mean that in the best sense. One accidental benefit of the recording process is that we sometimes get a snapshot of a performer at the height of his abilities, and this one is a great example. Mel was a jazz singer who used his voice as a horn from the first. He arrived as a teenaged crooner, "The Velvet Fog," and made of himself an institution. This album catches him at his best – relaxed, in a perfectly matched setting, expressing his wide technical and emotional range. A must for dyed-in-the-wool Mel Tormé fans.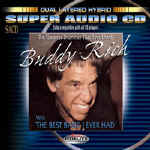 Buddy Rich's The Best Band I Ever Had is a trip through different jazz regions. By 1977 Buddy Rich had already been around since the 1930s. He was an excellent drummer who could drive a big band as effortlessly as you or I drive our cars to the supermarket. Some drummers can work with intricate small groups, like The Modern Jazz Quartet. Others have the restraint to accompany vocalists tastefully, relying on brush work and other subtleties. Buddy Rich could pound a drum kit into submission in about ten minutes with a dazzling array of paradiddles, bops, bams, rebops, rimshots, kick-drum accents, and cymbal work – sometimes playing duets with himself on kick-drum and cymbals at the same time – all the kind of bravura technique that it takes to be the driver of a fifteen piece band in full cry. You gotta hand it to the guy: he had great drummer's chops. By those standards he may have been, as he himself proclaimed, "The Greatest Drummer That Ever Lived," (a claim, like Little Richard's for "The World's Oldest Teenager," that's hard to verify – with Dick Clark in the running). I'm willing to give him the nod as "Best Big Band Drummer" on this album.
The Best Band I Ever Had is made up of five extended takes on jazz standards: Joe Zawinul's "Birdland," Bud Powell's "Bouncin' With Bud," Horace Silver's "Cape Verdean Blues," Chick Corea's "Fiesta,"and Barry Mintzer's "Funk City Ola." "Birdland" is a great tune that's been done definitively by Weather Report and covered by The Manhattan Transfer (to name but two), and this version stands up to those blockbusters, no faint praise. As well as being a showcase for drums, it's a hell of a tune that the band gives a hell of a ride, featuring soprano sax man Steve Marcus. "Bouncin' With Bud" was written as a showcase for piano in the setting of a bebop quintet in the style of the Charlie Parker small groups (sax, trumpet, piano, bass, & drums) of the forties and fifties. With pianist Barry Keiner taking the lead, the band really digs in and goes on one boppy trip. If how well a big band plays bebop is one measure of excellence (with all bop's tricky rhythms, its required precision of attack on stops and starts, and building dissonant chords), then this band passes muster. It can play bop, and Buddy was an excellent bop drummer, laying down a steady beat with fills between phrases, and accents to stress key phrases.
Horace Silver has always been one of my favorites, and his "Cape Verdean Blues" is prime example of his style; a little bop, a little soul, with a dash of salsa. Best Band deals with this in a way that doesn't compromise its style as a big band, hitting all the section work as one, delivering the big crescendos with all the testosterone of a young band, Dean Pratt's trumpet hitting the high notes clean and strong. "Fiesta" is one of those Chick Corea tunes you often hear other musicians cover. It's an upbeat, bouncy thing, with obvious samba and salsa highlights. Chick was always proud of his Latin roots. (Guys I know who attended Chick's parents 50th anniversary party say it was an all-star gig of New York musicians who ironically played Gershwin and Cole Porter standards all night so the elders could dance. Oh to be a fly on that wall.) This is a chance for the band, and Buddy, to show their familiarity with Chick's music. Tommy Warrington, on bass, steps up bigtime with some highly virtuosic playing. Finally, there is "Funk City Ola," a tune that is based on the beat of what was to become a major strain of disco dance music – funk. When Best Band gets to walkin', cookin', and steamin' on this one, I think I hear echoes of the 50s Mambo bands (Tito Puente, Machito, etc.). Lots of trumpets, non-stop drumming, with two tenors up front. If big band jazz, that navigates with equal élan and panache the bebop, soul, Latin, or funk idioms is your bag, then get down with Buddy Rich and the best band he ever had, and boogie! Again, good job, Steve.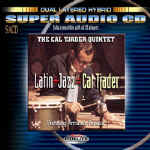 Finally, there is Cal Tjader Quintet's offering, Latin+Jazz =Cal Tjader. This set is a club date that dates back to 1968, and it also sounds as if it could have been recorded last week. Tjader is a vibraphone player who started out as a drummer, with Dave Brubeck. There is, as you might expect, a strong percussive, hence rhythmic element to his work. In 1951, or nearly, Cal started "jamming" with Tito Puente for fun we're told in the liner notes. This led to his working out a new Latin-jazz formula that became his signature a decade or so before the Bossa Nova wave.
The question often put to him was; "What's A Nice Swedish Boy Like You Doing In A Latin Bag Like This?"
To which he is alleged to have answered; "Just lucky, I guess."
The tunes on this disc are often riffs built around rhythmic figures. If pressed, I think they'd best be described as sambas. As the Eskimoes are said to have 101 words for the various types of snow, Latin musicians have 101 terms for various types of samba. Happy sambas, sad sambas, fast sambas, and slow sambas; sambas that accent the first beat in a bar, the second, the third, etc. each have a proper noun, a name, of their own. There are eight tunes on this album, and I think they are all sambas, though only one has the word in its title ("Milo's Other Samba"). Yeah, I think. All sambas. Even Horace Silver's "Nica's Dream," which originally was a blues with a Gallic touch, winds up a samba.
Nica was Monk's old lady. She was a baroness, actually. To be exact, she was Baroness Kathleen Annie Pannonica de Koenigswarter, or Nica for short. And she was so cool, so hip, so been there and done that, so serene, so true to her one great love that she stuck with him through many terrible bouts of his (what we now recognize as) manic-depressive disease – until he died. So much the model of a "good woman" was she, that in Danté's time I'm sure she'd have sat with Beatrice and Rachel in Paradiso. Not surprisingly, many jazz musicians honored her with compositions dedicated to her virtue: "Nica's Tempo," "Pannonica," "Nica's Dream," etc. It's cool to have one of her tunes on a re-release all these years later. The tune itself is haunting, in Tjader's hands a lilting thing, the melody moving chromatically up then down, reminiscent of Luis Bonfa's "Samba De Orfeo" from the film Black Orpheus. la, La, LA, LAH; LAH, LA, La, la. Do, mi, sol do: ti, sol, mi, do. O.K. All together now. Follow the bouncing ball.
The other tunes, none of the titles known to me, seem to be pieces the band wrote as its own material. Many of them feature the conga drummer, Armando Perazza. And rightly so. He is great. While Tjader and pianist Joe Kloess are off doing variations together, or riffing off each other on the melody, Perazza is taking care of the store, as in "Armando's Bossa," mixing up the textures, the accents between the bar lines (if you'll allow me). Other times, when they put down a rhythmic vamp, as in "Armando's Quajira" – one, two, three four – Perazza will just let it fly with whatever comes into his hands. (Does the word Quajira stand specifically for a samba with that rhythmic pattern? Anyone?) Goo Sheet, Mon! Soon they're off on a touchy-feely slow ballad, "Why Did I Choose You," but they come back with an up-tempo tune, "Milo's Other Samba." It is about as hot a tempo as you can imagine, with lots of subtle boom-chicky-boom from the conga and the maracas, and with lots of room for Perazza to lose his mind, which wakes everyone up.
The group returns to another ballad, Tjader's "Song For Pat," featuring some very tasty piano, bass, and conga licks. Then it's on to a medium tempo tune with lots of interplay between the various instruments, "The Touch," reminiscent of the Modern Jazz Quartet at its tightest. Next, they offer "Colorado Waltz," though I can't, for the life of me, hear anything but a samba, proving that you can have a samba in 3/4 time. Let's see, that's Samba 102. And they close out with "Nica's Dream." Nice job, finally, Steve.
There you have it, the first four releases from Audio Fidelity. No, not the guys who brought you The Dukes of Dixieland, nor the railroad engine chugging across your childhood living room. This is not your father's Audio Fidelity. It is a much hipper, much more dedicated group of guys who are using the current SACD technology in service of the music they like. These are all sensationally successful transfers: I've seldom heard as good. Though I'm clueless as to the details, I'd guess "direct to disc" had something to do with their excellence — and SACD delivers the goods!
If you've a soft spot in your nostalgia center, or if you are a collector with an eye for great records that typify an era, or if you like good music of any era, than one of these might be for you. Like, I could see myself playing these at our upcoming New Year's Eve party, for folks of a certain age. I think you could, too.
Not too intrusively. Hip music for our in-crowd.
Solsticial Felicitations!