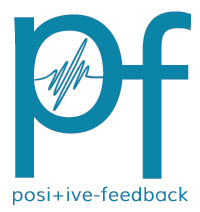 You are reading the older HTML site
Positive Feedback ISSUE
39
september/october 2008
Four Fantastic Classical releases
by Karl Lozier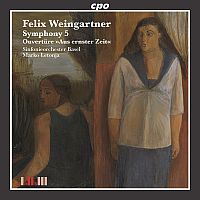 Felix Weingartner, Symphony No. 5, Overture Aus ernster Zeit Orchestra. Orchestra: Basel (Switzerland) Symphony. Conductor: Marko Letonja. CPO Hybrid CD/SACD 777 101-2
The opening selection, almost thirteen minutes long, Aus ernester Zeit deserves more than one audition. I had never heard it before and I will hear it often. Very outgoing and very melodically appealing, it also qualifies as an orchestral showpiece. To top it all off, is the excerpts, take offs or variations on numerous themes, are from various nations including America. Anyone with a tad of serious musical background will get a huge kick trying to hear how many familiar pieces he or she can identify-a real fun project and a perhaps a bit from Charles Ives' similar examples.
I find both the overture and symphony almost immediately appealing. A few additional listening sessions have not changed that positive impression. Somehow I expect compositions by well known conductors to be at least superficially appealing. Conducting a symphony orchestra with many different compositions by various composers must impress the former conductors turned composers to what seems appealing to audiences. That must translate a bit into following compositions. Here that certainly happens. That perhaps indefinable quality of greatness may not be present here but its generally appealing beauty certainly is. To top things off the orchestral playing is fine as is increasingly common nowadays. Can we assume that the not quite famous orchestras of the world have decided to do their darndist to make their relatively few recordings be as good as possible with extra practice time and hopefully listening pleasure? Here those qualities are aided by particularly outstanding recorded audio quality almost bordering on demonstration quality at times. It reveals everything from a rich and powerful lower register's qualities, including fine bass detail and power on up through clearly fine sounding winds and brass right on up to the flutes sometimes heard "going it alone". The SACD two channel, stereo quality and definitely not with a distant perspective, as usual beats out the merely very good CD layer's quality. This is a classical music lover's chance to dig deeply into something new and really worthwhile! Easily earning a top recommendation from me-perhaps unexpectedly so.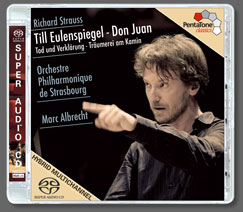 Richard Strauss, Till Eulenspiegel, Don Juan.Tod und Verklarung (death and transfiguration). Traumerei am Kamin (dreaming by the fireside). Orchestra: Strasbourg Philharmonic. Conductor: Marc Albrecht. Penta Tone Classics CD Hybrid SACD PTC 5186 310
This outstanding release of Richard Strauss' famous tone poems is a recent release that was recorded last year. Though, as is usual for me, to make comparisons more nearly fair, my listening and comparison with the CD layer is to listen to them only in the stereo or two channel SACD layer. Here that layer is outstanding. In fact, continued listening has enabled me to rate much of this recording to be of true demonstration quality, thereby surpassing the fine recently reviewed Weingarten release. Either the Strasbourg Philharmonic is a step up in ensemble playing and virtuosity or the recorded quality is outstanding for full range reproduction while being smoothly extended at both frequency extremes. Noteworthy for those bass loving audiophiles, is the reproduction of the entire bass spectrum. As we live listeners know, the bass end of the audio range, heard live, varies greatly from one listening hall to another! There is no right or wrong though here the overall rounded richness of the mid-bass area and the sound and palpable qualities of the bass drum are essentially equal to the best I have ever heard live. Live can vary so much. Many years ago I arrived extremely early for a concert and while reading the program notes I realized that what I was "hearing" and what I was seeing do not make sense. Two double bass players were seemingly "sawing-away" with bows on strings. I walked up to the stage and talked to them and told them. "I could see the two of you vigorously going at it but I could not hear you!" What's going on I asked? One of them pointed down and said "concrete floor", the other one pointed up and said "damn distributing reflective clouds are trapping the main part of the range leaving very little of our output to project as it is being trapped above us!" Would you like to get recordings that accurately reproduce that acoustic situation?
Consider my review to be an absolutely top recommendation and an excellent introduction to Richard Strauss' shorter pieces that are usually referred to as tone-poems. These are excellent examples and particularly outstanding is the finest and most exhilarating performance of Till Eulenspiegel's Merry Pranks in my memory. Here it is a genuine showpiece or showstopper. The reproduction of a number of solo (or duo) instruments near the beginning should delight the heart of any music lover and tickle the fancy of typical audiophiles. The performance of Don Juan comes close to equaling Till Eulenspiegel. The other two selections are very serious (Tod und Verkplarung) or rather subtly beautiful (Traumerei an Kamin).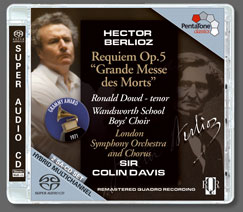 Hector Berlioz, Requiem, Grande Messe des Morts. London Symphony Orchestra and Chorus. Sir Colin Davis, conductor. Arthur Oldham, chorus master. Wandsworth School Boys choir. Russell Burgess, chorus master. Ronald Dowd, tenor. Penta Tone 2-SACD Hybrid PTC 5186-191
Here we go again. Seems as if there is no end lately to very large scale choral recordings being received for view. Well, they do not come any more large scale than this one! The "main" orchestra features 180 instruments. In addition there are 38 brass players in the distance. With a few recordings, they are at times placed in the four corners of the listening hall or auditorium. His score lists a solo tenor, 80 female singers, 60 tenors and 70 basses. If you think your listening room and sound system can really handle all that, I suggest you think again. The composition was to be a composer's dream of a life time. Commissioned by the Interior French Minister, Berlioz rushed the composition with great enthusiasm. The performance was cancelled one week before the scheduled date! Luckily it did get performed later in the year.
This performance dates from the very early nineteen seventies. It was recorded in quadraphonic and the Boys Choir of the Wandsworth School won a Grammy for best classical choral performance in 1971 for this Berlioz Requiem! This release definitely surpasses many of the releases from way back then. It is an admirable attempt and sounds surprisingly goodólike really good. The overall perspective is not quite as close sounding as the new superb Penta Tone Strauss release. Here the perspective sounds similar to being heard from the front row of the first balcony in some orchestral halls. The overall sound quality is rich and full with a fair amount of detail. Actually it is quite amazing that such a large performing group (over 400) can be captured this well. The use of a multichannel playback system does help the sensation of reality. Berlioz's Requiem is most assuredly the easiest large scale Requiem for beginners to appreciate and listen to repeatedly. Berlioz, the master orchestrator can make a huge scale composition sound beautiful and impressive at the same time.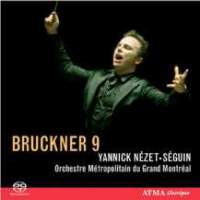 Anton Bruckner, Symphony No. 9. Orchestra: Metropolitain du Grand Montreal. Conductor: Yannick Nezet-Sequin. ATMA SACD Surround, SACD Stereo, CD Stereo SACD 22514
It has been many years since I have received and listened to Bruckner symphonies. Many years ago I reached the conclusion that my favorite Bruckner composition was his Fourth Symphony (The Romantic), I was particularly happy to receive this fine, in essentially all aspects, recording of his unfinished (no final movement) symphony nine. The above listing of this release I copied from the case and surprisingly the case does not use the phrase hybrid disc or hybrid recording. Bruckner was very controversial during most of his composing life. Though about ten years older than Brahms, they passed away fairly close to the same time. Many expected Bruckner to continue where Brahms left off and others wanted to see him blaze new composing trails. Meanwhile he was almost constantly making at least one group of music lovers disappointed.
One factor limiting Bruchner's appeal is the length of his major works, the symphonies. Here the ninth is well over an hour long and is missing a final movement! Buckner died before he could finish this last composition. Another limiting factor tied in with the length of many of his symphonies is simply the ability of conductors and the orchestral forces they command to sustain tension and propulsion for long periods of time. Sometimes it is tough to decide whether to fault the composer or the performers, including the conductor of course. Here I believe that the overall result is quite good with little in the way of lack of tension and propulsion. Listen to the Scherzo (second movement) and on its own it is outstanding and immediately appealing. I am not familiar with either the orchestra or its conductor. Together they perform quite excellently and are very well recorded with a nice natural perspective, approximately mid-hall and excellent unforced detail. Really a music lover's rather than an audiophile's release, it is very definitely recommended.