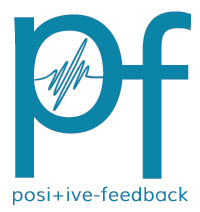 You are reading the older HTML site
Positive Feedback ISSUE
39
september/october 2008
Notes of an Amateur - September, 2008, Part 2
by Bob Neill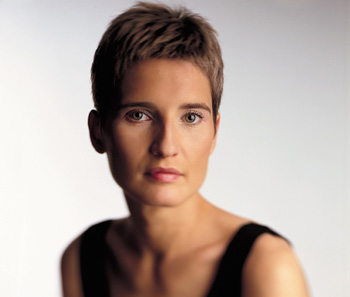 Anne Gastinel, Cellist
The last time I did a review about an individual musician, it was French pianist Alain Planès. I was so struck by his ability to open up Schubert, I couldn't help but feel he had become one of the definitive musicians of our time. Subsequent listenings to his Debussey and Haydn confirmed this belief. As I have listened to French cellist Anne Gastinel play Tanguy, Elgar, Barber, Beethoven, and Bach over the past few weeks, I have come to believe that she is another. Below I offer my impressions of her performances and commend her to you.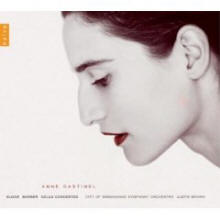 Elgar – Barber. Cello Concertos. Anne Gastinel, cello; City of Birmingham Symphony Orchestra, Justin Brown, conductor. naïve V4961.
What happens to romantic music if you play it with French clarity, refinement, and elan? Does it hold it in? If you are Anne Gastinel, it releases it! Or rather, it is able to maintain its precarious balance between sentiment and eloquence. I knew when I heard Gastinel play Tanguy last week that I had to hear her in the traditional cello repertoire. The first CD of this week's fare bears me out.
I love to hear French musicians play British music—Les Ars Florissants play Purcell, for example. They give it a sophistication that it is clearly capable of but which doesn't always come through in native hands. Gastinel knows instinctively that to indulge Elgar is to drown him, even if that is what he sometimes seems to want! Her masterful control of the bow married to simply exquisite tone gives this workhorse of a cello concerto a new life. Mainly, she persuades the CBSO by example to take some of the pompous weight out of the music so that it can lift off. If, like me, you prefer to hear Boulez clarify Mahler than to hear Bernstein love him up, you will love Gastinel's and the CBSO's take on Elgar. This is Simon Rattle's former orchestra, here led by young British guest conductor Justin Brown. He and they are up to the task, especially in the low strings. Who needs Jacqueline du Pre? This is marvelous music making.
The Barber concerto is a great choice (by Gastinel herself, she tells us) to pair with the Elgar, and it benefits greatly from the Gastinel approach. Its American romanticism loses the turgidity it has in some other cellist's hands. It is remarkable how much more lyric a cello can sound in hands like Gastinel's. Wispelwey takes this approach in general (he hasn't recorded the Barber) but hasn't the sheer command of the French cellist. Barber's romanticism is often surprisingly unromantic in the right hands – Gastinel and the CBSO under Brown bring out the crisp, modernist complexities and fleetness of the first movement wonderfully. They make it exciting as well as enjoyable to listen to.
The slow middle melodic movement keeps the clarity established in the first but loses none of Barber's lyricism. Feelings gain from being expressed clearly! The final movement, boldly rhythmic at heart, carries us to a new place musically, where Gastinel and the CBSO persuade us the concerto intended to go all along. If you play this concerto straight, laying yourself open to its true musical paths without trying to make it into something more superficially emotional, you are freer to make the final movement convincing. At least that's what Gastinel and her forces demonstrate here. Great stuff. Great CD. What's next?!
Beethoven. Cello Sonatas 1 & 3. Variations. Anne Gastinel, cello; François-Frédéric Guy, piano. naïve V4995.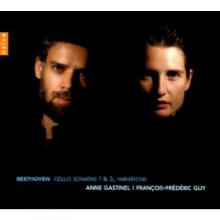 Beethoven. Cello and Piano Sonatas 2, 4, and 5. Anne Gastinel, cello; François-Frédéric Guy, piano. naïve V4927.
Flow is not a quality I associate with Beethoven. But my first impression of Gastinel's Beethoven is that there is as much flow as there is the expected drama. Not eighteenth century elegant flow, which we get now and again from others, especially in the early sonatas. Just flow, forward motion, conspicuous continuity. And this changes the music. Beethoven can go just about anywhere a musician wants to take him. Where Gastinel takes him is to dance: sometimes vigorous dance, sometimes just a lyrical whirl. Thanks to her gorgeous tone, the dance always has a rich patina of suavity. We are accustomed to having Beethoven take us; here he lifts us up and carries us. We did not know he could be this gallant. If Gastinel weren't such a disciplined and polished musician, this approach could be superficial. But with her, it is masterful. There is not a superficial moment—it is simply (!) a more civilized Beethoven who emerges.
As I go deeper into especially the CD of Sonatas 2, 4, and 5, the more I am struck with the balance of vigor and beauty, the same equipoise Gastinel brings to the Tanquy concertos. I am repeating myself here, but there are only so many ways to characterize her style. Vigor and beauty. And vigor and beauty = passion. But the kind of passion that only art is capable of, not the messy raw human kind we struggle with outside of art. And finally, there are the quiet solo passages, which are Gastinel's forté: breathtakingly beautiful.
I haven't said anything about François-Frédéric Guy, the pianist, because he and Gastinel strike me as so natural a pair, there is very little to say. Clearly Guy understands Gastinel's intentions perfectly such that he does not draw attention to himself. I know, faint praise, but perhaps that's the ideal in a cello/piano duo.
This is great Beethoven.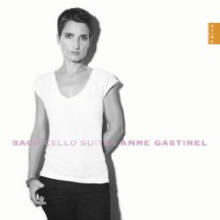 Bach, Cello Suites. Anne Gastinel. naïve V5121
So our heroine can make Tanguy's contemporary modernism appealing without compromising its modernist aesthetic; can bring exciting sophistication to Elgar and Barber, and can show us an urbane and suave side of Beethoven that sacrifices none of his passion, actually shedding new light on it. So, says the critic, holding his breath, time for the final exam. What will her grace and discipline do for the Bach Cello Suites?
Gastinel's approach is to jump right in. She hits the first suite running. Lots of flow as with her Beethoven, and once into it, she lets her eloquent rich tone emerge in full force. The recording engineer loves her tone and lets it all out. In the Allemande that follows, she is rapturous. It would be easy to call it a romantic interpretation if it weren't for Gastinel's usual firmness and control.
We have all heard many performances of this music by great musicians. It is hard to believe there is anything new to say about it. There isn't. There is just the opportunity to play it better, to make us sit up and hear it again for the first time. To overwhelm our expectations and our resistance (to yet another performance of this music) with eloquent authority. To make all previous performances take a step back. I have listened to Starker, Rostropovich, Wispelwey, Heimovitz, Mörk, and Queyras over the past year and enjoyed them all. But not quite like this. Not with this command, grace, conviction, and emotional power. This is the sound of authority, recognized immediately on first hearing. And it's just Suite No. 1!
Suite No. 4, the second on this first disc, is expansive and architectural as I've never heard it. The first movement is generally played with slightly halting deliberation, never with the sense of inevitability that Gastinel brings. It feels like an musical image of the creation, its reach is so strong. 'This is how it shall be!' And then she modulates into an aria for cello in the Allemande. Each succeeding section brings something new to respond to and to assign new images and adjectives to. So I'll stop before this encomium gets silly and tiresome.
But first, let's have one more listen, to Suite No. 5, which for me is always the test. I am used to a bold and slightly gruff opening to this suite. Gastinel is bold but smooth. Her Allemande is melancholy, with hints of Saint-Columbe's bitter-sweet viol pieces. The Courante recovers from the Allemande's blues and "runs" along as it should; but when the Sarabande follows, its melancholy seems darker than usual. Gastinel eases it with a sweetness I don't remember from other cellists here, which makes the Gavottes that follow less unexpected. The closing Gigue dances, as gigues do, but the slight darkness that Gastinel has colored most of the suite with is still present. This may finally be her contribution to the fifth suite: inviting us to hear more autumn in it than we're accustomed to.
Okay enough. This is the most moving performance of Bach's suites I've ever heard, recorded just last year. Where was I?! Will I get over it? I doubt it.
More? More!
Brahms, Cello Sonatas 1 & 2, with François-Frédéric Guy, piano. V4817
Dvorak, Cello Concerto No. 2; Bloch, Schelomo. V4786.
Haydn, Cello Concertos 1 & 2. V4820.
Lizt, Kodaly, Janacek, Works for Cello and Piano, with Pierre-Laurent Aimard V4748.
Lalo, Saint-Saens, Cello Concerto; Faure, Elegie. V4754
Rachmaninoff, Straus, Cello Sonatas, with Aimard V4692.
Schubert, Arpeggione Sonata, etc. V5021.
Schumann, Cello Concerto V4897.
Several available in box sets.
System used for this audition: Audio Note CDT3 transport and Dac 4.1 Balanced Signature, Blue Circle BC 3000GZpz preamplifier and BC204 stereo amplifier, Jean Marie Reynaud Orfeo speakers. With Blue Circle BC6000 line conditioner. Audio Note Pallas, Sootto, and Sogon interconnects and Lexus speaker cable.
Bob Neill, in addition to being an occasional equipment and regular music reviewer for Positive- Feedback Online, is also proprietor of Amherst Audio in Amherst, Massachusetts, which sells equipment from Audio Note, Blue Circle, and JM Reynaud, among others.