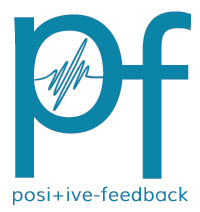 You are reading the older HTML site
Positive Feedback ISSUE
33
september/october 2007
Notes of an Amateur - September, 2007, Part 1

by Bob Neill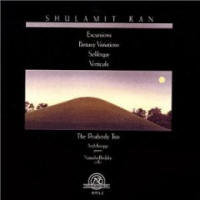 Shulamit Ran: Fantasy Variations (for solo cello); Soliloquy (for piano trio); Verticals (for solo piano); and Excursions (for piano trio). The Peabody Trio: Violaine Melançoin, violin; Thomas Kraines, cello; Seth Knopp, piano. Natasha Brofksy, cello (on the Fantasy Variations). New World 80554
Two weeks ago I went to the local Red Barn concert in Buckley Recital Hall at Amherst College (other Red Barn venue is Putney, Vermont) to hear Florestan Trio violinist Anthony Marwood, who teaches in the program, and who has been become a favorite musician of mine. (His recording of the new Thomas Adès Violin Concerto, which he premiered last year, is due out "soon" from EMI.) Playing with two-thirds of the Red Barn resident Peaboy Trio (from Baltimore's Peabody School of Music), he did not disappoint. But the music they played, by a composer I'd never heard of accounted for a lot of my pleasure. Shulamit Ran (b. 1949), Israeli born, is a composer in residence with the Chicago Symphony and a professor on the music faculty of the University of Chicago. She has won nearly every award a composer can win but has totally passed me by. Amateur indeed! So I ran home, hit the web, and now have the CD listed above. (Happy to see my new old friends, New World Records here.)
Resisting the urge to jump right to Excursions, the work I'd heard at the concert, I followed the album's program as laid out. The first work, Fantasy Variations (1984) for solo cello, told me from the first notes that Ran is as good as I'd heard at Buckley—and also that this is one hell of fine recording. I am still breaking in my new Manley Shrimp and Mahi monoblock amplifiers, but you'd never know it from this recording. Natasha Brofsky's cello nearly ate me alive. Big, rich, woody, and gorgeous. Enjoyably complex and bold music too.
Soliloquy (1997) is a short work (8:36) for piano trio. Passionate, complex in musical narrative and instrumental texture, modernist as hell. Great stuff. And the two Peabodys and Marwood play their hearts and minds out. You can hear Middle Eastern thematic material in it, but you hear it the way you hear Hungarian folk themes in Bartok's quartets. Let's just say she gives them new and different life!
Verticals (1982) for solo piano is stark, magisterial, and especially in love with the lower range of the instrument. Actually, it loves the whole piano—and then I find in the album commentary this note on the piece from Ran herself:
Though it quotes no past music and alludes to no 'other styles' per se, parts of it are very much inspired by the pianistic style and textures, indeed by the sheer physical sensation experienced by the performer, of some of the music that has come to constitute the canon of the virtuoso piano literature.
This is an extraordinary and irresistible piece of music.
So finally I arrive at Excursions (1980), the work that brought me to Ran. This is a full-fledged piano trio—three movements, nearly twenty minutes long. It is even more purely modernist than the other works: jagged melodic lines crossing each other, instruments both opposing and joining one another, irregular rhythm, tonal and atonal in turn, vigorous and contrasting in mood from moment to moment. It bursts with freshness and cerebral life—thinking as feeling, feeling as thinking. I was grabbed by this music when I heard it 'live' and now, in the privacy of my living room across town, my cat nodding her mystical approval, I see why.
I bought this CD because of Excursions and as you can see, I love it. But Ran has an extensive discography and I'll be tracking down more. I urge you to join me.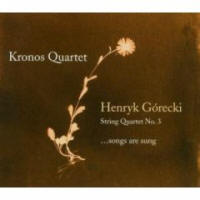 Henryk Gorecki, String Quartet No. 3: Songs are Sung. Kronos Quartet, Nonesuch 104389.
Gorecki (pronounced Goretsky) is best known for his huge successful Third Symphony. (There are a great many recordings, though the best known is the one featuring Dawn Upshaw on Nonesuch.). It is one of the richest and most moving pieces of modern, especially Eastern European, music that we have. Many of us remember where we were when we first heard it—and tried to imagine who the composer was. Mahler was the guess, but this music was far more passionate and lost sounding. I heard it as I drove around Boston in 1988 or 1989 on Harvard's nearly always dependable WHRB, a station that loves to break new music. The music was not all that new then, but it was new to us – and the notes on my Koch Schwann CD dated 1988 (still at least as powerful as the Nonesuch release that capitalized brilliantly on the rising popularity of the work) tell me it was composed in 1976.
Gorecki's String Quartet No.3 is the deeply sad heart of the whole twentieth century of Eastern European music reduced to an elegiac crystal on four stringed instruments. Sadness can, of course, be pleasurable, which is why sad stories tend to be more moving than happy ones. This quartet is not entirely pleasurable, but if you can stay with it (it is 50 minutes long), letting the fondly rendered textures of the lower end of the instruments have their way with you, there is enjoyment to be had here.
If it has a 'subject,' it is likely lament for a culture tortured and lost, by World War II and the half-century of unspeakable cruelty and repression that followed. The Slavic muse has always had a melancholy cast, even as its most exuberant. But what the peoples of Poland (Gorecki is a Pole), the Baltic countries, the many individual countries that were absorbed into Soviet Russia, and the Russian people themselves had to endure during the last century took this melancholy deeper and colored it darker in the modern music of the region. Some of us are drawn to this music for its emotional power. Kanchelli, Silvestrov, Vasks, Pärt – with Shostakovich and Ultsvolskya just behind them.
If all of this sounds too grim and not the kind of thing you want to hear transmuted into music, I do not urge Gorecki's quartet on you. But do track down the composer's Third Symphony (the Koch Schwann recording I am fond of is now on Naxos, I believe, and there is always the easier to find one on Nonesuch.). And if that work serves you well, consider coming back to Quartet No. 3.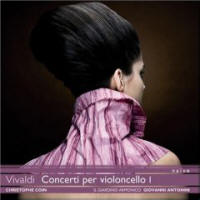 Vivaldi, Concerti per violincello I, Christophe Coin, baroque cello; Il Giardino Armonico. naïve op 30426
Vivaldi's music for cello—concertos and sonatas—is among his richest and most enjoyable. It is also among the most pleasing music written for cello by anyone. The slower andante and largo movements of the concertos in particular can be breathtaking. The baroque cello's firmness, litheness, and dark coppery tone suit it better for this music than the modern softer and warmer instrument, which tends to fatten it too much. Christohe Coin is one of the very best performers on the baroque cello and the best performer of Vivaldi. Il Giardino Armonico are one of the premier early music ensembles, especially on Italian music. They are on the brisk and lively end of the early music spectrum, so don't expect a laid back accompaniment.
Nothing more needs saying here. And this is just the first volume of what will in all likelihood be a complete edition of the composer's concertos for cello. Naïve's projected 100 CD Vivaldi Edition has had some good, some very good, and some superb releases. This is one of the very best. The appearance in the series of cellist Coin and Il Girardino Armonico as 'guest stars' of the highest order is a promising sign of the series' aspirations. This CD should make you very happy.
System used for these auditions: Audio Note CDT 3 transport and Dac 4.1 Balanced Signature; Manley Shrimp preamplifer and Mahi-Mahi monoblock amplifier; JM Reynaud Offrande Signature speakers; with Audio Note Sogon interconnects and Lexus speaker cable.
Bob Neill, in addition to being an occasional equipment and regular music reviewer for Positive- Feedback Online, is also proprietor of Amherst Audio in Amherst, Massachusetts, which sells equipment from Audio Note, Blue Circle, Manley Labs, and JM Reynaud, among others.