Naxos Releases a Quartet of Diverse Recordings in Their Unique American Classics Series
by Karl Lozier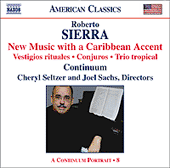 New Music with a Caribbean Accent Composer: Robert Sierra Performed by: Continuum, Directors: Cheryl Seltzer and Joel Sachs. Naxos American Classics CD 8.559263
There are a total of six compositions on this release covering an early ten year period of compositions by Robert Sierra. The recording was done around sixteen years ago and audibly is of fine quality with a rather forward perspective and a sense of great clarity and detail. Often a single instrument is audibly featured and slightly highlighted. Of particular interest to me, was the number of solo passages featuring fine playing plus excellent sound quality.
It would probably take a couple thousand words to describe the varied compositions on this disc. Much of it is appealing, well done and offering a wide range of music making. Generally it can be described as melodic and in traditional form. Go here if you want something new and a bit different at times, but very accessible.
The accompanying group, Continuum could be accurately described as a piano quartet (with the usual violin, viola and cello) plus a second piano and pianist, clarinet, soprano and mezzo-soprano and a pair of directors that "chime in" on some selections. On most of the compositions only one or two instruments/singers are featured. Three of the compositions were written with Continuum in mind. The last selection, "Descarga, for piano and ten instruments" required a number of added instrumentalists. This release is about as safe a recommendation as I can make, particularly for anyone interested in Caribbean inspired music and rather intimate small groups of musicians performing. The excellent sound quality adds "frosting to an already fine cake." Of course it is recommended.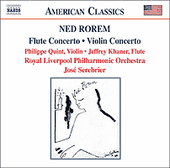 Ned Rorem Flute Concerto and Violin Concerto Orchesta: Royal Liverpool Philharmonic Conductor: Jose Serebrier Naxos American Classics CD 8.559278
This release is another in Naxos' superlative American Classics series. Obviously the series is meant to promote interest in music by American composers. Though Rorem is best known for his choral music, this disc adds a World Premiere recording of his, Pilgrims, scored for string orchestra. Here it is a prelude for the recording of the two concertos and is revealed as a rather gloomy, brooding and melancholic piece of almost programmatic music. The title does not refer to the founding fathers of the United States of America. It is from a book by Julien Green (about the suicide of a schizoid adolescent) and it borrows the following partial passage, "confessed that they were strangers and pilgrims on the earth"…(Hebrews 11.13)
The Flute Concerto, also a World Premiere recording here, comes off as appealing and almost romantic overall in feeling. It never seemed like a concerto to me and when I read the liner notes (excellently done by the conductor), I found out that the composer did not consider it to be concerto either! He could not decide between "Suite", "Six Pieces for Flute and Orchestra" or "Odyssey". So he chose the non-sequitor, "Flute Concerto". I realize that it does not make sense, but so be it; we will sit back and enjoy six attractive short pieces for flute and orchestra. The quite good overall recording does not throw an oversized flute at listeners, a common fault in many flute recordings. Jeffrey Khaner, Principal Flute (player) of the Philadelphia Orchestra since 1990 seems to handle his solo contribution very well.
The older Violin Concerto is slightly nearer to being what I would consider a more nearly traditional concerto. The six instead of the traditional three movements, still tends to keep me from fully embracing it. The fact that the fifth movement, title, "Tocotta-Rondo" seems to act as if it were the finale, does little to change my feelings. The final movement (actually just a section) is a rather quiet and sublime ending to an overall enjoyable composition. Grammy Award nominee, violinist Philippe Quint, turns in a particularly fine and rather understated performance. The overall audio quality is very good though not quite as full rich and prominent (in the presence range) as the best of Naxos' recent releases.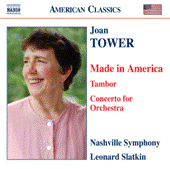 Joan Tower Made in America Tambor Concerto for Orchestra Orchestra: Nashville Symphony Conductor: Leonard Slatkin Naxos American Classics CD 8.559328
Unlike many of the composition by composers that I have reviewed in the past months with Naxos' ambitious American Classics series of recordings, here the compositions tend to be a bit different. I do not think that great effort was made to make the compositions immediately popular with added or more emphasis, on melodic passages. Here we are presented with some very serious music making. If you are new to classical music, I think these works are not the best place to start. If you know and appreciate many compositions by Bartok (Concerto for Orchestra), Stravinsky (Firebird Suite) or Prokofiev (Piano Concertos) then you are probably ready for these contemporary works by Joan Tower.
Even though Made in America has been played in all fifty states, surprisingly this is its (and Tambor's) World Premiere recording. Though in some passages there seems to be variations on our famous America the Beautiful, it ultimately is a takeoff or fantasia on that melody. Listen for hints of America the Beautiful while playing this recording. The composition is far more than that though as feelings or depictions of the USA are being attempted here. Tambour is the Spanish word for drum—so it logically follows that drums and the rest of the percussion section provide much of this selection's rhythmic pace. That logic turns out to be correct. This colorful piece should appeal to lovers of percussion rich music with strong hints of South American music. There is definitely some palpable drum thwacks punctuating a cleanly clear and naturally detailed overall bass range.
Her Concerto for Orchestra is tough to describe and so is Bartok's Concerto for Orchestra. Various instruments, in turn, get to be highlighted in solo passages. At other times, it is as if the entire orchestra is treated as a solo instrument. That may sound as a weird description, but so be it. Probably my imagination, but I heard some passages that strongly reminded me of Bartok's composition, an old favorite of mine. Audio quality is fine and definitely full range but not quite the equal of Naxos' finest efforts. At times a bit, just a wee bit, of high frequency etching or emphasis seemed to creep in though it may have simply been the scoring. Having no score or previous listening experience to the composition, I could not be certain. Made in America is being heavily promoted and deservedly so. Seemingly very well performed here, my recommendation is very positive for classical music lovers and with the added patriotic bonus of listening to a new American classic.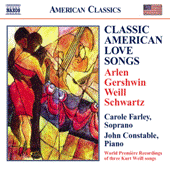 Classic American Love Songs Arlen, Gershwin, Weill, Schwartz Soprano: Carole Farley Piano: John Constable Naxos American Classics CD 8.559314
Carole Farley is well known in the operatic world of music though not one of the "name few" recognized by general music lovers. She could qualify as one of the Americans that went to Europe studying and performing for three years in Germany. Then she was "discovered" and first performed at the Met. Now in her later years of performing she has been researching and searching for classic compositions by the gifted composers Harold Arlen, George Gershwin, Arthur Schwartz and Kurt Weil. She emphasizes that they all knew that even their best melodies had to have really good lyrics to survive. If the name Arthur Schwartz does not sound familiar to you, he composed, You and the Night and the Music and Dancing in the Dark. Both are performed on this release.
The liner notes include the lyrics for all eighteen of Carole Farley's studied selections. With all, she is more than ably accompanied by the outstanding John Constable. The justly famous Constable is known world-wide for his versatility, performing abilities on piano and harpsichord as well as for his unique piano accompaniment abilities. Much of my critical reviewing reflects my personal feelings. Having said that, I must confess that I find that collections of popular music performed by classically trained opera singers, nearly always leave me disappointed. I must report that I find that to be true to a certain extent on this interesting release. It is not always enough to be note perfect when performing. There is a need for a bit of interpretation, some showmanship and a "promotion or selling" of the composition. Some of that is lacking here. Similar comments can easily be said about the audio quality. While being quite good, a closer sound perspective while adding a touch of fullness would result in a better promotion of these classic American love songs. Play this recording before looking at the song list. No, you will not recognize all of them nor be able to match them with the shows they came from. Three of them had never been recorded!