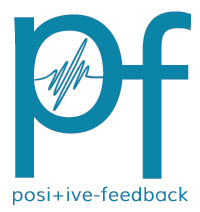 You are reading the older HTML site
Positive Feedback ISSUE 3

october/november 2002
Sunier on Hi-Res, Part 3 (with a little help where noted)
(John Sunier, long-time audiophile journalist and reviewer, has been a member of the Positive Feedback community for ten years. As editor of Audiophile Audition (www.audaud.com) and an "Editor of the Round Table," John and company will be contributing to PF Online by allowing the use of his and fellow audaud.com contributors' hi-res audio reviews.)

Ana Caram, Blue Bossa
With Paul Braga, drums; Nelson Faria, guitar; David Finck & Joe Fitzgerald, bass; Cliff Korman, Fender Rhodes; Paul Levi, sax
Chesky multichannel SACD226

Bossa nova seems to be having a rebirth of interest recently, and Brazilian siren Caram brings back the l960s' cool Brazilian music invasion just like it never went away. But now we have a better voice (than Astrud Gilberto) and much better sonics with multichannel SACD. Many of the hits of the past are here as well as some newer ones. There's a jazz bossa from Kenny Dorham and Caram concludes her concert with one of her own originals. She's mostly up front, with various batterie heard occasionally on the surround channels. Sit back, put your feet up, and you'll be in Caram's spell in no time. John Henry



The Band, The Last Waltz
With guests Paul Butterfield, Eric Clapton, Neil Diamond, Bob Dylan, Emmylou Harris, Ronnie Hawkins, Dr. John, Joni Mitchell, Van Morrison, The Staple Singers, Ringo Starr, Muddy Waters, Ron Wood, Neil Young
Warner Bros./Rhino DVD-A R9 78260

It all happened live at Winterland in San Francisco on November 25 and 26, l976. The Band - who had revolutionized rock, played with Bob Dylan and many others, and released eight recordings, decided to call it quits. This was their farewell concert with a long and amazing list of super guest performers. Rock matured into a new and unique language with The Band. They melded strains from both Appalachia and Harlem, gospel and boogie-woogie, music on Sun and Chess Records, and came up with songs that communicated Americana myth and history with a compelling strength. This DVD appears to be highlights from the 4-CD Last Waltz package on Rhino. Of course there is the recently re-issued Martin Scorsese film of the same title, which I haven't yet seen. But after auditioning this wonderful disc I certainly plan to. I don't know if the exactly selections heard here - 30 tracks in all - duplicate the soundtrack of the film.

A pox on DVD-A navigation! I was again thrown by certain screens and options never appearing. It took forever to locate the opening menu screen, and several times a partial list of the first group of tracks came up, but the track list was slightly greyed out, making it impossible to select any track. Another huge frustration is that so far none of the DVD-As in which one can select viewing the lyrics onscreen will advance those lyrics in sync with the music being heard—you have to manually punch "Next" to change to each and every page. There are a few still photos for each of the tracks. It's difficult to choose which of the many exciting turns by the guest performers to highlight, not to mention the straight Band tunes which sound more in tune and together than I recall on their Big Pink album. Well, let me list just a few: the Band's own versions of their "Ophelia," "Up on Cripple Creek," "and (with Bob Dylan) "The Night They Drove Old Dixie Down." The Staples Singers joining the group on "The Weight," Muddy Waters laying it on down in "Mannish Boy," Eric Clapton in "Further On Up the Road," and Dr. John's evocative "Such a Night." There's lot more in the surround channels than just applause. One really is drawn into the celebration—you'll have a big smile on your face when the almost classical opening Last Waltz theme is repeated at the end of the concert. Don't miss this wonderful tribute to rock n' roll. By the way, the mixing and production of the DVD-A was financed by MicroSoft's Paul Allen, who also built the Experience Music Project in Seattle, even though Jimi Hendrix doesn't play a note in The Last Waltz. John Henry



Carmen Gomes, Carmen Meets Kharma Live
Cajan Witmer, piano; Marcel van Engelen, drums; Peter Bjornild, bass
STS Digital multichannel SACD 611126

This SACD from The Netherlands was obviously at least partly sponsored by the Dutch makers of the great-sounding, outrageously beautiful and expensive Kharma loudspeakers—they're more prominently featured on the front cover art than the singer. Philips, Marantz and Siltech were also heavily involved. The background or nationality of singer Gomes is not revealed; she's young, blonde and seems to have no accent, but I found her enunciation somewhat slovenly. Her voice is superb and she tackles a variety of tunes, of which only two of the dozen total are not either her originals or her arrangements. The two exceptions are Billie Holiday's "Billie's Blues" and Gershwin's "Summertime", the latter opening the album. The producers of this SACD adopted a variation of the center channel approach used on the James Taylor SACDs. Carmen's voice is not 100% in the center channel but only a rolled-off low-level version of it is audible in the left and right front channels. If you don't have a center channel you'll have to listen to the stereo mix of this SACD. The surrounds are used only for a feeling of the room's natural ambience, with some sounds—such as higher-pitched percussion—standing out in the reflective acoustics. The live audience is amazingly quite during the music—the liner note writer attributes this to their all being subscribers to a Dutch audio magazine. Had they made just a low-level babble it would have contributed to the envelopment feel of the surround. But what really wakes you up to this being a live session is the audience applause between tunes. Applause has always been a great audio test source, and here it demonstrates how seamlessly your front and surround speakers create the sounds around you. John Henry



Wynton Marsalis, Marsalis Standard Time, Vol. I
with Marcus Roberts, piano; Robert Leslie Hurst III, bass; Jeff Tain Watts, drums
Columbia Jazz Stereo SACD-only, CS 40461

This is a 1986 session by Marsalis and his quartet and in some ways it has a more relaxed, less forced feeling about it than his recent work in which he seems to be trying to be another Duke Ellington. It was done with a 24-track studio setup, so don't expect holographic spatial information, but the improved clarity and slam from all four instruments is certainly a feature. The Standard Time concept alludes to the dozen tracks being nearly all standards that have been played and recorded by countless known and unknown performers over the years. So the efforts of Marsalis and his quartet are put up against the best of the whole tradition of jazz—quite a challenge. And for the most part they meet it, although some tunes running as long as seven or eight minutes have solos that seem to be stretching a bit too far to come up with something different from what's ever been heard before. I especially enjoyed the extended "Foggy Day," and the closing second version of "Cherokee" is really a romp of a trumpet solo. John Henry



Billie Holiday with Ray Ellis and his Orchestra, Lady in Satin
Multichannel SACD-only
Columbia Legacy CS86697

I approached this re-mix for multichannel with some trepidation because the initial Billie Holiday stereo SACD release was and has remained the first and only real stinker of a SACD I have heard. It was equalized insanely. Not so this time around, and now we have the additional attractions of a full orchestra backing and multichannel surround. It would have been interesting if the note booklet included just a paragraph about creating the multichannel mix from the original 1958 tapes; there's a good chance they were three channel rather than two, meaning there was more to select from in mixing to multichannel. Holiday is front and center-speaker, with only a slightly distanced ghost of her voice in the front left and right channels. The orchestra is spread around almost encircling the listener, but without any strong sounds drawing attention to the surrounds. Lady Day was the stimulus for doing this session with string and vocal choir backgrounds—she loved Ellis' and arranger Claus Ogermann's work and felt this album was the best she ever did.
She had a strong hand in choosing the songs, and chose to end with Alec Wilder's I'll Be Around. 17 months later she was dead. Many top jazzmen appeared on this session—it's not only string section and chorus. They included Billie Butterfield, Urbie Green, Hank Jones, Barry Galbraith, Milt Hinton, J.J. Johnson, and Mal Waldron. The contrast of the lush arrangements behind Holiday's often shaky and emotionally raw voice now stands out more via hi-res multichannel than it ever did on the stereo LP version. It's definitely not the Billie of the 1940s, but who would ever have thought we'd eventually have Billie Holiday in glorious surround sound? John Henry



Tommy Smith, The Sound of Love - The Ballads of Duke Ellington and Billy Strayhorn
Smith, tenor sax; Kenny Barron, piano; Peter Washington, bass; Billy Drummond, drums
Linn Stereo SACD AKD 138

I was unfamiliar with Smith, and from the album photo and title I had expected a jazz vocalist rather than a tenor player. Being less into vocals, I was pleased, and more so upon seeing all the tunes tie in with Ellington and Strayhorn. There are 11 classics by one or the other or both of the famous pair—some of the loveliest ballads in 20th century music. The exception is Charles Mingus' Duke Ellington's Sound of Love. Smith was in Gary Burton's group in the mid-80s and his style has been compared to Ben Webster, Illinois Jacquet and Stan Getz. He's recorded eight previous albums, so he's definitely paid his dues. He gives Isfahan the longest treatment here at nearly nine minutes, and the shortest track is his two-minute totally unaccompanied version of Ellington's "Solitude." Soundstaging is excellent in this direct-to-two-track recording. (You might want to compare it to the multi-tracked Marsalis SACD above.) John Henry



Grover Washington, Jr., Winelight
With Eric Gale, Steve Gadd, Paul Griffin, Ralph MacDonald, Richard Tee, Bill Eaton, Ed Walsh, Robert Greenidge, plus vocal trio and guest vocal by Bill Withers on Just the Two of Us
Elektra/Rhino DVD-Audio R9 78350

While I may never forgive Grover Washington for inspiring Kenny G., I admit to having enjoyed some of Washington's CTI albums in the past, and none more than this 1980 breakthrough into the mainstream. His melding of jazz and R & B was commercial but still tasteful and accessible by a wide range of audiences. The major hit of Winelight was "Just the Two of Us," which may No. 2 on the pop charts and No. 1 on the R & B charts. It also won two Grammys for Best Jazz Fusion and Best R & B Song. Hearing it again, but now in glorious surround sound is a big kick. The varied arrangements and exotic instrumental contributions help make Winelight a consistently fascinating album. There is clavinet, steel drums, drum synth, Fender Rhodes, and two Oberheim synthesizers at various times behind Washington's soprano, alto and tenor saxes. The DVD includes a photo gallery and the lyrics to "Just the Two of Us." Again: Why don't the lyrics change automatically to keep in sync with the vocals? Can that be so difficult to program, eh? John Henry



B.B. King & Eric Clapton, Riding With the King
Reprise DVD-Audio 9 47612-9

Clapton and King had been talking for years about getting together in the studio and now it's finally happened. What a kick! Both were beside themselves at being able to carry this off and it sounds like they had a fabulous time of it from start to finish. There are a dozen tracks, and their sidemen include such top names as Joe Sample and Tim Carmon on keyboards (piano, Hammond B3 and Wurlitzer organ). Many of the tunes have a duo or trio of backup vocalists and most have digital drums. But all of 'em have plenty of fantastic guitar licks from the two greatest guitarists in blues and rock respectively—what more could you want? Four of the tracks are King originals and a big surprise is the closing, decidedly non-blues track of the Johnny Mercer/Harold Arlen Broadway classic, with lush orchestrations by Arif Mardin. The 5.1 mix has instruments and voices all over the place but B.B. and Eric right up front at all times. As with many pop DVD-As, the infectious quality of the music makes you want to see more than just a still photo or two of the performers. Perhaps there will be a music video of this session; it's unfortunate the hi-res surround and video can't be combined at the same time! Man, this is my kind of blues!—lots of B3 and other backing—none of this raw-boned single out-of-tune guitar/vocal stuff for me.

The navigation/authoring of DVD-As still needs lots of work. It is possible if you are very patient to actually play the whole thing without turning on your TV display, but it defaults to the surround tracks and you may want the stereo tracks instead. Each of them has a separate screen, but the tunes list is the same—unlike another DVD-A I viewed recently. The lyrics again refuse to progress to the next screen automatically if they require more than one page to display. (Fortunately with these blues lyrics they seldom do.) I've tried three DVD-A players now so I know this is not a player fault.