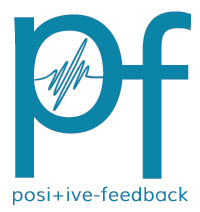 You are reading the older HTML site
Positive Feedback ISSUE 3

october/november 2002
Sunier on Hi-Res (with a little help where noted)
(John Sunier, long-time audiophile journalist and reviewer, has been a member of the Positive Feedback community for ten years. As editor of Audiophile Audition (www.audaud.com) and an "Editor of the Round Table," John and company will be contributing to PF Online by allowing the use of his and fellow audaud.com contributors' hi-res audio reviews.)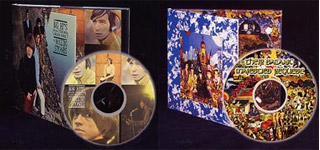 First look: The Rolling Stones Remasters
Hybrid Stereo SACDs
ABKCO records

I received 3 hybrid SACDs of the Rolling Stones remastered albums. ABKCO records are remastering 22 of the early Rolling Stones albums. The good news is that they can be played on SACD and regular CD players. Their list price is $18. I received a sampler from the 22 discs, plus Beggars Banquet and Their Satanic Majesties Request. One interesting thing is that they do not push the fact that it is a SACD. The only place it is denoted is on the disc itself, it has the SACD symbol. The sampler is not available to the public. It serves as a good sampling of the series however. I first compared "I Can't Get No Satisfaction" on the sampler with my CD of Hot Rocks. The CD layer of the remaster was very close to the in sound to the standard CD. The SACD layer was only slightly better. This was kind of disappointing. I tried other cuts with much better luck. In all of the cuts the SACD layer was better than the CD layer. On some cuts, from early albums, the improvement was slight. On other cuts there was a very big difference. On these cuts the CD layer was usually superior to the standard CD. On "Sympathy for the Devil" off of Beggars Banquet, the sound is greatly improved. The CD layer is quiet a bit better than the standard CD. The SACD layer is quiet a bit better than the CD layer. After listening to the SACD layer it would be hard to listen to the standard CD without a lot of disappointment. I tried various other cuts with similar results.

I had wondered why they sent the two albums they did. When I put on Their Satanic Majesties Request, I found out why. This album really sounds very good for an older rock album. I had not heard it before, and was somewhat surprised. The CD layer was not as crisp and sharp as the SACD layer. I consider the music on this album, which could be thought of as The Rolling Stones go psychedelic, as sort of weak. I put on Beggars Banquet, and listened for a while. I thought to myself that the sound was only OK. I then noticed that I was listening to the CD layer. When I switched to the SACD layer thing got a lot better. Even within a single album there seems to be variation in general sound quality. To me the Rolling Stones have some of the best songs in Rock and Roll. Their albums however have a tendency to have a couple of good songs and filler. I doubt that too many people will fork out for all the albums, unless they are Rolling Stones fanatics. I think that this is a very worthwhile project. It is too bad the some of the early albums did not better masters. If you are looking for better sound of great music, this is it. If you are expecting audiophile sound, you may be a little disappointed. by Clay Swartz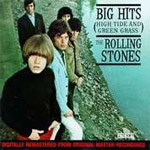 The Rolling Stones, Big Hits (High Tides and Green Grass)
Stereo SACD abkco 90012

This is one of the newly remastered Rolling Stones album done in hybrid SACD stereo and CD. It is basically a 1966 early Rolling Stones compilation. The songs that it contains are: "I Can't Get No Satisfaction," "The Last Time," "As Tears Go By," "Time Is on My Side," "Its All Over Now," "Tell Me," "19th Nervous Breakdown," "Heart Of Stone," "Get Off My Cloud," "Not Fade Away," "Good Times Bad Times," and "Play With Fire." The sound varies from one track to the next. This is because of different recording sessions. I compared the CD layer vs. SACD layer vs. the tracks of a regular CD. In every case the CD layer was better than the standard CD. Then the SACD layer was even better. The amount of improvement varied from cut to cut. As an example, on "Satisfaction," the standard CD sounds pretty dull and has poor focus. There is little sense of drive to the music. Instruments are fussy and dynamics are poor. The CD layer, of the remastered album, adds a sense of crispness and life. Instruments are better placed and have a more proper size. There is more dynamics and sense of drive to the music. The SACD layer improves on the CD layer in about every way. The song is starting to sound like real musicians performing it. The bass is much tighter and more controlled. The sound has more impact. There is much more sense of pace and nuances. I would say the standard CD has a C minus sound. The CD layer has a B minus sound. The SACD has between a B and B plus sound. The album is in a paper jacket. One nice touch is the addition of some album art from the original album. The album is about 37 minutes long. After hearing the SACD or even the CD layer, you will have a hard time listening to the old CD.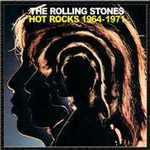 The Rolling Stones, Hot Rocks 1964 through 1971
abkco Stereo SACD 96672

This is a 1972 compilation of the Rolling Stones. It is also hybrid SACD stereo and standard CD. It is a two-disc set. The first disc contains: "I Can't Get No Satisfaction," "As Tears Go By," "Time Is on My Side," "19th Nervous Breakdown," "Get Off My Cloud," "Heart of Stone," "Mothers Little Helper," "Paint It Black," "Under My Thumb," "Ruby Tuesday," "Let spend the Night Together," and "Play With Fire." The second disc contains: "Jumpin' Jack Flash," "Street Fighting Man," "Sympathy For The Devil," "Honky Tonk Women," "Gimme Shelter," "Midnight Rambler," "You Can't Always Get What You Want," "Brown Sugar," and "Wild Horses." This contains almost all of the Rolling Stones early greatest hits. This is a must album to have for any rock fan. The sonic comparison between the standard CD, CD layer and SACD layer can be dittoed from the last review. The general sound of the later recordings even provide better initial sound, with even more improvement heard. Some of the newer recordings on SACD border on being audiophile sound. The discs are 38 and 46 minutes long. by Clay Swartz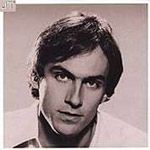 James Taylor, JT
Multichannel SACD, Sony SONSAM69801

With both Hi-res mediums in their infancy, and with the relative shortage of really well-mixed multichannel SACDs, a lot of audiophiles out there have seized on a relative handful of titles which offer an excellent presentation of multichannel sound, with a good blend of the front channels and judicious use of surrounds. One of these is James Taylor's Hourglass, which has received much-deserved praise and is a frequently used demo disc for many a multichannel setup.
I regularly visit various online audiophile forums and chat rooms; I often find links to really useful information and they serve as a really good barometer of what's going on in our "hobby" (feel free to substitute profession, obsession or addiction as applies). Since the release of Hourglass I've read nothing but praise for all the right reasons, but with the arrival of JT, I'm finding a really mixed bag of comments, many of them really negative. Everyone seems to agree that the surround presentation is in the same league as Hourglass, but that's where the niceness stops and the nitpicking begins. A commonly used adjective describing the performance is "weak". WEAK!
I can only come to one conclusion, that many of those folks so enamoured with Hourglass may be audiophiles, but they're not James Taylor fans. I know that there's a really strong tendency among audiophiles, when offered an opportunity to demo their system, to reach for that one disc with which everything clicks, and for the moment—the skies open, the gods smile and you and your guests (victims) have reached sonic Nirvana. Hourglass for many is that disc, and I have to count myself among the guilty—it's just an exceptionally good disc, and a strong return to form for James Taylor after several mixed-bag releases spanning the eighties and nineties.
JT was the last great album from James Taylor's fertile, creative period from the seventies in which every successive album was filled with a mix of folk, pop, rough-edged rock and blues, and they all meshed successfully creatively and commercially. There's not a bad song on this disc, and the surround engineers have done a sterling job as well, making JT a sonic delight. As usual, the real gems are the ones that got little or no airplay; "Another Grey Morning," "Secret O' Life," "Looking for Love on Broadway;" it's really good to hear these in hi-res surround done right. Don't listen to the naysayers—this album is every bit the showpiece that Hourglass is, and a real treat for James Taylor FANS! Highly recommended. by Tom Gibbs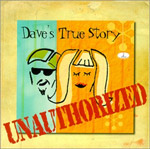 Dave's True Story, Unauthorized
Multichannel SACD 233, Chesky Records

Dave's True Story consists of Kelly Flint vocals and Dave Cantor on guitar. They are backed up by large variety of musicians and three backup vocalists. All songs are written by Dave Cantor. I am greatly surprised by this album. When I got this for review, I went "oh, another Chesky jazz album." The song writing is very good. It reminds me of the best of the 30s and 40s best songwriters as for quality. The lyrics are very clever. The songs have influences from Latin jazz, blues and even klezmer music. Each cut has it own character. There were no cuts that I felt like hitting the next button. Kelly Flint's voice does a great job of conveying the lyrics. She has a great ability to have crisp clear enunciation. Her voice is very pleasant to listen to. She takes full advantage of SACD's ability to convey pace and enunciation. The music arrangement is top notch. The sound, as usual for SACD, is crisp and clear. If you like really good song writing, with witty lyrics, this album is highly recommended. by Clay Swartz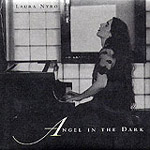 Laura Nyro, Angel in the Dark
Hybrid Stereo SACD, Rounder Records 11661-3176-6

Laura Nyro is one of the best pop songwriters of the 50 years. She has written top ten songs for Three Dog Night; Fifth Dimension; Barbara Streisand; Peter, Paul & Mary; and Blood, Sweet & Tears. She is also a very good singer songwriter. This her last recording before her death in 1997. This is a 19 cut album and 66 minutes long. Three of this cuts are a bonus on the SACD and not on the standard CD. This three are alternative takes of songs on the regular CD. On 11 of the cuts it is just her and her piano. The other 8 cuts are with guest musician band. The three alternative takes differ in the not only in interpretation, but also accompanied differently. She does seven new songs of her own composition as well as other composers songs. Her choice of songs is very good. Her interpretations are excellent.

Now for the good news, about this album. It sounds very good. It shows what SACD can do, when used right. Her voice is well captured and has very good presence. The piano is well recorded, with good dynamics. The percussion is crisp and snappy. Other backup instruments are also well recorded, as are backup vocals. If you want to put the sound of a live concert in your listening room, this disc will do it. Recommended. Sound A Music A- Performance A- Clay Swartz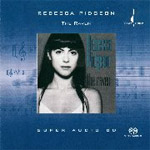 Rebecca Pigeon, The Raven
Stereo Hybrid SACD, Chesky Records SACD 205

Rebecca is a singer-songwriter from Chesky records. This a recording from 1999in which she performs her own compositions. There are thirteen songs on the album. This album has appeared on CD, 96/24 CD and now SACD. It was recorded with 128 times over-sampling technology. The songs are surprisingly good quality. Rebecca has more upper range to her voice than Laura Nyro. The recording is even a little bit better than the Nyro album. But the music is not quiet as strong as the Nyro album.

I could cut and paste my comments on the sound of the Nyro album and use it as a description of this album. No piano, however. This recording conveys a little more sense of energy than the Nyro album. I compared the CD layer and the SACD layer for sound. The SACD layer was definitely better sounding than the CD layer. It was crisper, with more clarity and presence. It was also more dynamic. The CD layer did however sound very good and slightly better than the standard CD. Recommended. Sound A Music A- Performance A- by Clay Swartz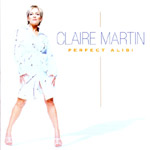 Claire Martin, Perfect Alibi
Stereo SACD AKD 149, Linn Records

Claire Martin is a British jazz singer that has won many jazz vocalist awards in England. This album has a wide variety of music styles that show off her voice. She sings songs by such artist as Jimi Hendrix, Phoebe Snow, AL Cooper, Julie Fordham, Laura Nyro, Todd Rundgren. This is a hybrid disc with a standard CD layer and a stereo SACD layer. The CD layer comes across as a good sounding CD. When you put the SACD layer on, you are in a different world of sound. The CD layer is much flatter sounding. There is less dynamics and crispness to the sound. The instruments on the SACD layer come out of a deeper and blacker sound stage. By blacker, I mean that there is less sense of something else beside the music in the soundstage. It is closer to a real person singing in real space. The SACD layer also has more three-dimensionality to the voices and instruments. Highs are definitely better on the SACD layer. The bass is tighter and has more impact.
I only recognize one song on the album, it is "How Can I be Sure?". The music is very pleasant and relaxing to listen to. I would say she is closer to the pop side of jazz. Her voice is very good. The accompanying instruments are very well played. The one thing that I would like to hear from her, is a little more emotion in her singing. If you want a good sounding recording to relax to, this is a good choice.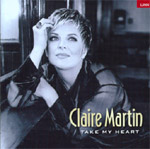 Claire Martin, Take My Heart
Stereo SACD AKD 137, Linn Records

This is another stereo hybrid SACD from Linn Records, of the English jazz singer Claire Martin. It was recorded in 1999.The CD layer of this disc would be considered a very good sounding disc. The SACD layer is clearly better. There is more depth to the sound. The images are more three-dimensional. There is a better sense of pace and enunciation. Instruments are crisper and better defined. There is also more ambience in the sound stage. The songs are pop in nature, but her interpretations add a jazz tinge. The only song I recognize on the album is a rather interesting interpretation of the Lennon-McCartney song Help. She includes two songs that she co-wrote, "Inter City Girl" and "Pleading Guilty." Both are pretty decent songs. The highlight for me was her version of Rupert Holmes song "Queen Bee." She also does songs written by Dan Hicks, Nick Drake, Paul Simon and Elvis Costello. The mood of the album is relaxed. The sound of this SACD is very near reference. It creates a very real-sounding concert in your music room. For late night listening with a good drink or to help you wash the pressures of the day away. by Clay Swartz