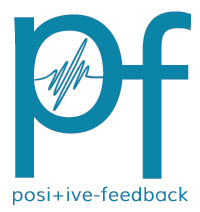 You are reading the older HTML site
Positive Feedback ISSUE 24

march/april
2006
Long Walk To Freedom
by Karl Lozier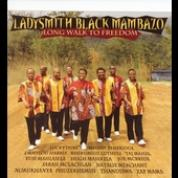 Ladysmith Black Mambazo and guests, Long Walk To Freedom (Heads Up HUCD 3109/HUSA 9109)
This vocal group, founded by Joseph Shabalala, skyrocketed to international fame after being heard on Paul Simon's Graceland album. As part of an extensive U.S. tour, they performed just last week in West Palm Beach, Florida, not far from my home. As usual when writing about this African group, I should mention that the group's name is not descriptive of the members—it includes no female vocalists. Ladysmith is simply the name of the community from which the group sprang, "Black" is a reference to oxen, and "Mambazo" is the Zulu word for axe. The idea that the name conveys is that their singing is so powerful that they can chop down any rival group
They have not messed with success, which means that they are pretty much in step with what made them famous. There is a rich fullness to their collective sound, which comprises between eight and ten vocalists depending upon which group photograph you consult. Although no accompanying instruments are heard most of the time, some of the vocalists occasionally add appropriate sounds. Some passages remind me of the background for some Harry Belafonte releases of many years ago. I find the repetitious passages hypnotically rhythmic, with a feeling of underlying power.
This release is unusual because it adds a large number of excellent guest performers, many of whom are quite famous. Each is heard on only one track, and what makes their appearances rather unique is that they are not over-miked. In other words, these famous guests pretty much just join the group and are not unduly spotlighted. The better-known guests include Zap Mama, Melissa Etheridge and Joe McBride, Sarah McLachlan, Natalie Merchant, Taj Mahal, Emmy Lou Harris, Lucky Dube, Vusi Mahlasela, Hugh Masekela, Nokukhanya, Phuzekhemisi, and Thandiswa. Repeated listening increased the pleasure I derived from "Mbube" (the Zulu version of the well-known "Wimoweh) with Taj Mahal, and the "Amazing Grace"/"Nearer My God to Thee," featuring Emmy Lou Harris.
Heads Up's consistently fine, full-range recording features outstanding, unforced detail, even in the regular CD version, but once again, subtly better sound is found in the SACD version. If you hear any hint of boomy upper bass or harshness in the treble, check out your system, starting with the player. Here we have an outstanding male a cappella group performing at what may be the zenith of its collective career, and the sound quality with which it is captured is as natural and realistic as is possible at this point in time. I put this recording in the small but growing group of my highest recommendations. I also suggest that you listen to Heads Up's recording (HUCD 3092) of Ladysmith with the strings of the English Chamber Orchestra. Sadly, I must add the information that Jockey Shabalala, brother of the founder of the group and a long-time member, passed away as I was finishing this review.