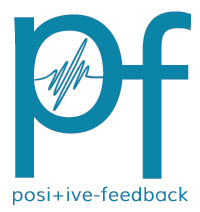 You are reading the older HTML site
Positive Feedback ISSUE 23
january/february
2006
The Next 5 Mercury Living Presence SACDs: Vol. 3
by Robert H. Levi
Hot off the German SACD presses and in your favorite stores is the newest group of Mercury SACDs from BMG and Emil Berliner. These five releases represent several three track stereo tape recordings and a couple of three track stereo 35mm film recordings. Neither format was played back on original equipment as was the Wilma Fine editions in the 1990s. Newer, lower noise, all solid state gear was used instead [claims BMG.] My reviews and recommendations are as follows: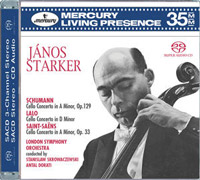 Janos Starker, Schumann, Lalo, and Saint-Saens Cello Concertos, London Symphony Orchestra, Stanislaw Skrowackewski, Antal Dorati. Mercury 4756621 SACD/CD
My goodness these are wonderful recordings. The Schumann is sweet and transparent with lovely mids and bass definition. The pacing is quite analog like and detail aficionados will be pleased. My only gripe is the crunching on loud passages. I actually said "ouch" once or twice as the big crescendos made me wince. It also sounds a bit cool overall. Still, all in all, it's great pleasurable fun
The Lalo is splendid and a tour de force for the cello. The sound was overall the same as the Schumann. The film recorder used by Berliner sounds a bit sterile to me. Oh how I wish they used a tube front end. The zillion transistors in their preamp stage plus the Mercury high powered film source is not a match made in heaven. Nevertheless, it's a wonderful piece and a good SACD effort overall.
The Saint-Saens is the best sound of the three. It's also the only one from tape sources. It's much more natural with 3-D definition and textures. Only a tiny touch of hardness and only a bit coolness was present when compared to the other two works herein. This is lovely listening and worth owning even if you dislike listening to the other two pieces. There's truly delicious sound here on the soft passages.
Performance: A Sound: B on Schumann and Lalo Sound: B+ on Saint-Saens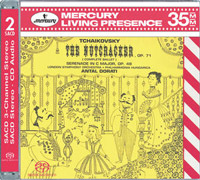 Tchaikovsky, The Nutcracker Complete Ballet, Serenade in C for Strings, London Symphony Orchestra, Antal Dorati, Mercury 4756623 SACD/CD
The Nutcracker is one of my great favorites and it is done on 35mm film, too. I love this piece [though Tchaikovsky didn't] and have every recording around. This one is top notch technically and very good in the sonic department. It is a bit more distant sounding which works better with the 35mm recording technique. Delicate definition and marvelous bells and such are a pleasure to hear. There's a lovely sweetness overall and excellent textures abound. The horns are near perfect and the string sound is delicious. I detect only a tiny bit of hardness in the largest crescendos and virtually no coolness at all. This is a very successful transfer and a top shelf recording, too.
The Serenade for Strings, a piece PIT loved, is from tape sources and is just mellifluous and lovely to hear. What a beautiful recording and performance! The German's are better with tape sources for sure and The Serenade is one of their best efforts yet. Dorati wrings every emotion and melodic thought out of this piece. It's very close to the LP sound. It's stellar listening, rich and moving, too.
Performance: A Sound: B+ on Nutcracker Sound: A on Serenade for Strings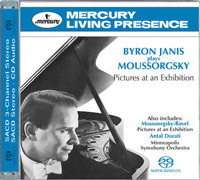 Byron Janis Plays Mussorgsky, Pictures at an Exhibition, plus Antal Dorati, Same Selection, Minneapolis Symphony Orchestra, Mercury 4756620, SACD/CD, 2 Disk Set
This one leads off with Byron Janis playing the original piano only version of this renowned piece. It was recorded in 1961 at the peak of "analog tape plus all vacuum tube" recording in the industry. It is quiet, rich, and clear. It is also rather dull and cool. It is most listenable, but misses its inner textural cues. In other words, it sounds too much like a recording and not like live sound in the room. Mercury is known for it's "you are there" sound. With this recording, you aren't.
Just for a lark, I switched to the CD layer done in the mid-nineties by WCF. Oh my, it's much superior! This is the first time I've preferred the CD layer to the SACD layer, but I guess there's always a first time! If you don't own the earlier CD of this one, and I don't, buy it for the CD Piano tracks and enjoy in the room sound. It has lovely highs as well as terrific mids and bass. Skip the SACD layer here.
The Dorati Pictures is a lovely thing to hear. The SACD tracks are absolutely superior to the CD tracks. The SACD sound is laid back, well textured, charming, detailed, and natural. The performance is superb. Good to go!
Performances: A Sound: C+ on SACD, A on CD layer on Byron Janis Solo Piano Sound: A- on SACD layer on Dorati plus Orchestra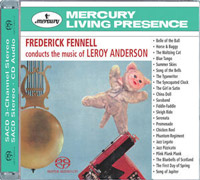 Frederick Fennell, conducts the Music of Leroy Anderson, Eastman-Rochester Pops Orchestra, Mercury 4756942, SACD/CD
With 23 Leroy Anderson pieces from three different recording sessions, you've got to like this stuff to buy it. I would say it's well done, but it's also trivial for sure. I liked the famous Typewriter piece …I played it twice …but I doubt I'll revisit it anytime soon. Lot's of great definition, full bodied sound, and it is a great transfer success to SACD as well. Maybe it's a touch hard sounding on the 1964 selections …but just by a tiny bit. Overall, this is well done if it's your cup of tea!
Performance: A Sound: A- for 1964 selections A for other selections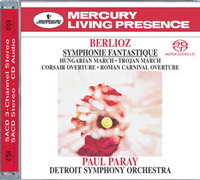 Berlioz, Symphony Fantastique Plus 4 Overtures, Paul Paray, Detroit Symphony Orchestra, Mercury 4756622, SACD/CD
I saved the best for last. With sweet, realistic and powerful sound, this SACD is the best of the lot. It's oh so full blooded and rich and just plain excellent to hear. Maybe the humidity was higher or the tape sources were cleaner, but this one is superior to the 4 other efforts in Vol.3. Even better than the Tchaikovsky goodies overall I think. Paul Paray was under appreciated as a conductor, but he wrings every last pleasurable nuance from this selection. This has superb sonics and a marvelous sensitive performance of a top warhorse. It swaggers and flows like a great recording should. Better than the Columbia Bernstein recording overall. Love it!
The four overtures contained here are as good as the SF and lots of fun to hear. I particularly loved the Roman Carnival Overture for its cool effects and sweeping sound. All of the overtures were sweetly textured and just truly lovely recordings. The Roman Carnival was the best of the four and alive in the room. What fun! Buy this SACD for your collection!
Performances: A Sound: A A Must Buy!