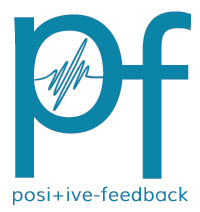 You are reading the older HTML site
Positive Feedback ISSUE 23
january/february
2006
Concord Jazz - A Re-birth of Sorts, Live at the Golden Dragon in San Francisco
by Frank Federico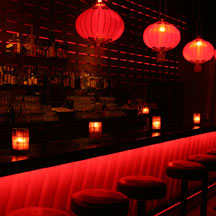 The newly revitalized Concord Jazz label is making some serious strides to bring the music to a wider audience. This point was made clear in a recent new artist showcase, which took place at the Dragon Bar in San Francisco's North Beach area on January 31.
Between them, keyboardist Taylor Eigsti, singer Erin Boheme, and trumpeter Christian Scott comprise 62 years on the planet—still prime playing age for many jazz vets. However, their label is hoping these three will be the veterans of the future.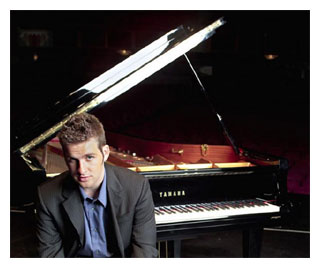 Eigsti's trio kicked off the night with a four-song set. The tall, lanky 21-year-old startled the audience as he took the stage with his right arm in a sling. However, this was no one-handed performance. He launched into John Coltrane's "Giant Steps" playing solo, with contemplative chords and keyboard runs. Soon bassist Esperanza Spaulding and drummer Aaron McClendon shifted the tempo to a funk-swing beat before hitting their stride on the tune's familiar propulsive gait. The sling got in Eigsti's way not one bit as he pounded the keys with powerful solo before jumping back to the funk break and closing out the piece.
After acknowledging the sling by apologizing for being "the lousiest snowboarder in history", Eigsti reminisced about growing up in the Bay Area. Then he introduced another local favorite to the stage, 18-year-old guitarist Julian Lage. The pianist's mid-tempo piece "Get Your Hopes Up" featured Lage's well-conceived soloing, a mix of Wes Mongtgomery filtered through the modern phrasing of Pat Metheny. Eigsti kept pace with a bright, fast solo with more single-note runs.
The group proceeded to tackle one of Eddie Harris' more challenging songs; "Freedom Jazz Dance." McClendon's opening drum blast indicated that they intended to maneuver the tricky time and rhythm changes with breakneck speed. Eigsti zipped through a solo filled with alternate-finger notes while Spaulding attacked the bass ferociously in her first solo shot.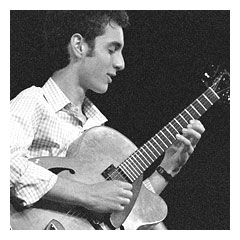 The highlight of the set was a duo with Lage on their joint composition "True Colors." The melody worked back and forth between the two in call-and-response fashion, but Eigsti let Lage shine while proving to be as able an accompanist as a leader. (Lage, by the way, has already performed and recorded with vibist Gary Burton and could well be a young star of the future himself.)
Now it was Boheme's turn. The petite 19-year-old, in leopard-skin blouse and black skirt with shoulder-length blonde hair, purred her way through an original tune, "Don't Be Something You Ain't." The woman does possess an interesting voice--breathy and a bit sultry with a touch of the blues.
As Boheme spoke of writing from "life experiences", she welcomed Scott onto the stage for some trumpet obbligato on another original, "What Love Is." Scott conjured up images of Dizzy backing Ella as the singer oozed through this slow slice of pop seduction.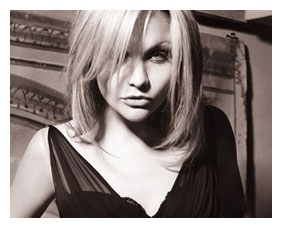 Next, Boheme announced she was about to update Cole Porter's "Let's Do It." Instead of modernizing the tempo or even the lyrics, she went straight to retro-land by casting the piece as a swing ballad. Still, it cast her in a comfortable Peggy Lee mold while Lage added a tasteful solo.
The set ended with a Boheme original, "One Night with Frank" about an imaginary date with the Chairman of the Board. While the tune, with its abundant Sinatra album and song references, was probably fun to write, it also pointed up the fact that composing is not yet this young woman's strong suit. Put her together with more standards or stronger original songwriters and she will continue to impress.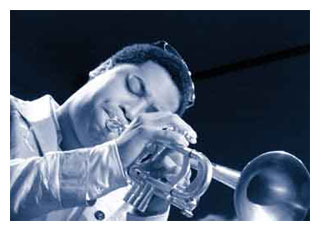 Scott, at 22 the elder statesman of the trio, turned the volume up for his quartet of songs as both Lage and Eigsti reached for more electric instruments. The trumpeter kicked things off with a two-chord vamp squarely in the Miles Davis fusion mode, while the guitarist's high-energy solo got the crowd's best response of the evening.
Dressed casual but neat in jeans and jacket, Scott launched into the second of four originals, "Like This." The slow R&B groove found the horn man doubling lead with Lage before taking a more tempered, nuanced solo than on his first number. The sudden yet familiar blasts of energy, however, served as a reminder of how difficult it is for contemporary trumpeters to escape from the shadows of their elders, in this case Freddie Hubbard and especially Miles.
The set's third number went straight back to Milesian ground—another funky vamp with melody, this time for Eigsti and Lage to play in. While Scott gave a sharper, more biting tone to his horn, the keyboardist channeled Chick Corea with some adventurous chording while Lage got his Al Di Meola moment with a forceful, slightly distorted solo.
One more Scott original, "Rejection", closed the night. The mood shifted down to midtempo before edging into more jazz-rock fusion ground. In addition, while no one solo of Scott's totally stood out during the course of the set, he did leave a favorable impression, mirroring the restless spirit of his slightly older peer Roy Hargove.
So are these three the new wave of jazz? Will Concord succeed in their apparent goal, bringing new young listeners to jazz? Taylor Eigsti, with at least one solo album to his credit, already appears to be on solid footing, while Erin Boheme and Christian Scott should, in time, develop their own individual voices. Moreover, do not count out Julian Lage, the youngster who just might match or outstrip them all.
Frank Federico has written for the Milwaukee Journal Sentinel, the All Music Guide, All About Jazz and Jazz Steps, among other publications. He spent over fifteen years as a jazz radio host at stations WUWM and WYMS in Milwaukee, and an equal number of years in music retail. He currently works in the specialty music department at Virgin Megastore, downtown San Francisco.