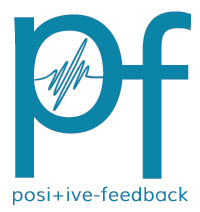 You are reading the older HTML site
Positive Feedback ISSUE 23
january/february
2006
The Agony, Odyssey, Ecstasy, Meandering and Wandering at the CES and T.H.E. SHOW 2006
by Karl Lozier

This year's odyssey did not have a good beginning. I was unable to obtain airline tickets (at least not reasonably priced ones) to arrive a day or so before the official opening of these world famous shows. For long time show goers, particularly members of the press a day or two in advance is the time to arrive. With air lines declaring bankruptcy and cutting back on scheduled flights, reasonably priced tickets had disappeared almost three months before departure day at least from my area of sunny Florida.
Arriving around noon on opening day, I first checked into my low, but over priced, hotel room. Unfortunately, everywhere in Vegas has learned that they can charge up to triple their usual rates and get away with it during CES. As the show gets more popular it gets more pricey for rooms and other things. The past few years, announced attendance has gone up by five to ten thousand each year. The last figure that I heard mentioned was of attendance between 140,000 and 150,000 this year! Manufacturers at the hotels emphasizing audio products told me that it was a very good show this year but not quite as busy the last year or two. That translates as a larger percentage of lookers/buyers were very serious. The result is that the business outlook for the year is off to a good start.
Background information here is for new comers or non attendees―previous CES attendees should skip this paragraph. The initials, CES, stand for the International Consumer Electronics Show as produced by and for paid members of the Consumer Electronics Association. It is by far the largest show of this kind in the world. CEA is a huge organization and with all its complexities, membership costs for small audio specialty companies is relatively expensive to also have showroom exposure at the annual show (CES). The High-Performance Audio Subdivision part of CES was again held at the Alexis Park Hotel, a few miles away from the Las Vegas Convention Center. At around 1,500,000 square feet of exhibition space, it is the second largest in the world. Even that much space is not sufficient and it is affectionately referred as "The Zoo". A number of nearby hotels had specialty areas of interest being shown and demonstrated in their own convention halls! Next to the Alexis Park Hotel is the St. Tropez Hotel. Taken over annually by a couple of long time audio enthusiasts and entrepreneurs, Mike Maloney and Richard Beers, run a relatively low-key alternative during the same CES time period called T.H.E. SHOW. That stands for The Home Entertainment Show. It is not only a show place for beginning audio companies but for a fair number of well known companies that simply prefer showing there with T.H.E. SHOW. That group puts on a few other well-known events and similar shows around the United States every year. At Las Vegas, this year they expanded to an "International Hall' specifically for special Asian Exhibitors!
With my late arrival at Las Vegas, relatively little got accomplished after registration. Later than evening (Thursday) I started listening, live, to a trio performing at the Bosendorfer suite at T.H.E. SHOW. The Bosendorfer pianos are famous and well known to the musical public. They are unique in the piano world by offering ninety-two keys instead of the standard eighty-eight keys on their keyboards. The extra keys are on the left or bass note side of the keyboard. The extra keys when used are responsible for extremely deep and rich tones from these beautiful pianos. The company now also manufactures a full line of attractive and rich sounding loudspeakers. The featured performer of the trio was, Frank Sinatra's arranger, here showing off the $750,000 Swarovski Design Bosendorfer, showy though perhaps a touch gaudy for some tastes. Though the suite could handle more listeners, only about a dozen of us were seated. I was so entranced by the fine popular and cool jazz selections that I stayed for the entire performance. Unfortunately that meant that I missed John Sebastian's performance, at the adjacent Alexis Park Hotel, performing hits of his band, The Lovin! Spoonfull, as well as selections from his later solo albums. After the trio's beautiful performance, a few of us were treated by the personable and attractive Lisa Feldman to a demonstration with Bosendorfer's beautifully finished model VC-7 loudspeaker. Full, rich and smooth sound, as with their pianos, is a fittingly accurate capsule description.
Friday morning and I was up and crawling, actually the shuttle bus was crawling along in the heaviest traffic I have ever seen going to the LV Convention Center at CES. Not having enough time to ferret out new companies or unusual products I limited myself to a very few tried and true companies. That typically means a good company trying to make some really good products while making money by selling large quantities of less expensive products. Denon may be the electronics leader here while their busy, and very knowledgeable, sales director Jeff Talmadge is aware of continuing competition. For some time, Marantz (now owned by Denon's parent company) and HarmonKardon have enjoyed continuing good reputation for their sound quality. With many other companies, it often seems to be a hit or miss situation with the sound quality of their amplification, whether as separate amplifier components or products such as AV receivers. The really good AV receivers can offer truly satisfying sound and visual quality that can satisfy probably ninety-eight percent of home theater or surround sound listeners, including myself.
I talked with Denon's Jeff Talmadge about the growing respect for their DVD and universal players. Denon players are becoming the darling of many modification specialists. Jeff usually razzes me about a review of a top model player some years ago that resulted in some negative audio comments from me. Many companies would have refused to let me remain on their list of product reviewers; Denon simply improved the product and asked for a review of the next year's model. It was definitely upgraded. This time Jeff wanted to talk about a new series of AV receiver, currently the AVR-4306. Sneaking into their extensive lineup just below their penultimate 4800 series, this new 4300 series offers some new input connections, and tremendous flexibility―almost unbelievably so. A couple of its new features are not yet available on the 4800 series or the ultimate 5800 series. It is not just about features and flexibility Jeff commented, even the audio quality is a tad better than the 3800 series. I may receive one for review in the not too distant future.
I heard similar stories over at the Universal Remote Control booth with Hank Eisengrein presiding. Hank seems to make sure that the company does not slight audiophiles or music lovers and we should appreciate that. I believe I saw his company's latest and greatest at least in prototype form last year. Internally it must be an extremely complex device. Known originally as the MX-950, it also carries the name Aurora (Complete Control). The booklet is small at just thirteen pages, though far more information is available from the accompanying CD. Memory is 16 Megabytes, and it supports up to 255 devices while supporting over 250 pages on each device! Who could possibly need more? It also has learning and macro capabilities and both IR and FR. The intended use is clear with the unfilled notation inside the cover; "This remote control was Custom Programmed for you by....". That message is clear, meant to be done by experienced personnel or dealer for easy use by any consumer. Many of you might consider that to be a challenge.
I received an Aurora just a few hours ago and have not yet attempted to program it. I expect it to go easily as shown by Hank at CES and do exactly what is supposed to do. If this is not the ultimate remote control it is as close as I have seen. It has almost unbelievable flexibility. Overall appearance is reminiscent of a larger opened cell phone (it does not fold) with a charging base that retains it upright with a slight angle. It might be a bit difficult to find one other than at a home theater dealer.
Then the listening began. I want to spin a tale that happened the next that day that may explain a great deal to our readers about the perils and pitfalls of attaching, at times, too much emphasis to listening experiences at audio shows. As at every show, I stopped in at an electronics manufacturer show room whose products I have never gotten to review. His products have received many rave reviews, why tempt fate by letting me with my "tell it like it is" reputation do a review. I understand that as being a business decision. This time I was surprised with the question, "Karl would you like to review our new light weight, but powerful, "switching type "of amplifier?" I replied that I would and he sent me upstairs to a room featuring loudspeakers that were not familiar to me plus their new amplifier. The sound quality I heard was at best just fair with a few irritating additions. I went back downstairs and talked to the amplifier's manufacturer again. I said, "tell me again, what the formula or equation is." He asked what formula and I replied, "the one to use when listening to an unfamiliar amplifier feeding an unfamiliar loudspeaker." If the sound quality is disappointing or poor what percentage of the problem should be attributed to the amplifier? He laughed and I said I would pass up his offer to review his new switching amplifiers. Dear readers, the point I am making, is that at a typical show setup with two or three hundred rooms, what is a reviewer hearing? If it is a loudspeaker manufacturer's room, hopefully he has at least chosen a good and known amplifier to use and probably brings his usual known source such as a SACD player to use with his speakers.
Henry Wolcott has been keeping a low profile for the past two years. He has a new partner, Patrick McGuire, and they were proudly showing three similar appearing tube amplifiers. Included was the original and justly famous Mono model, The Presence, rated at more than 200 watts output, the new stereo model, and same appearance and at 85 watts per channel and the new Mono Reference at 400 watts output. The original Presence model had the best bass response I had ever heard from a tubed amplifier―maybe from any amplifier. In any event, the new stereo model is to be shipped to me for review sometime soon.
A name very well known to me arose from the distant past, Janszen Loudspeakers. Famous for the electrostatic tweeters and mid range units developed by Arthur Janszen the original designs evolved eventually into models by KLH and the name existed for some years. I had owned two different models over the years, both developed by Roger West, now owner of and designer for, Sound Labs loudspeakers.
Now the name is representing a new company launched by David Janszen. The Model One is a hybrid with large electrostatic panels for mids and highs with a cone woofer for the bass. Unfortunately extensive shipping damage was so severe that even with repeated (not usual for me) visits, I never got to hear a working pair! Typically I do not make return visits to rooms that are closed or full of listeners.
Sound Fusion, a new to me, Canadian company, in addition to loudspeakers was showing a variety of isolation devices. They sent me off with a large set of isolating "feet" and a possibly unique chassis damping weight. Both these items may be made of the same or similar materials and for esthetics each is available in either silver or black finish. The uniqness of the chassis or chassis top plate damping weight is the relatively soft material that will adapt to almost any surface even if not flat. Heat is said to not affect the weight's unique material ( great if true ) and deep grooves on the underside channel heat away. I have not yet had time to experiment and compare these products with others.
Purist Audio Design, as usual, offered particularly fine sound quality. Jim Aud, founder and CEO was particularly proud of the fact his new design cables were offering sound equivalent to that of his famous Dominus series and at a much lower price. Sounds almost too good to be true but we'll see as Jim intends to send both interconnects and loudspeaker cables for review. His well known "System Enhancer Rev-B" a conditioner for burning-in component systems is still popular and available through dealers or through their web site. I still use that disc to help burn-in new components.
At the Accent Speaker Technology's large room, Carl Marchisotto and his family were beaming proudly. Carl has continued to tweak his penultimate system that has now become the Nola Pegasus Reference Loudspeaker. I do not know exactly what he has done, but as far as I could tell, there may be nothing more to do. Trying my best, I was unable to hear any faults, failings or additions. The sound quality was superb, simply superb and noticeably improved from the fine original model. It "speaks with one voice" and has the feeling or sensation of rock solid power, unlimited and unstrained power. Easily a contender for best sound quality at CES. I say this while realizing there were a number of rooms I was unable to visit during my shortened stay this year. This year he is offering a beautifully grained Light Oak wood as an option. I have just received a pair of his newly tweaked subwoofers, the T. Bolt III, with the same beautiful wood. Review should be done in a couple of months. I should mention that a rather unique quality of these subwoofers is excellent and fast response (when needed) to partner with loudspeakers needing a "quick response subwoofer that is also excellent in the octave or two above the deep bass range―nuff said for now.
Kimber Kable, having received excellent reviews of their Select series of cables in our last few issues of PFO, was concentrating on their various home theater and surround sound connections. Dick Diamond commented that the HDMI connector is taking over (at the moment) in home theater use. Obviously Ray Kimber is delving ever deeper into advanced recording techniques and procedures at this time.
The room labeled "Swedish Statement", asked the question, "Is it the finest two-channel system in the world?" My personal answer is "not quite, but very close, as it should be for a total price of $250,000." Beautiful appearance and a group effort from five producers and reachable at www.swedishstatement.com as you might or might not expect.
Anthony Gallo Acoustics was promoting a number of upgrades to their Reference Model 3.1, mainly improved mid-range drivers. This ultra-modern cabinet-less design is simply outstanding for its moderate price of $2,995/pair or add the "subwoofer option" for $900 more and hear essentially full range, room filling and satisfying sound. Definitely one of the biggest bargains in high-end audio.
The Peak Consult Room featured the beautiful appearing and sounding Danish loudspeakers model Empress. They were being driven by the model 9500 Zanden amplifiers. The mono-block amplifiers are unusually styled in a high-tech sort of spacious design that would never allow over heating. This combination of speakers plus amps was quite excellent even though the extremely deep base could be better and the extreme high-end seemed to be sweetly rolled-off. In between all was simply outstandingly good and extremely musical. Tough to beat those characteristics though here it doesn't come cheaply.
Robert Lee, well known designer of Acoustic Zen audio cables, and I have held interesting discussions over the years. He offers to send cables for review but I typically decline simply because I usually have more cables around that need reviewing and doing so eliminates a large part of "reference" when I am using my reference system. Some things need to be seldom changed. Any way, this year I listened to his new loudspeaker system the Adagio. I was extremely impressed for its musical abilities in a very moderate size floorstanding cabinet at a very moderate price. A horizontal version for possible center channel use is also available as well as more typically sized active subwoofer. I wanted to have a pair sent to me for review but had been beaten to it by another PFO writer.
Keith Herron's room at this year's CES has become more crowded than ever. More and more of the audio world has realized that his tubed preamplifier competes head on with the most expensive models made and rarely comes in second―except for price. Keith continues to tweak his personally designed loudspeakers and is close to finalizing them. He had offers to sell his prototypes at the show. That means he must be very close now. As with his electronics, nothing seems to stand out in the true audio sense, the music is simply naturally presented. He now has a solid state preamplifier, with a built in phono step up as an option, that is at least tonally similar to the tubed model, at an even lower price.
Cain & Cain have come a long way since I was first introduced to them as a start up company years ago at T.H.E. SHOW. The inherent musicality of their early designs remains and still reasonably priced, they now feature some rather unusual and attractive cabinet design with their "Single Ben" Model.
Somewhere, mixed in with some other room, my notes unclear, I came across the Monaco Turntable. It was probably at Grand Prix Audio. Seemingly a competitor in the price-no-object category, it seems to approach state of the art for far less than most of that group. Design features abound. For more info try www.grandprixaudio.com. The subtle improvements of a new turntable line would never be (strong statement!) apparent in brief auditions at any audio show.
Another strong statement I should make as an observer is the following. More than in previous years at CES, I kept hearing more and more serious listeners lusting after tubed and only tubed electronics and turntables and tone arms This despite the fact CD players (and particularly SACD models) are getting better and some even sounding almost analog-like! I am just reporting what I was hearing. For all I know that may be a divisive trend. Real music lovers and audiophiles need to keep continuing pressure on the powers-that-be to keep improving our digital sources and components that play those sources. There is too much that is only available digitally to ignore that fact! Remember to actively support companies such as Telarc, Chesky, Pentatone and others that try to offer us the current best sound quality with SACD, whether stereo or surround format. If you do not, why would they even think about spending money on offering new formats?
Another, new to me, company with an excellent sounding loudspeaker system was Lars Hansen Audio "The King" Loudspeaker at a very premium price. At half that price they offer "The Prince". At around three hundred pounds each and five feet tall, the Hansens with their unusual curvaceous cabinetry make a bold statement and impression. Unfortunately, their pricing has them competing directly with some of the world's most famous loudspeaker designs at their top or penultimate levels. That is tough, really tough, but make no mistake these loudspeakers do compete―though it may be hard to find a place to listen to them. Try www.hansenaudio.com for more background info.
Ron Welborne Laboratories, well known for his well-done straightforward vacuum tube amplifiers and line stages was very low key at this show while sharing a room. His value oriented products are available assembled or in kit form. I ordered a couple more of his Gatekeeper (A.C. noise filtration surge protector) devices―straightforward and effective as I have previously found.
Ryan Tew's Red Dragon Audio features a new mono-block design that impressed me sufficiently to request a pair for review. Many nice touches including silver and silver plated internal wiring, extremely high damping factor, built in filtering and a choice of attractive wood cabinets. Small size, reasonable weight and 500-watt output at 8 ohms are interesting features.
I visited Genesis Advanced Technologies to mainly listen to their very newest design, the Genesis 3.2. As a long time owner of Genesis loudspeakers, I was particularly interested in that model, many years in the making and now seen and heard as an almost production model. Arnie Nudell has designed what must be his finest single cabinet (per side) loudspeaker. Gary Koh, Genesis' CEO is responsible for the beautiful cabinetry a crowning touch to Arnie's design. Gary's design with essentially no straight lines nor flat surfaces is more than esthetically appealing; it is extremely solid and nonresonant. I believe that this model actually was born as a rare model 450-SX of some years ago. It is now a very mature expression of that almost unknown model. Not yet decided is whether the final production model will contain a built-in servo amplifier for the built-in subwoofers (my choice) or external servo amplifiers. In addition to a pair of twelve-inch servo controlled subwoofers per cabinet, there are midbass couplers, a twenty-five inch long mid-range ribbon and a vertical array of eight of Genesis' well known one-inch circular ribbon tweeters! As shown, the midrange was superbly live and projecting a sense of realism that I had not noticed in other demonstrations at CES. Genesis' video display caught my eye and held it. The reason was a very unique animated display from an excellent DVD, serving music in a beautiful and fascinating way; the title of that DVD is ANIMUSIC 2. Almost indescribable, you will watch it all the way through more than once and use it to demonstrate your video or home theater system to all your visitors. Available for the bargain price of twenty dollars, contact Gary Brashear at (949) 496-9471 for information or ordering (I received #2 and there is a #1 volume also available) or send him an E-mail: g-brash@pacbell.net for ordering information.