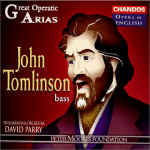 Great Operatic Arias, Della Jones, mezzo-soprano, various assisting artists, London Philharmonic Orchestra/David Parry
Chandos CHAN 3049
Della Jones is that rarity, a true mezzo-soprano, with a velvety midrange extending into a bright, clear top. She commands a rather daunting array of roles and ranges—the booklet includes a photo of her as Valencienne in The Merry Widow, no less!—but her recording career has been limited to comprimarie in the standard repertoire and leading roles in Baroque and Mozart operas. Truly, she deserved a good recital record long ago. Unfortunately, this disc, part of the Chandos Opera in English series, isn't quite it.
The English is the problem, but it's not the problem you'd expect. Jones is too good a singer and an artist to fall into the pudding-toned, fake-contralto trap—she knows her already-alluring timbre needs no darkening. In fact, she goes quite to the opposite extreme, carefully shallowing out vowels in a high, forward placement, closing off finicky consonants where a little legato follow-through wouldn't hurt. The result is a prissy, Julie Andrews-ish clarity that needlessly sacrifices some of her vocal richness as well as the music's long line. Vitellia's big rondo provides a direct comparison. Jones sings it capably enough here, and puts over the text, but her fuller-throated Italian version under Hogwood (L'Oiseau-Lyre 444 131-2) better puts over the music. Mind you, this isn't bad singing, but I've heard her do much better. In a few ensembles, Jones, interacting with her colleagues, forgets about the English and cuts loose with a real vocal performance. The Favorita and Norma duets, the latter with another mezzo, Anne Mason, and the Tell trio (Jones as Mathilde) are the best things on the program.
The supporting artists are mostly good, except for Andrew Shore's mealy-mouthed baritone in the L'Italiana excerpts. Mason partners Jones nicely in the Norma duet, though all their ritards aren't precisely together. Jones accompanies herself salon-style, a bit clumsily, in "Home, Sweet Home." The sonics are self-consciously big—the luscious solo reeds sound boosted, and the punctuating chords in the Norma scene are ludicrously out of proportion to the overall sonic frame. Steve Vasta