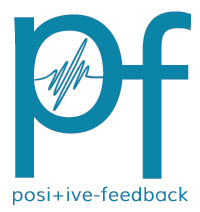 You are reading the older HTML site
Positive Feedback ISSUE 2
august/september 2002
The Higher End: A Progress Report, and Life in the SACD Lane
by David W. Robinson
A Progress Report

In which our hero meditates…drawing by David W. Robinson
I've been looking at the reports that we get from Positive Feedback Online's Internet Service Provider (ISP), Earthlink. They're pretty encouraging. Over the first two months of operation (Issue 1), we've seen our monthly readership climb to nearly 30,000, with our monthly "hit rate" (the number of page loads) closing in on 500,000 per month. Dave Clark and I have been very pleased with the generally favorable response to Positive Feedback Online. It seems that most of our readers like the look and feel, appreciate the use of color, and really like the fact that online delivery is much more timely and responsive. As a matter of fact, I like those things too. A lot!
Some of our readers have asked me, "Gee, David, don't you miss paper and ink?" Absolutely! There's nothing quite like the feel of a first-rate journal for pride of authorship and pride of ownership; and there's no substitute for putting a fine periodical on your shelf, available for immediate reference, thumbing, and those special "privy closet" moments. (Gizmo had some particularly colorful things to say about those times!) But as I pointed out in Issue 1, the costs associated with paper and ink—and the distribution thereof—were becoming prohibitive for editors like Dave Clark and me, forcing us to cut back at a time when what we really wanted to do was to expand our presence in the world of fine audio. I was particularly concerned about our overseas readers, who had to absorb the climbing shipping costs. When I reached the point of turning away new overseas readers, that was the last straw—I knew that things had to change. Much as I loved print journalism, I had to shift to a new format.
It was providential that both Dave Clark and I had come to the same conclusion, and that we crossed paths at last year's wonderful VSAC 2001 show. It allowed us to get to know each other face-to-face in advance of putting together Positive Feedback Online. His terrific work (together with the contributions of his wife, Carol) in handling the web design of PFO has been instrumental in making it a very clean and professional place to be.
It is quite clear to me that web-based publishing has become a new creative medium that is aesthetically different from print publishing, and that has its own unique set of criteria for excellence. The unique strengths of Internet publishing include:
Immediacy of publication. Timeliness is much improved over print alternatives.
Dynamic use of text and graphics. Both content and format here enhance the creative possibilities for writers and editors.
A global readership.
The prospect of dialectics and discourse online. See, for instance, the discussion in this issue of audio as an art form (www.positive-feedback.com/Issue2/RecordedMusic.htm).
The formation of an international fine audio network, linked by the web.
We intend to pursue the audio arts in this new medium. Stay with us for the ride!
Life in the SACD Lane
As I sit here at my keyboard, I'm listening to the brand new SACD release of the classic Janis Joplin/Big Brother and the Holding Company recording, Cheap Thrills. "Ball and Chain" is flowing down the hallway of Positive Feedback Online, River City branch. Janis is right there, live-at-the-Fillmore sound quality and all (RCA Living Stereo it ain't!). What a treat to finally get a chance to hear Janis in SACD; this disc has been on my short list of Sony/Columbia titles from the beginning.
Slowly but surely, some pretty fine titles are coming online. The announcement from the Universal Music Group earlier this week of a significant set of SACD releases was very pleasant news. These included the following, to be released September 10:
Andrea Bocelli, Cieli di Toscana (Philips 7314-589813-2)
Bryn Terfel/Claudio Abbado, Berlin Philharmonic, Bryn Terfel Sings Wagner Arias (DGG 0289-471638-2)
Cecilia Bartoli, Dreams & Fables: Italian Arias (Decca 0289-470611-2)
Diana Krall, The Look of Love (Verve 7314-589597-2)
Ella Fitzgerald and Louis Armstrong, Ella and Louie (Verve 7314-589598-2)
Ivan Fisher, Slavonic Dances (Decca 0289-470601-2)
John Coltrane, A Love Supreme (Impulse 7314-589596-2)
Muddy Waters, Folk Singer (Chess 0088-112940-2)
Quincy Jones, Ultimate Collection (Hip-O Records 7314-583565-2)
Seiji Ozawa, Vienna Philharmonic, New Year's Day Concert 2002 (Philips 0289-470615-2)
A Beautiful Mind (Decca US 0440-018139-2)
Stan Getz and Astrud Gilberto, Getz/Gilberto (Verve 7314-589595-2)
On September 17th, the following titles are slated for release by UMG:
Al Jarreau, All I Got (GRP 0440-065082-2)
Natalie Cole, Ask A Woman Who Knows (Verve 7314-589915-2)
Of the above titles, I can say that the Getz/Gilberto, the Ella and Louie, the Coltrane, the Krall, and the Muddy Waters will be utter no-brainers—reference SACDs, for sure. Given the care that seems to be going into the transfers, this is historic work. Kudos to UMG for doing the right thing. We'll keep you posted on these important releases.
This development came on the heels of the announcement of the reissue of twenty-two classic Rolling Stones recordings on SACD!! We should be seeing these very soon now… Check our Industry News section at www.positive-feedback.com/industrynews.htm for details about the Stones/Verve transfers. Our fearless "Doctor of DSD," Ed Meitner, has been involved in a lot of the work, since his exceptional converters are at the heart of the very finest work being done with DSD.
Many thanks to Positive Feedback Online's "Dude of DSD" and "Seeker of SACD News," Brian Moura. Keep the scoops coming, Brian!
This 'n that
At last! I'll be re-instituting my Editor's Choice Recordings in this issue of PFO. Stay tuned, you'll be seeing an initial set of recent SACDs that I consider absolutely terrific. Also, my comments on the Black Gate capacitor upgrade to the Sony SCD-1 will be appearing very soon. I can say this: It's a noticeable improvement, though in a very interesting direction.
I'm very pleased to see that Chad Kassem of Analog Productions has reissued several titles from the Creedence Clearwater discography (from the Fantasy archives) to LP. I haven't yet gotten a chance to hear these—my turntable is down, courtesy of an incompetent cleaning person, no longer in our employ. Once I'm back online, I'll try to report on these new Analog Productions LPs. I'll also update this column as needed throughout Issue 2. As always with PF Online, you'll need to check back every few days (at least!) to stay up with what we're doing. That's what "dynamic issues" are all about, eh?
Keep the email coming; let us know what you think. If you are interested in submitting articles for publication at Positive Feedback Online, email them to me at editorpf@attbi.com. No promises, but we're always looking for good work.
Update on the Rolling Stones SACDs!
Surpise, surprise, surprise! Since writing the above, I logged onto www.amazon.com (23 August, 2002) and found the following linked right from their master page!
That's right...amazon.com is pushing the complete Stones on SACD—and are actually telling people about what they are.
It's too soon to say, but I'd be surprised if these 22 titles don't push SACD's visibility up some major notches, amigos...which is all to the good for those of us who love the format.