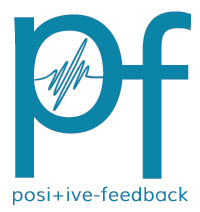 You are reading the older HTML site
Positive Feedback ISSUE 1
june/july 2002
A Bakerís Dozen, Minus One: LPs and CDs from CES 2001
by Dave Glackin
(this report first appeared at enjoythemusic.com, reprinted with permission by the author)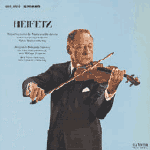 Heifetz Playing the Rozsa Concerto for Violin and Orchestra
(LSC-2767) Classic Records LP
Miklos Rozsa is of Hungarian origin, and his music is suitably lyrical and soul-stirring. It's unlike anything else, although portions are somewhat evocative of Prokofiev. Heifetz is in fine form, showing phenomenal technique in which he combines rapid, intricate passages with slower ones of lyricism and beauty. The music flows and carries you along with it, with Heifetz's violin riding atop a solid orchestral foundation. This record demonstrates that not all outstanding Heifetz recordings were done with Reiner and Chicago. This one was done with Walter Hendl and the Dallas Symphony Orchestra, and they acquit themselves admirably. The liner notes quote Rozsa as saying that he was "fortunate to have Heifetz as a guiding spirit," and that the two worked together extensively. Perhaps that is why Heifetz sounds so comfortable with this music, and emotionally warmer than he often is.
Classic Records has done a beautiful job of remastering this recording. Mastering engineer Bernie Grundman has achieved an absolutely beautiful string tone. There is no sign of the old solid-state signature, and Bernie's tubed signal path is really paying off. The Classic Records version has excellent transparency to boot, and subtleties of bowing are easy to hear. The dead-quiet vinyl surfaces on this RTI pressing are also appreciated. The original LP is a later Shaded Dog, from 1964. (The original mono version of this work was released as side A of LM-2027 in the late 50s.) I don't have an original stereo Shaded Dog with which to compare the Classic, but based on my other original RCA/Classic comparisons following the inception of Bernie's tubed signal chain, the Classic is likely as good if not better. Mike Hobson is due some real kudos for deciding to reissue the Heifetz catalog, and for arranging the licensing to make it happen. These reissues should be very exciting to any lover of Heifetz, and to any lover of classical music for that matter. There's not much more that one could ask. Many thanks to Classic for reissuing the Heifetz catalog!
Side 1: Sound 9, Performance 10, Music 10
Oh, yeah, the flip side is the Benjamin Romantic Fantasy for Violin, Viola and Orchestra, with William Primrose on viola, and the RCA Victor Orchestra. Here the orchestra is showcased as much as Heifetz and Primrose. (Note that these two gentlemen played together on many recordings.) The music is energetic and spirited, with good use of percussion and winds. The performance is characterized by an optimistic verve and drive, offset by more lyrical passages, and punctuated by sparkling percussion. This is not a world-class composition by any means, but nonetheless a beautiful B-side piece worthy of your attention. This LP is very highly recommended.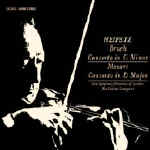 Heifetz Playing the Bruch Concerto in G Minor
(LSC 2652) Classic Records LP
On this recording, Heifetz plays with the New Symphony Orchestra of London, with Malcolm Sargent conducting. The Bruch is melodic, romantic, and spirited music, well played and reasonably well recorded. Heifetz throws off fast, complex passages with ease, and he is brilliant as usual. It is easy to hear the nuances of his bowing and his technique in this Classic Records reissue. This recording features a big but somewhat dark and recessed orchestral sound, not as transparent as it should be. This is one of those Heifetz recordings where the orchestra is definitely secondary to the soloist. Based on the few other Heifetz recordings that have, and the other Classic Records Heifetz reissues that I have auditioned, I get the feeling that Classic has recreated a faithful reproduction of what is on the master tape. The flip side features the Mozart Concerto in D Major. Oh, there's the orchestra. I haven't listened to this piece in a long time, and it's quite beautiful and enjoyable. It exudes optimism and joy, and as usual Heifetz is up to the demands of the most intricate passages in the score. He sounds like he's enjoying himself in the process.
This is Heifetz-in-your-room time. He has a palpable presence on the Classic reissue, and once again Bernie Grundman's move to an all-tube signal chain has proven to be the right one. The tonal colors are beautiful, and the instruments sound believably placed within the soundstage. (Oh, that I had an original Shaded Dog in my collection to compare this to.) My only minor quibbles are the fast fades that, it seems, Bernie applied after every movement, which are a little distracting. I'd buy the record for this side, and enjoy.
Side 2: Sound 9, Performance 9, Music 9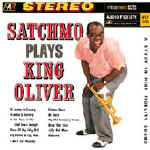 Satchmo Plays King Oliver
Classic Records LP
Classic Records has done the audiophile and music worlds a great service by reissuing this recording. The original LP on the Audio Fidelity label is highly prized, but virtually impossible to find in anything but the most trashed condition. I should know. One of the most memorable events of the show was when Keith Herron played his copy for me at the 2000 Las Vegas CES. This LP shot right to the top of the jazz portion of my LPs-to-buy list, but to no avail. Discovering at the 2001 CES that Classic had reissued this recording as 33 and 45 rpm LPs evoked the kind of excitement that I felt in the 70s and 80s over various audiophile LPs. Those who were there know that this feeling is harder to elicit today.
Forget everything you've ever read about palpable presence. Try the 45 rpm version of two cuts from the 33 rpm LP. This is palpable presence. On the justifiably famous cut "St. James Infirmary," Louis Armstrong's horn, and his formidable voice, are in your listening room. It's scary. It's riveting. Anyone who talks through this cut, or even breathes more than a few times, needs to have his/her head examined. And musically, it's a great performance, period. Buy the 33 rpm LP for the whole disc, and the 45 rpm, containing two cuts, for the ultimate in fidelity. This is an unqualified rave. The 45 rpm version is off my grading scale. Simply astounding. Bravo, Classic Records. Special thanks from the bottom of my heart to Coleman Brice.
Sound 10+, Performance 10+, Music 10+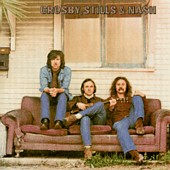 Crosby, Stills and Nash
Classic Records LP
This is a classic late-60s recording, harkening back to Woodstock and a more innocent time when anything seemed possible. The music transports me right back to high school, when many of you probably thought the Earth was still cooling (well, central Florida was sure warm). The compositions on this record are all originals, and they still hit home after all this time. The harmonies that David Crosby, Graham Nash, and Stephen Stills were able to create in the studio are legendary, and their instrumentals are superb, often sublime. This record was a revelation when it was released, but I have never heard it sound as good as in this Classic Records reissue. I compared it to my pristine original copy on Atlantic. The original has a midrange peakiness that makes it somewhat hard to take on a revealing audio system (this is obvious from the first note of the guitar in the left channel on track 1). Bernie Grundman's re-cut is far more neutral and listenable. He has clearly applied some judiciously chosen EQ to substantially improve this recording.
Every track on this LP is a well-crafted classic. There isn't a dud in the bunch. "Marrakesh Express," "Guinnevere," "You Don't Have to Cry," and "Helplessly Hoping" are especially memorable for me. If you weren't around in the late 60s, this record is a great way to get a feeling for the era. If you were around then, you heard this music, and this version will definitely make your ears perk up. My only minor quibble is that the original cover was textured, and this one is smooth. But maybe that's an easy way to pick out the one from your collection that you want to play (the smooth one).
Sound 8, Performance 10, Music 10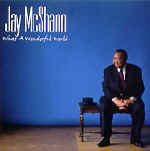 Jay McShann, What a Wonderful World
Groove Note LP (also available in SACD)
We are really fortunate that the Kansas City of the early 1940s could be recreated in 1999, with such stirring performances and such utterly natural sound. In this new recording by Groove Note, Ying Tan and his colleagues have captured realistic piano and percussion, tuneful acoustic bass, live-sounding guitar and sax, and very natural vocals. It's the next best thing to sitting in a club in Kansas City in the early 40s. Ying should be congratulated for having the foresight to record this music. Jay McShann was 83 years old when this LP was recorded in 1999, and he could still really play and sing his heart out. Charlie Parker played in McShann's band when he was a teenager—what a lot of history McShann has seen! For a detailed interview with Jay McShann, please see Living Blues magazine (#149, Jan/Feb 2000).
Good as the 33 rpm LP is, and that is very good indeed, the accompanying 45 rpm disc is better still. It repeats two tracks from the 33 rpm LP, and it contains a bonus track called "Until the Real Thing Comes Along," with vocals by the inestimable Luqman Hamza. The two records come together as a package. Groove Note has really hit a home run with this original recording. Please support their efforts, enjoy some astounding blues, buy this record, and transport yourself back to Kansas City in its heyday. As they say, you won't be sorry.
Sound 10, Performance 10, Music 10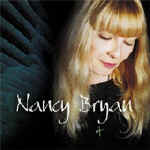 Nancy Bryan, Neon Angel
Analogue Productions LP (also available in SACD).
Wow. Nancy Bryan is the best female vocalist I have heard in a long time. She has a combination of introspection and intensity that really gets under your skin. Her lyrics and performance are haunting and intensely personal. And she has an obviously well-trained, strong voice, with articulation that lets you understand the lyrics. Chad Kassem's selection of Nancy to record an original Analogue Productions work was inspired.
This recording is available on 45 rpm LP, CD, or SACD. I reviewed the 45 rpm 2-LP set, and it is just stunning. It has beautiful vocal quality. The acoustic guitar, dobro, harmonica, etc. are right there, and perfectly balanced with one another, as well as with the vocals. Jimmy D. Lane contributes some great dobro work! This is one of the most real-sounding recordings I have ever heard. In concept, it is evocative of Joni Mitchell's Blue (and that came to me long before I saw the parallel drawn in the Acoustic Sounds catalog). Nancy creates and sings poetic, original stories of human failings and frailties. This is a tough record to talk over, because it makes you want to sit and concentrate on the lyrics. And it passed my personal goosebump test, which very few recordings can do. Chad Kassem has done a hell of a job with his Analogue Productions label. This LP was recorded at Blue Heaven Studios in Salina, Kansas, a venue with which I am very familiar. See my article on Acoustic Sounds' Blues Festival elsewhere in this here fine rag (er, I mean, collection of bits) in the Archives section under Music.
If you own a turntable that runs at 45 rpm, buy this record. If you don't, trade in your turntable for one that has 45 rpm speed, and buy this record. Don't delay.
Sound 10, Performance 10, Music 10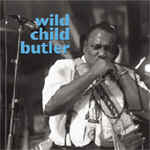 Wild Child Butler
Analogue Productions direct-to-disc LP
I was there. I heard this guy live, performing in this space. Stan Ricker was there, and his direct-to-disc lathe captured everything that the recording engineers up the chain fed him. Here's an excerpt from my article on Acoustic Sounds' Blues Festival (see Positive Feedback Vol. 9, No. 2): "Wild Child, a harmonica player par excellence, has toured with Jimmy Rogers and Lightnin' Hopkins, and according to the folks at Blue Heaven he is one of the most underrated blues performers today. He was also one of the kids of this group, at age 64. I went nuts over his performances in rehearsal and concert. Wild Child bounded onto the stage sporting what looked like a cartridge belt, but it turned out to be a harmonica belt. With the appropriate harmonica always ready, Wild Child put on an astounding show. In my opinion, this fellow deserves to be ranked right up at the top of today's blues masters. His harmonica playing and singing really hit me where I live. And keep your eye on his lead guitarist, one Aaron Ron Griggs. Aaron grew up listening to Wild Child's recordings from the age of eight, and fantasized about playing in his band. At the young age of 22, Aaron is living that fantasy. Aaron's guitar work was fluid, dexterous, and suffused with feeling."
That described the concert. This recording captures the same sound, minus the audience coughs and sneezes, not to mention wild applause. This LP is an authentic, stripped-down recording of gritty and raw blues. I love the fact that Chad Kassem chose to make direct-to-disc recordings in the year 2000. I really love the fact that he asked my buddy Stan Ricker to engineer those D-2-Ds. And I appreciate being asked to cover the event for the audiophile press. This is a historic recording, because it represents an important, underappreciated artist, as well as the first D-2-D recording in a long, long time.
Sound 8, Performance 8, Music 8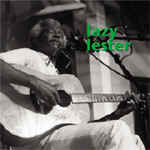 Lazy Lester
Analogue Productions direct-to-disc LP
Let me again quote my article on Acoustic Sounds' Blues Festival Festival (see Positive Feedback Vol. 9 No. 2): "Lazy Lester, when asked by someone if you needed a harmonica to play the blues, said 'No, you've got everything you need, this [pointing to his heart], this [pointing to his mouth], and this [pointing to his brain].' When asked if it was difficult to sing the blues, he replied 'There's nothin' to it. Just jump in, start it up, and haul ass.' The day before the first concert, Lester quipped, 'Tomorrow, we're kickin' butt and takin' names.' Does that sound lazy to you? I didn't think so. Lester opened on the second night, at one point noting that 'W.C. Handy wrote this song, and we've been trying to sing it ever since.' As Lester unrolled the cable for his harmonica mike, he noted that, 'When you've got a long cord, sometimes it gets tangled up.' Some of his other quips are definitely not suitable for reproduction (and no, they're not on the studio session recording). When asking the crowd, 'Is it blues yet?' Lester got a resounding 'Yeah!' that ricocheted around the church. At the end of his set, Lester noted that 'I did the playin' and you did the listenin'. Thank you.'"
Lester is a blues harmonica player and vocalist, and he simultaneously plays foot percussion. He solos on one side of the direct-to-disc LP, and Henry Gray joins him on piano on the other side. He really has fun with the harmonica and percussive foot instruments going at the same time, and he's obviously a natural musician. My favorite cut is the third one on the side with Henry Gray, entitled "Blue Lester." Lester is a true original. He is honest, straightforward, uncommercial, and most definitely the real deal. The sound of this recording gives the impression of a direct transcript of history in the making; it is honest, pure, and definitely not gussied up to make it more commercial. Chad is to be congratulated for having the vision to make these festivals, and the Analogue Productions blues recordings, really go.
Sound 8, Performance 9, Music 9
Reiner/Chicago Symphony, Overtures and Dances
(VICS-1424) Classic Records LP
This LP is a collection of recordings from the dawn of the stereo era, the earliest of which was recorded on March 8, 1954 (Strauss' Salome, Dance of the Seven Veils). The RCA recording team was very busy then, for on the next day they recorded Strauss' Ein Heldenleben with Reiner and Chicago, then on the day after that they recorded the famed Strauss work Also Sprach Zarathustra. That was the first stereo Shaded Dog to be released (LSC 1806—and keep your mitts off my mint copy, if you please). See my article way back in Positive Feedback Vol. 5, No. 2 for more details.
The LP in question here contains some very powerful works, and they demonstrate that RCA had its act together from the very dawn of the stereo era. The recording has wide-open dynamics, and the Chicago Symphony Orchestra under the firm hand of Reiner really pulls out all the stops. Instrumental tone/timbre is outstanding, as is the transparency of this recording. The imaging is also excellent (with the exception of the Smetena Bartered Bride cut, which suffers a little from left/right syndrome). If you have never heard how good stereo recording was 47 years ago, buy this record and find out. It'll show you what a lot of record companies forgot (or never learned). It'll also make your downloaded MP-3 files sound like crap (make that compressed crap). Bernie Grundman and the Classic Records team have done an outstanding job with this reissue.
From the late 50s through the early 60s, a magical combination of circumstances coalesced: conductors, orchestras, recording companies, and recording engineers using simple miking techniques and tubed electronics were allowed to control their own product. Many of the recordings that came out of that era speak volumes about that magic, and this LP is definitely one of them. Classic is to be congratulated for producing such a great reissue.
Sound 9, Performance 10, Music 10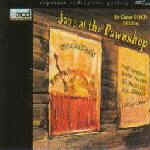 Jazz at the Pawnshop
First Impressions Music XRCD (also available in SACD)
Jazz at the Pawnshop likely needs no introduction to any of you. Suffice it to say that it was recorded live before an audience in a club in Sweden in 1976, and it is widely regarded as one of the most natural-sounding jazz recordings of all time. It is a long-standing audiophile reference, and it contains excellent music and performances. (Okay, so maybe it needs an introduction to some of you.) JVC's XRCD process has long impressed me as being responsible for some of the most natural-sounding CDs on this planet. Winston Ma convinced Prophone Records, run by the son of the founder of Proprius Records, that Jazz at the Pawnshop should be remastered in the XRCD format by the JVC Mastering Center. This was done on two CDs, whose tracks match the original two LPs.
I compared the result with my Proprius LP, which was half-speed mastered at the JVC Cutting Center. The LP has a natural timbre, a realistic-sounding ambience, and a sense of life to it that is quite captivating. Wonder of wonders, the FIM XRCD sounds nearly as good as the half-speed-mastered LP. It, too, has the timbre, the ambience, and the live sound that give the listener the impression of being in a jazz club. The most surprising thing to me is that the soundstaging and imaging qualities of the XRCD are so close to those of the LP. The usual transfers to CD are often lacking in these areas, but not this time. Winston Ma, JVC, and Prophone are all to be commended for a job well done. My only minor quibble is that the LP has slightly more life to it, but the XRCD is incredibly enjoyable, and without making the comparison, nothing would ever be missed. The XRCD also has a big advantage over the LP. My LP's liner notes are in Swedish, and they are limited to one page. The XRCD contains ten pages of notes on Proprius Records, recording techniques in general, and this recording in particular. (Note: This CD was treated with Torumat CDX-16 spray prior to evaluation.) Highly recommended.
Sound 10, Performance 9, Music 9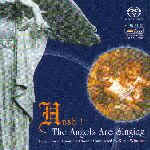 Hush! The Angels are Singing
First Impressions Music CD
This is the best choral CD I have heard since Cantate Domino, and that's really saying something, as the latter has been my reference disc at CES for as long as I have been a reviewer. Hush! The Angels are Singing features the Taby Church Chamber Choir, and it was the first release from First Impressions Music. Like Cantate Domino, it was recorded in a church in Sweden (and, according to the liner notes, it is licensed from Proprius, who also recorded Cantate Domino—now it all becomes clear). I especially like track 3 ("Sankta Lucia," solo choir) and track 6 ("Sa Mork Ar natten," choir and organ). Many thanks to Stan Ricker for first calling my attention to this recording and dubbing it a new standard in choral reference material. This is an HDCD-encoded gold CD remastered by Paul Stubblebine. The CD was treated with Torumat CDX-16 spray prior to evaluation. The recording is natural and spacious (and it's from a DAT master, not analog). It has excellent vocal timbre and articulation, and it contains inspiring and contemplative musical selections. If you like Cantate Domino, buy this! That's the highest praise I can give.
Sound 10, Performance 10, Music 10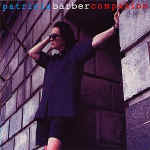 Patricia Barber, Companion
First Impressions Music XRCD2
When JVC first developed the XRCD2 process, I was fortunate enough to attend a CES press conference at which early comparison samples were handed out (CD, XRCD, and XRCD2). The advantages of the XRCD2 process were clear to me, after auditioning these discs on my reference system. Winston Ma has produced the latest Patricia Barber album in the XRCD2 format, an excellent choice indeed.
I have always loved Patricia Barber. She has a unique voice that establishes an intimate, smoky, jazz-club feeling. Her ability to modulate that voice is startling. She is accompanied by somewhat quirky, spare, backing instruments—a moody, expressively spooky guitar, sparingly punctuated percussion, and tuneful acoustic bass. Patricia herself does a virtuoso job on piano and she can really rip on the Hammond B-3 organ. This is a live recording made in front of a small audience. The recording is wide open, with instruments appearing all over the far end of my listening room, with outstanding depth of image. Despite Patricia's amazing voice, my favorite cut is the all-instrumental jazz piece "Like JT." Patricia really displays her chops on the piano in this piece, and she's fully comparable to any jazz pianist I've heard lately. It also showcases what an amazing guitarist John McLean is. He throws off some very nice licks here. Two of the cuts on this album I've heard on her other albums, but these live versions are interesting variations, while the rest of the cuts are new, at least to me.
I compared the XRCD2 to the Premonition Records 180 gram LP (which is apparently mastered from a 24-bit digital mixdown). The LP sounds more effortless and natural, with better harmonic integrity. Good as the XRCD2 process is, and that is very good indeed, by comparison the LP gives a better impression of a real jazz combo. If you own a turntable, buy the record. Otherwise, the XRCD2 comes pretty close, is completely enjoyable in its own right, and represents a quantum leap over the sound of a typical CD. (Note: This CD was treated with Torumat CDX-16 spray prior to evaluation.)
Sound 9, Performance 9, Music 9
Classic Records www.classicrecs.com
Analog Productions www.analogueproductions.com