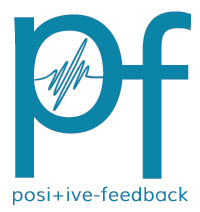 You are reading the older HTML site
Positive Feedback ISSUE
1

june/july 2002
Four Times the Blues: Wild Child Butler, Henry Gray, Harry "Big Daddy" Hypolite, and Pinetop Perkins
by Dave Glackin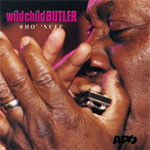 Wild Child Butler, Sho' 'Nuff
(Analogue Productions Originals SACD APO 2015 SA)
Chad Kassem is doing as much as anyone alive today to preserve the blues. His Blue Heaven Studios, in a beautiful old cathedral in Salina, Kansas is a place where blues artists can be recorded in state-of-the-art sound in a relaxed atmosphere. Chad has become justifiably famous for his efforts to record aging blues masters for posterity.
George "Wild Child" Butler, harmonica player par excellence, has toured with Jimmy Rogers and Lightnin' Hopkins, and has been praised by many of the legends of the blues. He cut his first record in Montgomery, Alabama in 1964. Now he has cut his first SACD, at the age of 64. Wild Child was born in 1936 on a plantation in Alabama. His mildly menacing moniker apparently came from his habit as a baby of sliding across the floor, tearing womens' stockings, and tugging at their skirts. He is one of the most underrated blues performers today, according to the good folks at Blue Heaven. Wild Child has a commanding stage presence, and his lively harmonica playing and singing really hit me where I live. I know, because I was at Chad Kassem's place to see him perform in rehearsal and in front of a delirious audience. (For a report on the Blues Masters at the Crossroads festival, see my article, "Livin' with the Blues in Salina," elsewhere on this site.)

Wild Child is friendly and low key offstage, but he's anything but low key when he hits the stage. He bounded onstage sporting what looked like a cartridge belt, but it turned out to be a harmonica belt. With the appropriate harmonica always ready, Wild Child put on an astounding show. In my humble opinion, this fellow deserves to be ranked at the top of today's reigning blues masters, even if he does play his harmonicas upside down. (He didn't know any better while he was learning to play, and no one pointed it out to him for years.) Backwards blues this is not. No one sounds quite like Wild Child Butler.
Now Chad has issued an SACD that captures George Butler at his rollickin' best. With this SACD, you'll get a good dose of what I got in Salina. The sound is clear, live, and real. Wild Child, on vocals and harmonica, is accompanied by Jimmy D. Lane on acoustic and electric guitar, Bob Stroger on bass, Sam Lay on drums, along with the venerable Jimmie Lee Robinson on acoustic guitar on one cut. The unique and compelling Wild Child sound will get your toes tapping and your blood flowing. Many of the cuts are feel-good, up-tempo numbers that roll right along. Others are slower, but punctuated with Wild Child's patented "snappy" blues style. My favorite blues musician of all time, Sonny Boy Williamson, was a big influence on Wild Child, and I can hear it clear as day in some of his slower numbers. Here's hoping Wild Child makes it back to Salina for an encore. Highly recommended.
Sound 9
Performance 10
Music 9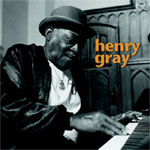 Henry Gray
(Analogue Productions Originals 45 rpm LP APO 001)
Have you ever wanted to hear what one of the biggest blues pianists of the Chicago of the 1950s sounds like solo? Well now you can, up close and personal, thanks to Chad Kassem and Blue Heaven Studios. Henry Gray recorded with Bo Diddley, Little Walter, and many others, and he played with Howlin' Wolf from 1956 to 1968. He's still in high demand internationally as a performer.
Henry was one of the featured artists at Chad's third annual Blues Masters at the Crossroads festival in Salina, Kansas in October 2000. He is pretty sedate offstage, but when he gets onstage, watch out. He really got the place rockin' with his two fisted boogie-woogie piano and vocal style. His vocals are exuberant, a real joy to hear. He brought down the house with "Tutti Frutti." Henry just cranked out the tunes, and only occasionally broke into a smile. This legend of blues piano seemed perfectly accustomed to the adulation of enthusiastic crowds.
As loyal readers know, Stan Ricker was on hand in Salina to make direct-to-disc recordings of the performances. This 45-rpm LP was recorded in the afternoon, before the concert. Its sound is live, direct, stripped down, and a bit raw. The direct-to-disc recording had some flaws, due to problems with the amplifiers in the recording chain (through no fault whatsoever of Stan's), so this LP was created from the backup half-inch 30 ips analogue tape. Those of you who are familiar with 45 rpm LPs know what advantages they have over 33 1/3 rpm LPs. When the cutting stylus has more space on the lacquer over which to inscribe a given amount of music, and your stylus similarly has more space over which to retrieve it, good things happen.
The six cuts on the LP provide a good overview of Henry's dazzling technique and crowd-pleasing style. I just wonder how much attention Chad's piano required after Henry finished working out on it over the two days of the festival. Henry's repertoire would easily support a dozen records such as this. If you want to return to the Chicago of the 50s and feel like what it would have been like to sit beside one of the masters of boogie-woogie as he rolled off tune after tune, buy this record, do whatever you must do to make your turntable spin at 45 rpm, crank it up, and enjoy.
Sound 8
Performance 9
Music 9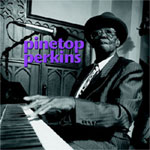 Pinetop Perkins
(Analogue Productions Originals 45 rpm LP APO 002)
Talk about the guy who put the "boogie" in "boogie woogie!" Pinetop Perkins wasn't born to the piano. He actually started out as a guitarist. Later, in the forties, he went to work rebuilding pianos, which led to playing them. He ultimately spent eleven years playing with Muddy Waters, as well as Sonny Boy Williamson #2, B.B. King, and "all the greats."
At age 87, Pinetop proved that he still could bring down the house at Chad Kassem's third annual Blues Masters at the Crossroads festival. What a piano player! He was the oldest musician at the festival, but certainly not the least lively. Resplendent in a shiny reddish-purple striped suit, a red hat, and a piano-keyboard tie, he was classy and understated, with a kindly stage presence. Letting the crowd know that "Well, I am the blues, I tell ya," Pinetop just rolled out the blues, very calmly and unassumingly, even during the big burners, and received three standing ovations from a very happy crowd.
I was in the front row for the concert, locking eyes with Pinetop more than once, and can attest that he has audience rapport. This recording, done in the same space but without the audience, is an eerie recreation of that event. Chad has hit the nail on the head. The image of the piano is clear as a bell, and Pinetop's rollicking, rolling boogie-woogie style isn't exactly hidden in the mix. His voice is right there in my listening room, with all of its inflections and commanding tone, and it sounds like he's singing for you. The electric guitar is also uncannily reproduced. I can close my eyes and be instantly transported back to that cathedral in Salina. It is quite spooky. The man really heats up the ivories on some of these cuts, especially "Down in Mississippi," where he sounds like a heretofore-unrecognized force of nature.
I was privileged to have been able to spend some time in Salina talking to Pinetop, and wish him many more years of making great music. He deserves it.
Just buy this record. It's not to be missed.
Sound 10
Performance 10
Music 10
Harry "Big Daddy" Hypolite, Louisiana Country Boy
(Analogue Productions Originals SACD APO 2016 SA)
Harry "Big Daddy" Hypolite has long deserved to make a recording in which he is the featured artist, and now he has, thanks to the indefatigable efforts of Chad Kassem. Harry is a consummate musician, a phenomenal guitar player, an enthusiastic singer, a real crowd pleaser, and an extraordinary human being. I know, because I saw him perform at Chad's place. And now Chad has issued the first recording to feature Harry, in a wonderful set of performances on SACD.
Harry dropped out of school in the fourth grade, after which he chopped sugar cane, dug sweet potatoes, and picked cotton in Louisiana. He's had a hard life, but you'd never have known it from the upbeat, friendly, nearly radiant person he proved to be in Salina. Harry's personality just beamed out from the stage. He was grinning, grimacing, and clearly having a ball, and the crowd just ate it up. Harry has some flashy moves on his solid-body Gibson 335, including some crowd-pleasing behind-the-back picking. The guy is an amazing performer.
With this SACD, you'll get a tremendous dose of what I got when Harry was playing mere feet in front of me, minus the crowd noise. The sound is clear, immediate, live, and real. He is all but in your room in the flesh. This is a pure analog recording made in 2000 at Blue Heaven studios, translated via Sony's DSD (Direct Stream Digital) process to SACD. Harry, on acoustic and electric guitar, is ably accompanied by Jimmy D. Lane on electric guitar and dobro, Big John Amaro on Hammond B-3, Loui Villeri on bass, and Bruce Cahoon on drums. The B-3 in Chad's place is a fine example of the instrument, and Jimmy D's playing is as fluid as what I experienced live. If this album doesn't get you up and dancing around the room, something's wrong, and it ain't this SACD. Harry alternates up-tempo numbers with slower ones, and he sings both in English and his native Creole. The selection of pieces for this first release is inspired, and it includes several that I heard in the concert.
If you have an SACD player, buy this recording. If you don't have an SACD player, run out and buy the Sony DVP-NS500V for about $200 on sale, and then buy this recording. What are you waiting for? Highly recommended.
Sound 10
Performance 10
Music 10